Meal Prep Ideas from the Pros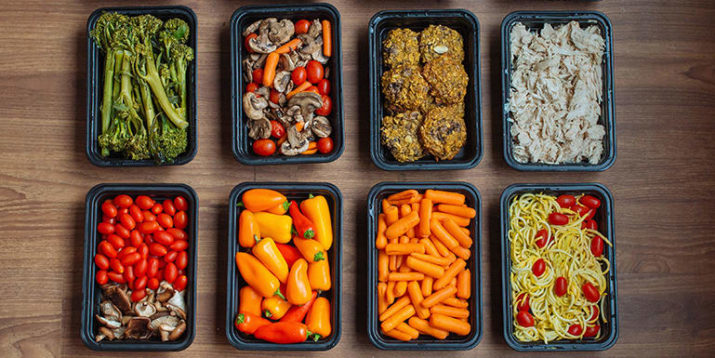 Beachbody's resident meal prep pros, Amanda Meixner and Chris Rocchio are tough acts to follow. Each of these fitness fanatics devotes nearly every Sunday to meal prep! If you've been following our Meal Prep series since the beginning, you've seen dozens of Meixner's colorful menus and simplified, buffet-style meal preps.
And lately, Rocchio's been showing us that it's possible to eat almost 3,000 calories a day of clean nutrition, and still get to enjoy burgers and barbecue chicken. He says, "Why spend all of that time in the gym and not follow through with a proper meal plan? It only takes a couple hours of your weekend to make sure you're set for the whole week."
Their hard work pays off in results they can see and feel. Meixner told us, "I make my health a priority and the rest falls into place. Seriously, there is no better feeling than having the right foods to eat and scheduling time for all of my workouts. Planning ahead makes me feel so much better, and helps me get it done."
And, they've both got enviable abs to prove it.
As these seasoned meal preppers know, variety is the key to sticking with the meal prep lifestyle. They keep simple staples such as chicken, sweet potatoes, and lentils in heavy rotation, then work in a variety of different fruits and vegetables as the seasons change. Meixner explained that she sticks to many of the same foods because they are quick and easy to make, but then she works in seasonal produce, and one or two new recipes each week to keep from getting bored. Rocchio keeps his meal preps exciting by adding tons of flavor and heat with garlic, lots of spices, and hot peppers.
Check out some of the delicious meals they've prepped for breakfasts, lunches, dinners, and even a weekend trip to Las Vegas!
Does your shopping cart look like this? It's a great place to start. Meixner's is filled with a spectrum of vibrant colors, mostly fruits and vegetables, and nothing processed in sight. She goes to the store armed with a grocery list for the meals she's planned, and doesn't buy anything on a whim. Except maybe a bouquet of flowers. Read these tips for adding more color to your meal preps.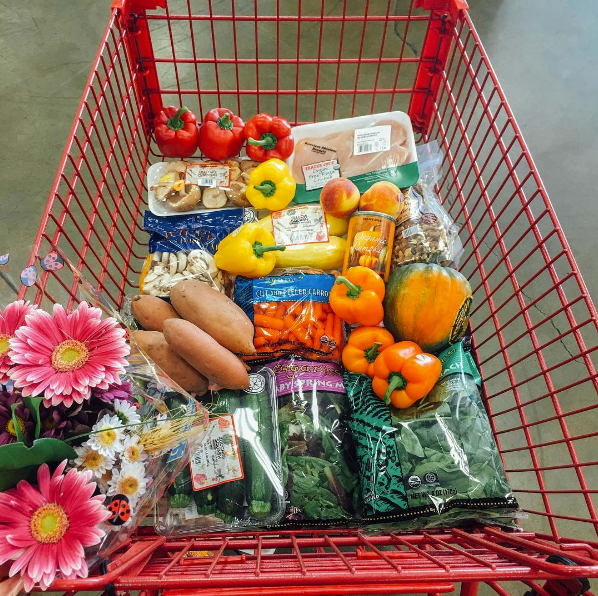 Egg cups are an easy, high-protein breakfast that can be made ahead. They reheat well in a microwave, and can be frozen to stay fresh until you're ready to eat them. Meixner's are made with egg whites from a carton, which saves her the time and effort of cracking and separating whole eggs. These also contain spinach and cherry tomatoes, but you can use almost any vegetable you like. Try these great egg cup recipes.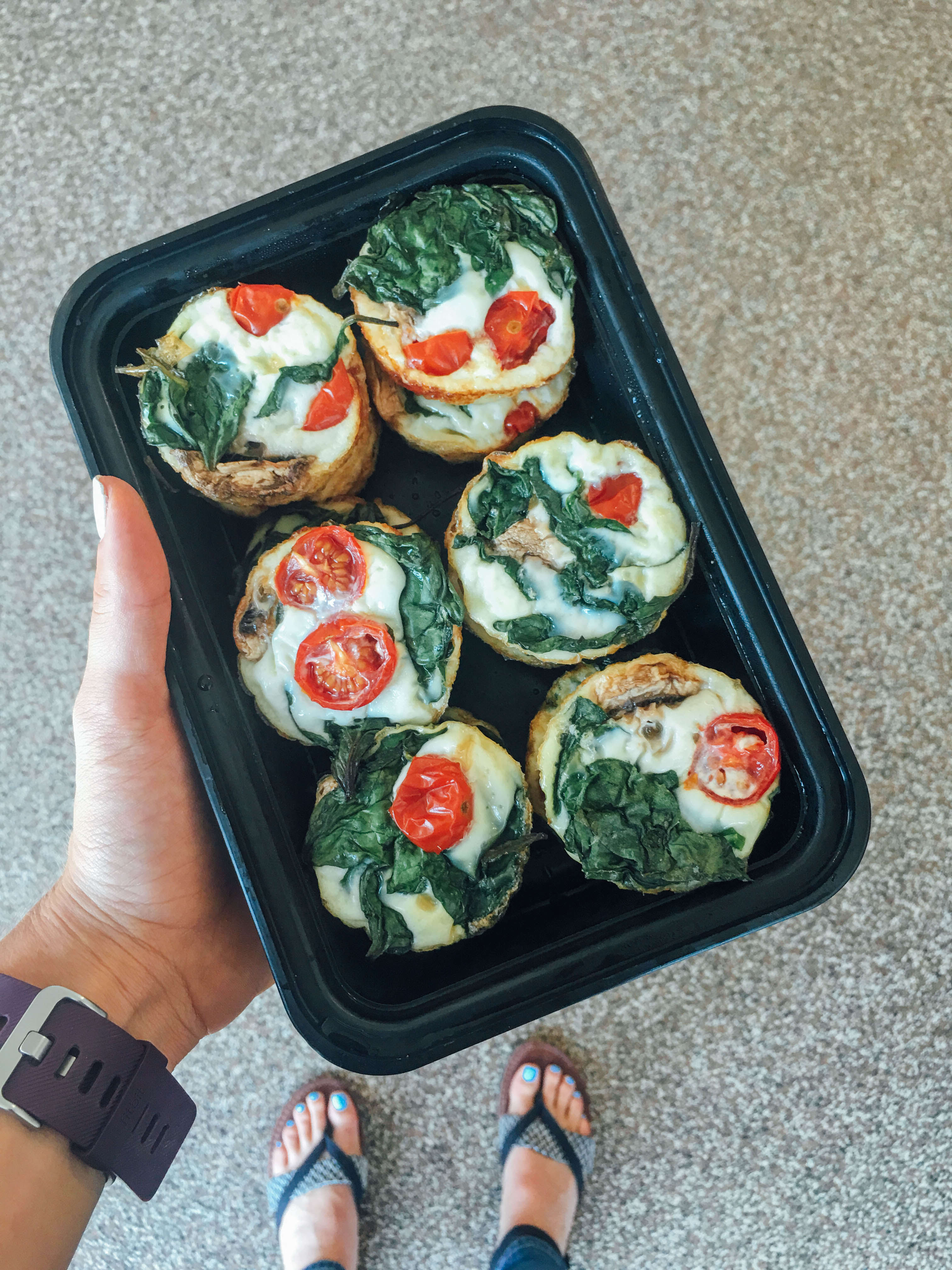 Grab-and-go-breakfast for the win! Rocchio filled Mason jars with cooked steel cut oats, plain Greek yogurt, chocolate-flavored whey, hemp seeds, coconut flakes, crushed walnuts, and blueberries. Make yours with your favorite combination of toppings, or try this delicious recipe for Slow Cooker Banana Bread Oatmeal.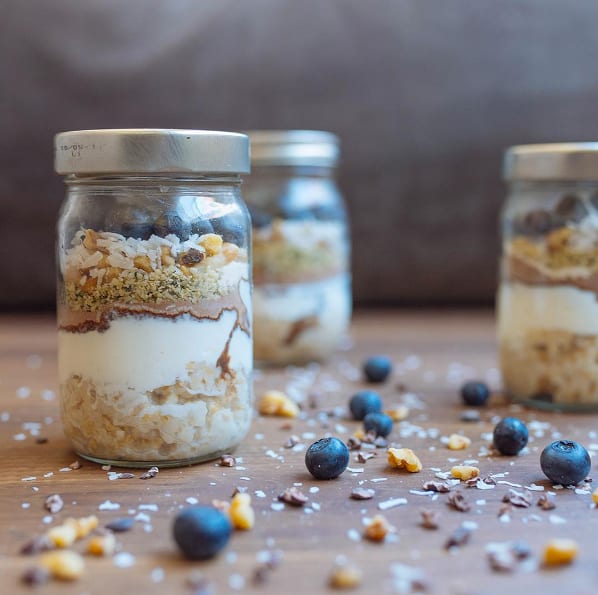 Baked oatmeal muffin cups are a great breakfast or snack, and they can be eaten hot or cold. Meixner made hers with bananas and blueberries, just like this recipe.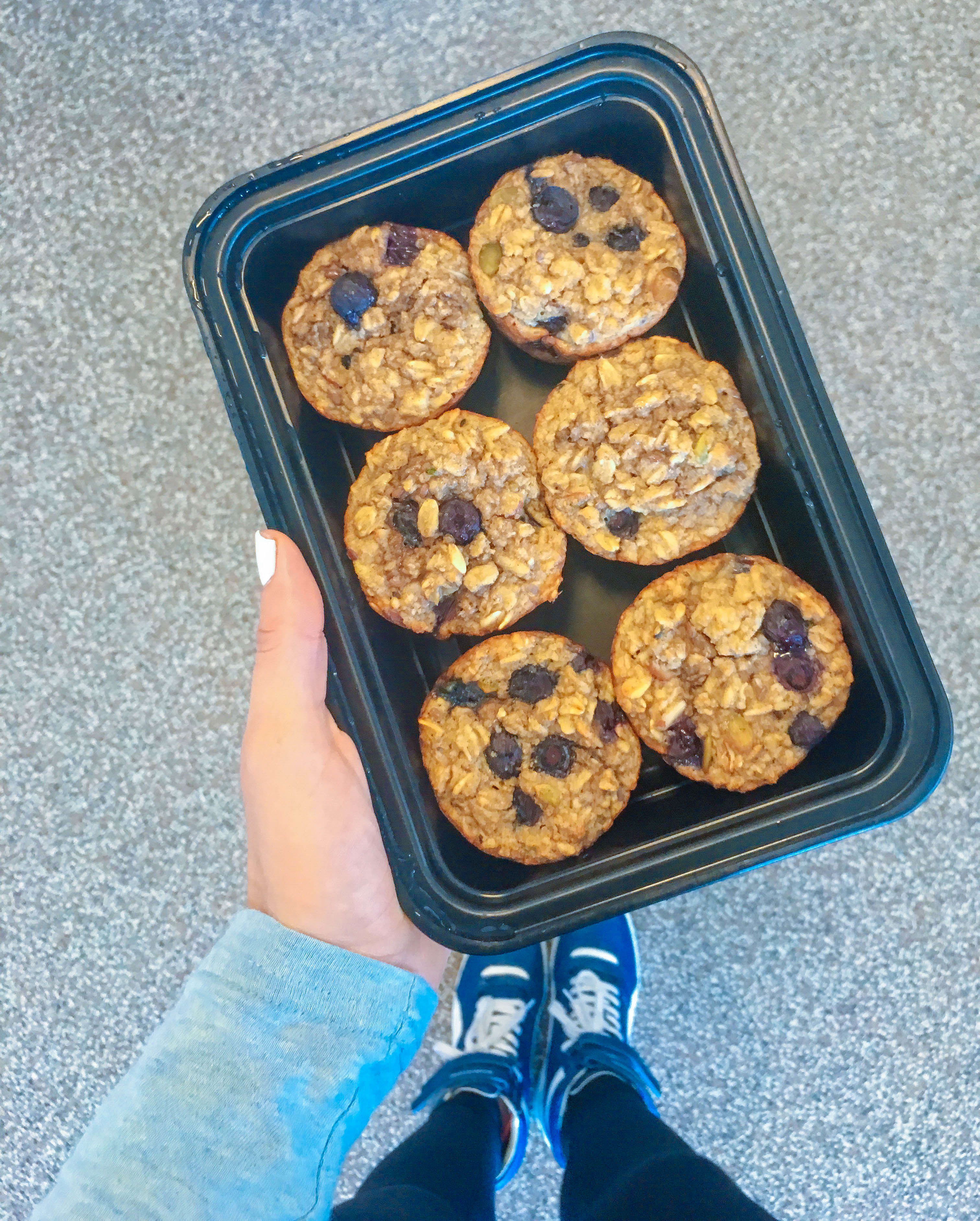 This beautiful lunch plate looks like it was a lot of work to prepare, but Meixner didn't have to do any cooking! She often buys precooked lentils (look for them near the canned beans, or vacuum sealed in the refrigerator section) and chicken breasts to save time. The corn and red pepper salsa from Trader Joe's is one of her favorite ways to amp up the flavor of chicken breast, but any prepared salsa will do the trick.
We're drooling over this beautiful piece of barbecue chicken with spinach, baked sweet potatoes, and asparagus. Rocchio says, "I usually stay away from most barbecue sauces because of the added sugar and high fructose corn syrup, but I found a great brand with no sugar and legit ingredients." Psst, Chris, we've got a great recipe for homemade barbecue sauce you might like.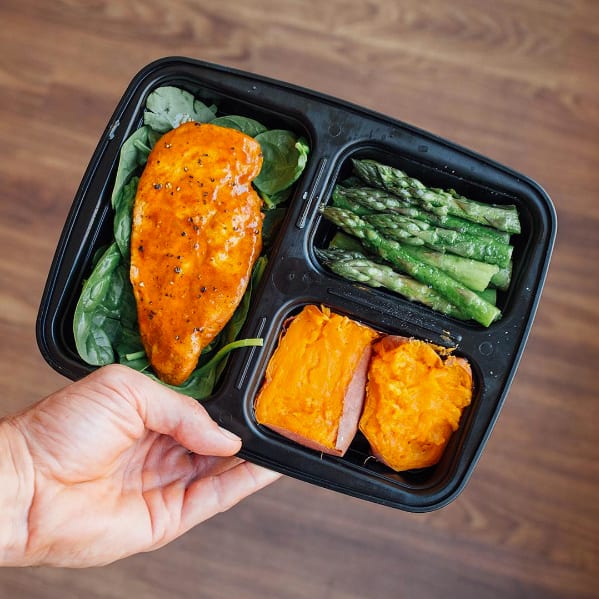 Why would you ever cheat, when you have all of this amazing food in your fridge? This is one of Meixner's famous buffet-style meal preps. With so much variety, she is able to create different meals every single day. We even spy some yummy pumpkin oatmeal cookies! Get her healthy recipe here.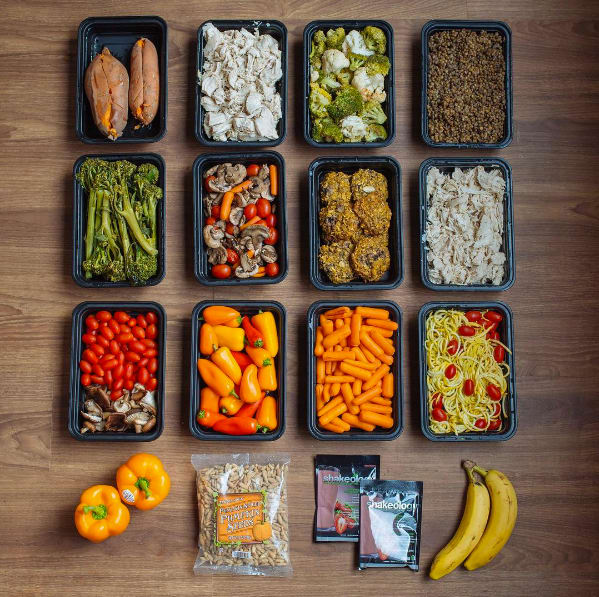 See how Meixner combined some of the foods pictured above to create a unique new lunch? She mixed her medley of sautéed shiitake mushrooms, cherry tomatoes, and baby carrots with shredded chicken and lentils. Can we have some, please?
These Mason jar salads are Roccio's energizing pre-workout snack. He put balsamic vinegar at the bottom of each jar, added the rest of the ingredients, and finished with spinach leaves at the very top. His salads have heirloom tomatoes, beets, cucumbers, bell peppers, chicken, jalapeños, hemp seeds, and spinach. Try some of our Mason Jar Salad recipes.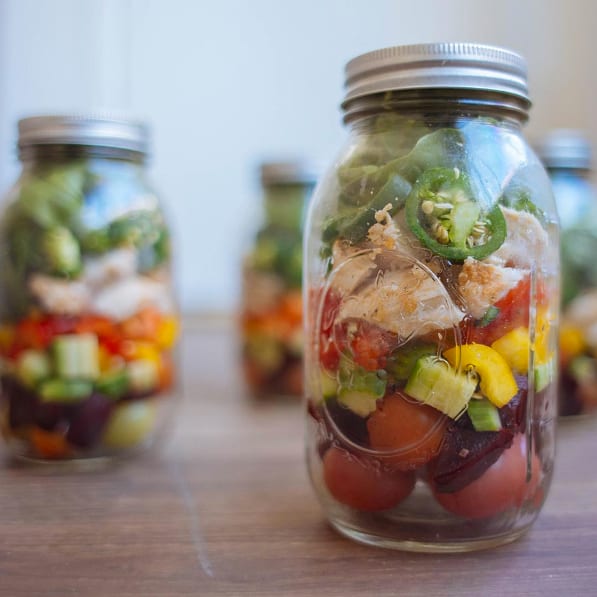 This insane, low-carb burger is taking meal prep to another level. Roccio slapped his bison burger patty between two roasted portobello mushrooms instead of traditional buns. They're topped with kale, tomato, jalapeños, Gouda cheese, and red onions. All we can say is, "Wow!"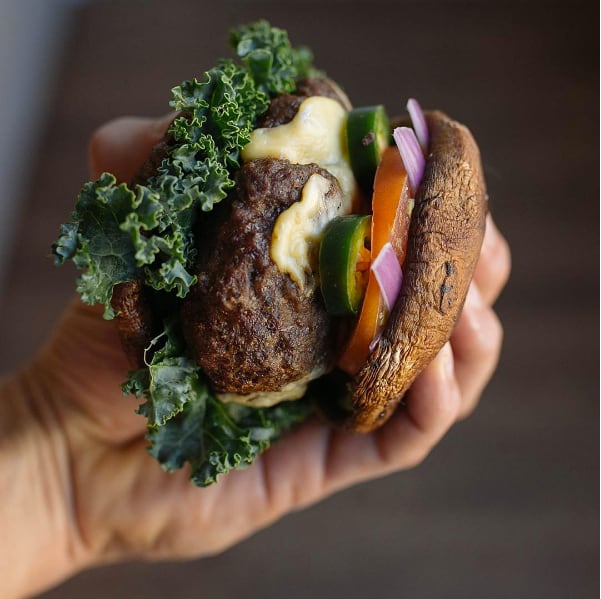 By now, most of us have seen the pizza meal prep meme. Well, here's a way that you can actually pull that off! Meixner made mini pizzas using cauliflower crust topped with chicken and a rainbow of fresh veggies. If this is what meal prep looks like, sign us up!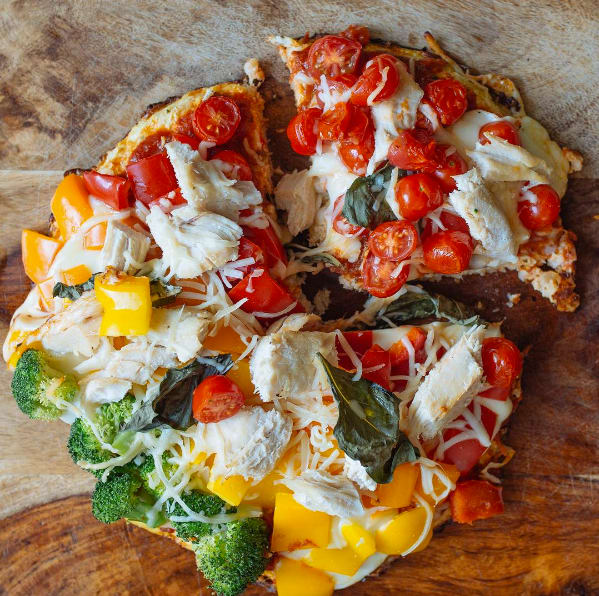 Travel can be a diet-killer, but Meixner doesn't let her nutrition slip when she's on the road. Check out how she prepared for a weekend in Las Vegas by bringing the buffet with her. She packed an insulated bag from Six Pack Fitness with healthy options for breakfast, lunch, and dinner.