12 Ways to Add More Color to Your Meal Prep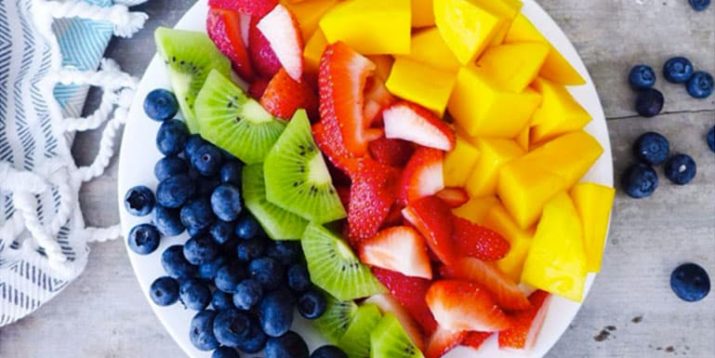 I spend a fair amount of time looking at meal prep photos on social media for new ideas. I'm often amazed by the creativity and determination that people put into their weekly meal prep.
Yet, I also tend to see the same meals over and over, and for the most part, they don't have a lot of colors.
Each color of fruits and vegetables provides a different set of phytonutrients, so it's important to eat the full spectrum. Find out more about the benefits of each food color here.
It's time to make color a priority in meal prep! A beautiful plate of food satisfies so much more than a hungry belly!
Especially when you're trying to lose weight or are eating more cleanly than you're used to, it's important that you enjoy your food or you'll feel deprived and quickly return to bad habits.
Healthy food can feel a little bland and boring…well, when it is bland and boring. But it never has to be.
Colorful ingredients with lots of flavor and texture make healthy meals something to look forward to.
12 ideas to help you add more color to your meal prep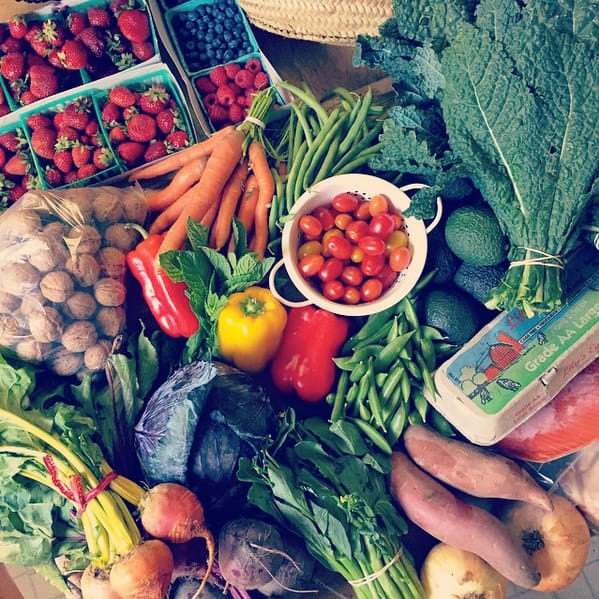 1. Add colorful foods to your shopping cart
Set yourself up for success by shopping for foods from every color of the rainbow. Before you check out at the grocery store, take a good look at your shopping cart.
Are you missing a color? Use the photo above from @orangesandavocados for ideas of colorful foods to add to your shopping list.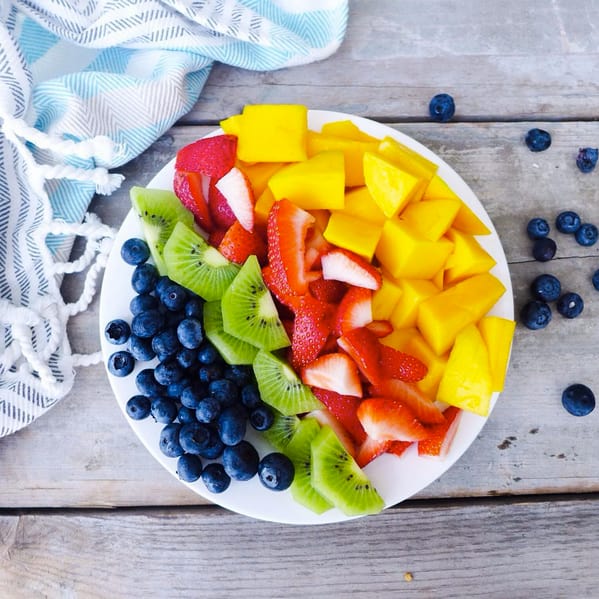 2. Eat a variety of different fruits
Fruit is a great, light snack, and is perfect for meal preppers because no cooking is required.
Each color of fruit provides different phytonutrients, so choose a few different types to eat throughout the week, or mix them together into a beautiful fruit bowl like this one from @projectsunny.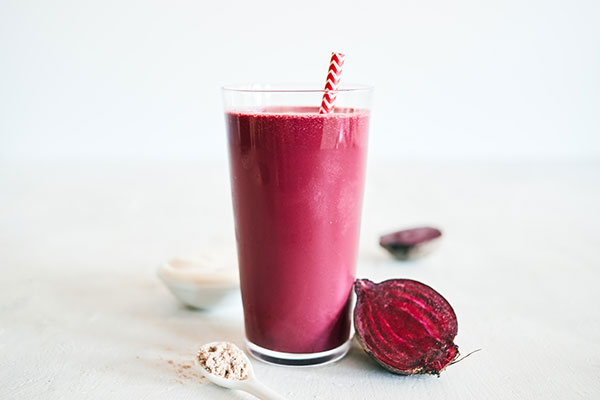 3. Pack your Shakeology smoothie with veggies
Adding unexpected veggies to your smoothie or smoothie bowl is one of the easiest and most delicious ways to get more color into your diet — plus, it's a surefire way to brighten up your morning. Here are a few tips to get you started:
Use frozen cauliflower- or broccoli rice instead of ice
Canned beets add a technicolor hue and sweet, sumptuous flavor
Roast or steam veggies, like carrots, sweet potato and winter squash
Zucchini and summer squash are great mild-flavored additions.
Puree your vegetables on the weekend to use throughout the week. You can also freeze and store them in smoothie bags to make them last longer.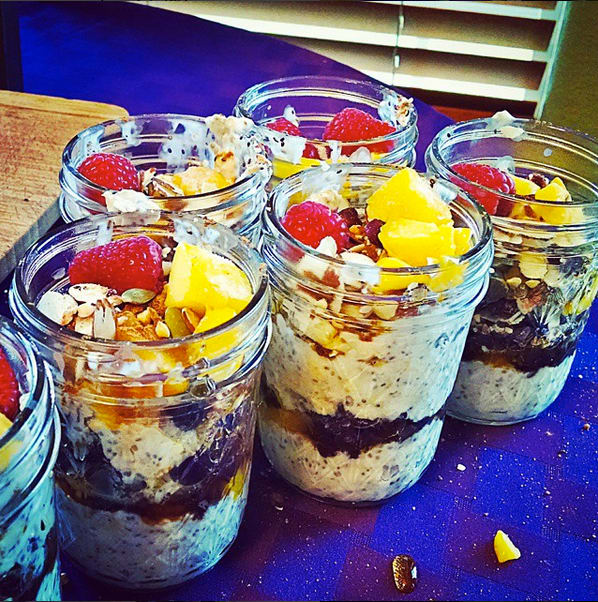 4. Add fruit to your oatmeal
We like that @happylittlesurprises mason jars filled with overnight oats have 3 different colors of fruit.
Overnight oats are simple to make. Just mix ½ cup oats and ½ cup water or milk in a jar. Top with fruit, chia seeds, chopped nuts, or flax seeds. Refrigerate overnight and eat cold.
Prepared oats keep well in the fridge for several days. Jars work well for regular oatmeal, too! Just cook it first, divide into jars, reheat when ready to serve, and top with fruit.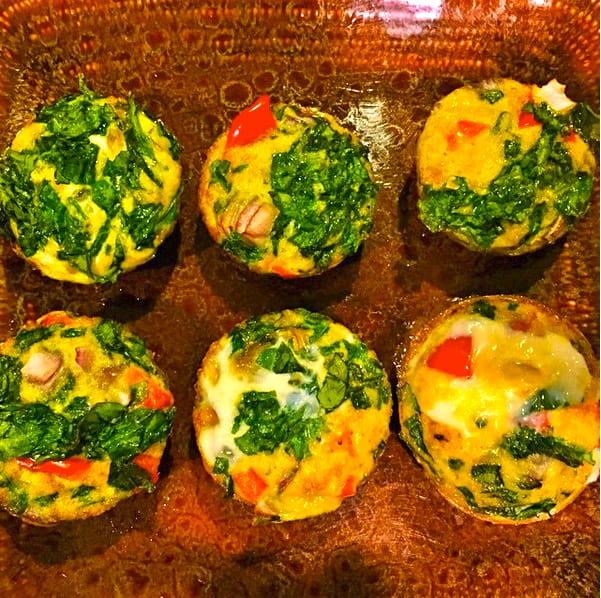 5. Make egg cups with lots of veggies
Egg cups are perfect for meal preppers. They are an easy, grab-and-go breakfast, or a quick, protein-filled snack.
Make sure yours have at least two different colors of vegetables. These egg cups from @fancyfit_life have spinach, red and green bell peppers, and red onions.
Here are some tasty egg cup recipes to try.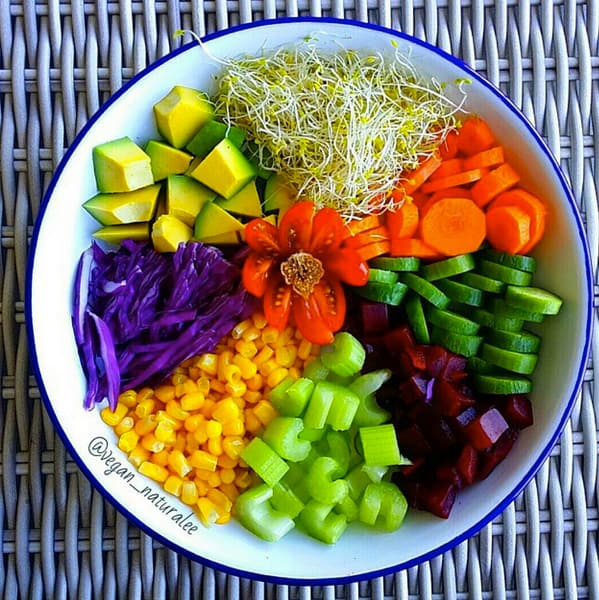 6. Make technicolor salads
Make one of your meal prep meals a salad with lots of different colors – no cooking required!
Raw veggies provide important phytonutrients that can sometimes be destroyed during cooking, so it's important to eat a few every week.
Plus, even though they're incredibly low in calories, raw veggies are loaded with fiber, so they really satisfy.
Follow the example of @vegan_naturalee who managed to get the whole rainbow into her salad bowl.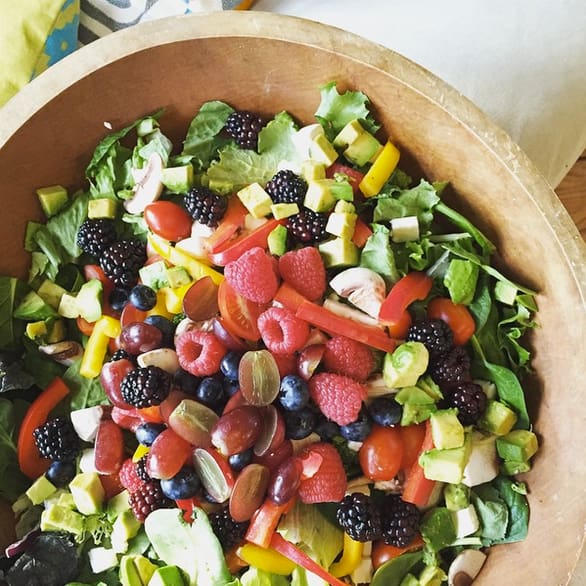 7. Add fruit to salads
Are you getting the hint yet? Add more fruit! Many different fruits can add great color to your greens.
This beautiful salad from @uprootfromor features blackberries, raspberries, grapes, and blueberries. Yum! What fruits do you like in your salad? Go ahead, get creative!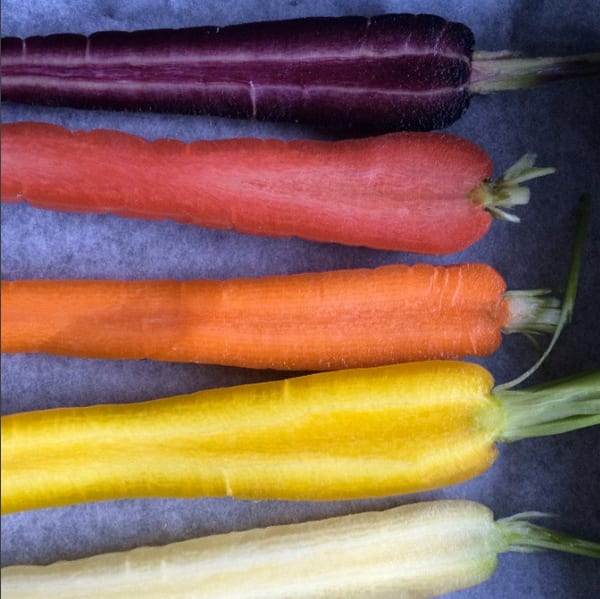 Photo by numbat84
8. Look for different colors of your favorite veggies
Buying carrots? See if your market sells heirloom carrots in colors ranging from white to yellow to purple.
Did you know that purple is the original color of carrots? The ubiquitous orange carrot wasn't developed until the 17th century.
Other vegetables come in an array of colors, like bell peppers, tomatoes, cauliflower, radishes, and beets.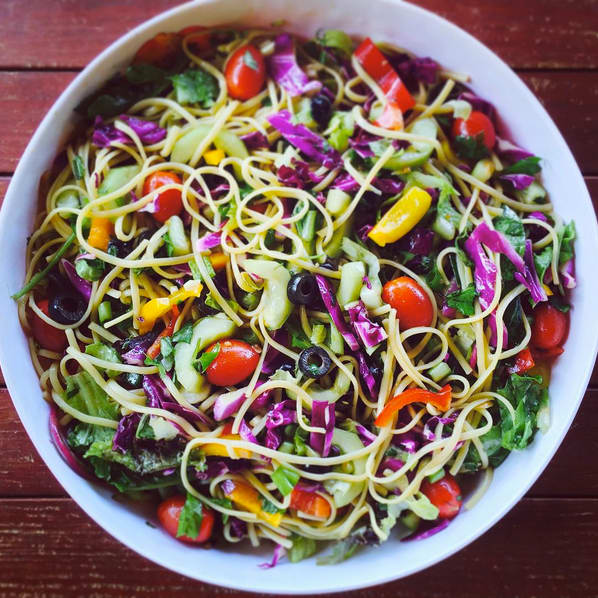 9. Make pasta all about the veggies
This pasta salad from @rubybyrnephotography gets color and crunch from more veggies than we can name!
Red cabbage is an especially nice choice for meal prep because it adds bold purple color and won't get soggy during the week.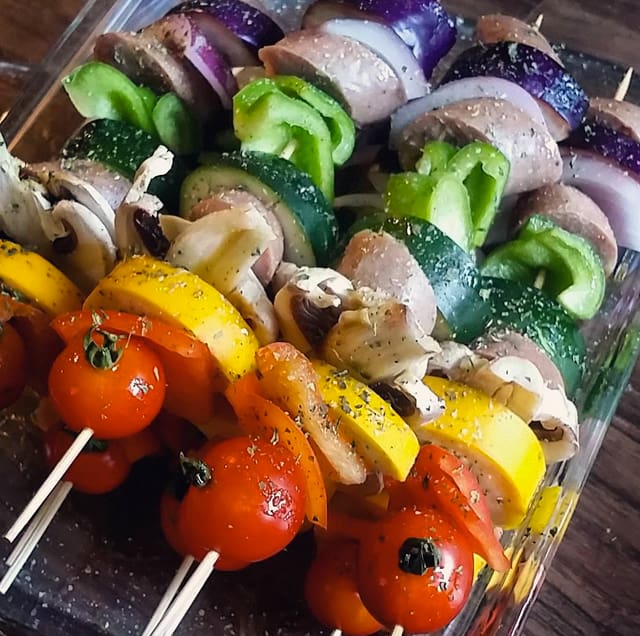 10. Get creative with color

What meals can you make that feature every color of the rainbow? These chicken sausage skewers from @sam_antha_miller are a great idea for meal prep.
You can make a bunch at once and enjoy them for lunch or dinner all week.
In addition to slices of chicken sausage, these skewers have red tomatoes, orange bell peppers, yellow squash, white mushrooms, zucchini, green bell peppers, red onions, and purple eggplant.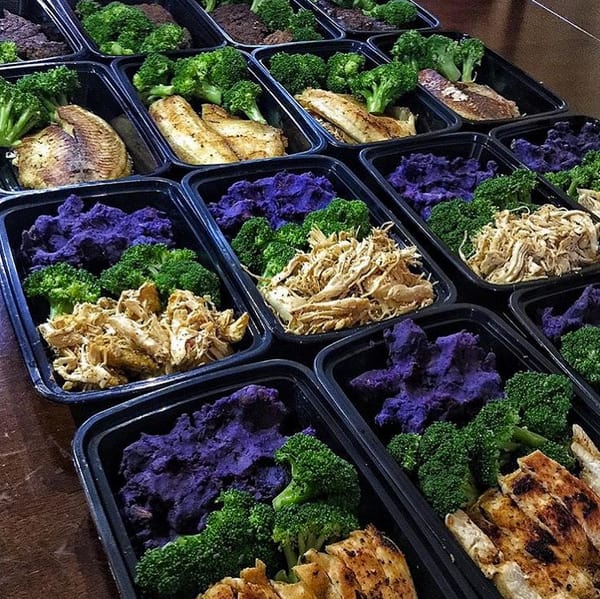 11. Choose carbs with color
Often, the starchy food on the plate is pasta, bread, or white rice. Not a lot of color – or nutrients – there!
Upgrade your carbs by swapping them for darker whole grains like farro or buckwheat or replace them with boldly colored starchy vegetables.
Try sweet potatoes, corn, peas, pumpkin, and, if you can find them, purple yams like the ones in the photo below from @imabrahamb.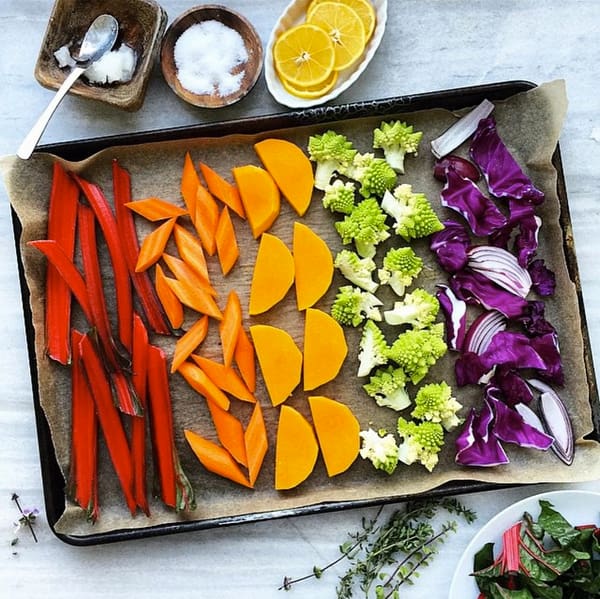 12. Roast several colors of vegetables at once
I see a lot of meal prep photos that feature baked sweet potatoes and roasted asparagus.
These are both fantastic choices, but why not add a few more veggies to your baking sheet while you're at it?
This photo from @salad.empire has swiss chard stalks, carrots, butternut squash, romanesco, red onions, and cabbage.
Other veggies that taste great roasted are bell peppers, Brussels sprouts, cauliflower, parsnips, and any winter squash.