Meal Prep Ideas for Higher Calorie Levels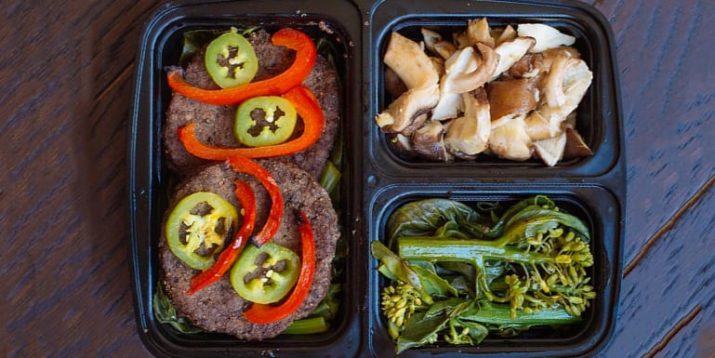 When you eat 2,700 or more calories in a day and want to eat healthfully, meal prep becomes an absolute necessity. You don't want to finish a grueling weight lifting workout to find that you only have a handful of carrots in your fridge, and you also don't want to fill up on junk food just to meet your calorie goal. If you want to build muscle, you need to feed your body with healthy, nutrient-dense foods.
One of Beachbody's resident meal prep masters, Chris Rocchio, knows a thing or two about preparing nutritious meals to supplement his time in the gym. He eats between 2,700–2,999 calories a day, but he doesn't settle for plain old chicken, rice, and broccoli for every meal. He embraces the fact that healthy food can taste amazing, and there are way too many tasty vegetables to eat the same one each day.
If you're struggling to create healthy meals to fit a higher calorie level, or if you're just looking to step up your meal prep game, get some inspiration from these nine meal ideas:
Sriracha honey chicken, spiced mashed red lentils, broccolini, steamed cauliflower, and spinach
Sure, baked chicken is easy to make. But are you really going to look forward to eating it at the end of a long day? Switch things up with Chris's recipe for sriracha honey chicken. Now that is something to get excited about.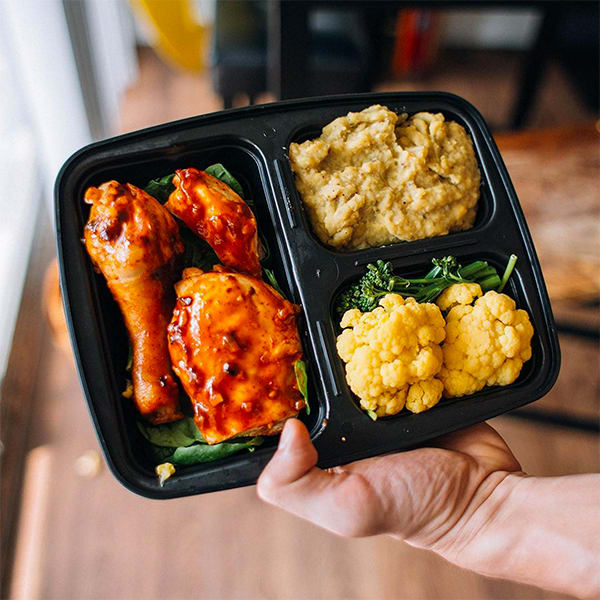 Bison burgers topped with roasted bell peppers and jalapeños, gai lan (Chinese broccoli), and shiitake mushrooms
If you're gearing up for leg day, try this combination for lunch. The unique Asian flavors are almost enough to make you forget about all the squats and lunges you're about to do. Almost. Can't find gai lan? Regular broccoli is just fine. Try this roasted broccoli and peanuts recipe for a simple way to ramp up the flavor.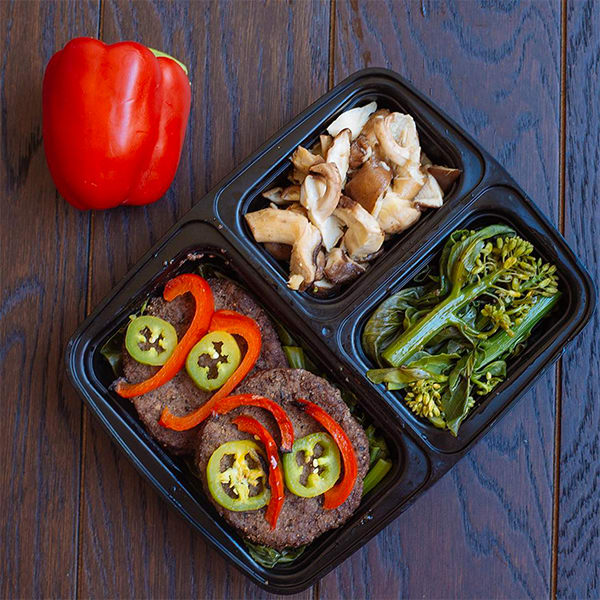 Pesto and quinoa-crusted chicken, asparagus, quinoa, broccolini, spinach, and bell peppers
You can't go wrong with a side of quinoa. For this meal prep dish, Chris even used quinoa as a coating for his chicken. Mixed with some pesto, this main dish is way more exciting than plain-Jane chicken.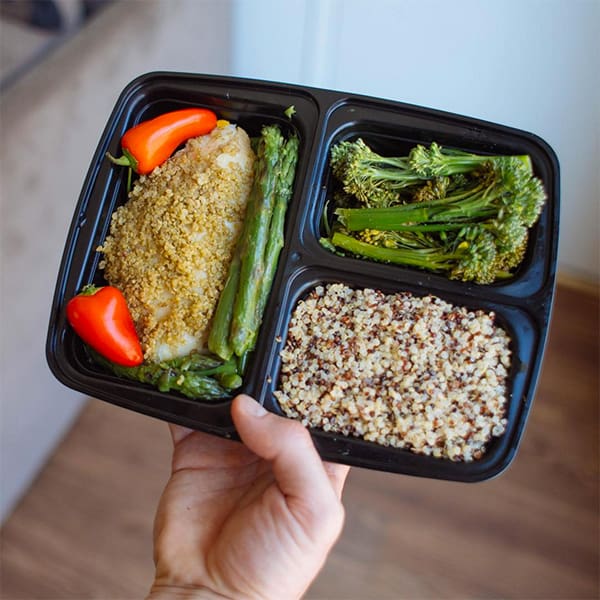 Wild-caught salmon with rainbow quinoa, steamed broccoli, sautéed asparagus, and balsamic-glazed pearl onions
If you simply can't eat another bite of chicken, try this easy meal. Chris seasoned the salmon with olive oil, peppercorn, and paprika, and complimented it with green veggies and balsamic-glazed pearl onions. Get the simple onion recipe here!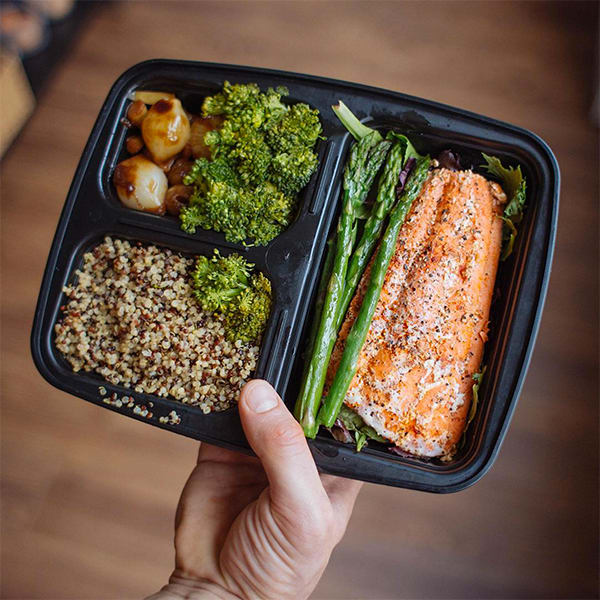 Steak and eggs with spinach and sweet potato
When you work out like a savage, you have to eat breakfast like a savage. This steak and eggs combo is a tasty way to do just that. We wouldn't even be opposed to eating this for lunch… or dinner.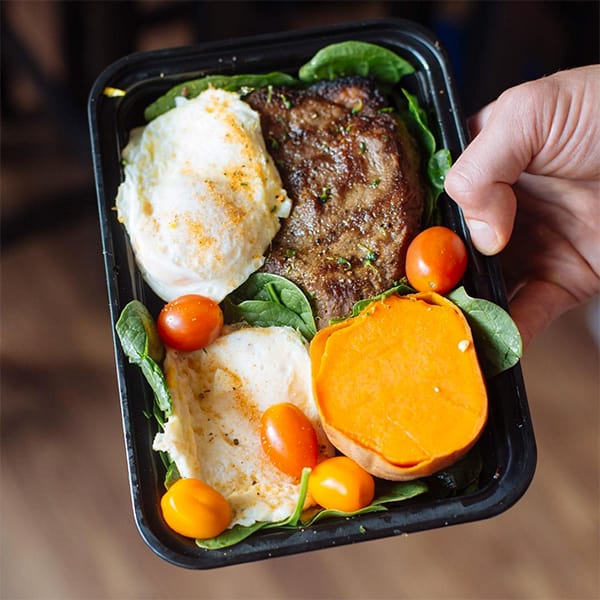 Peppercorn chicken with garlic and parsley, baked carrots, spinach, quinoa, and a cucumber tomato salad
When Chris creates his meals, he generally tries to include a slow-burning carb (like quinoa) and at least three vegetables. Not only does this help him meet his macro requirement, but it also creates a colorful and diverse plate… er, container!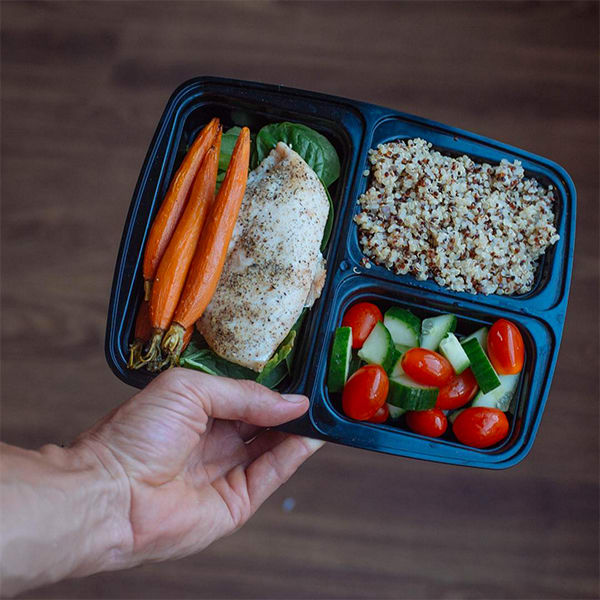 Filet mignon, sweet potato, shitake mushrooms, asparagus, and spinach
"When meal prepping becomes a routine, it's important to treat yourself," Chis says. He rewarded himself for his discipline and hard work with a nice cut of filet mignon. The next time someone suggests that meal prepping is bland and boring, you can counter that argument with this meal.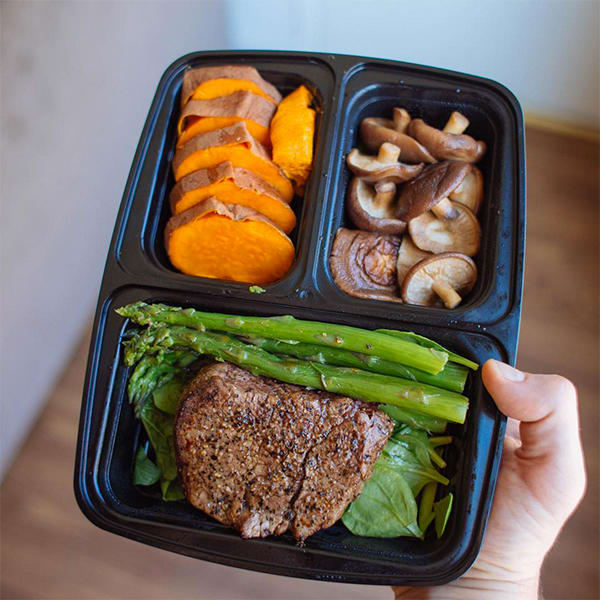 Egg-stuffed baked sweet potato, soft-boiled eggs, avocado, and cherry tomatoes
Check out this power breakfast! Bake an egg in half of a sweet potato; it's a creative way to switch up your egg-game. Creamy avocado slices and juicy cherry tomatoes round out this meal that's fit for any time of day.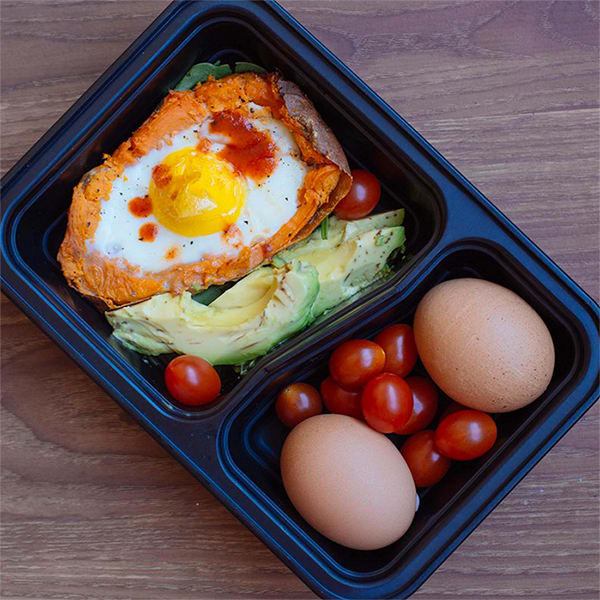 Ground turkey-stuffed bell peppers with roasted Brussels sprouts and spinach
This colorful meal might look complicated, but it's actually quite simple to make. Combine cooked ground turkey with jalapeños, tomatoes, onions, and mushrooms, and add the mixture to half a bell pepper. Pop it in the oven, and you're done!