What in the World Is Jackfruit?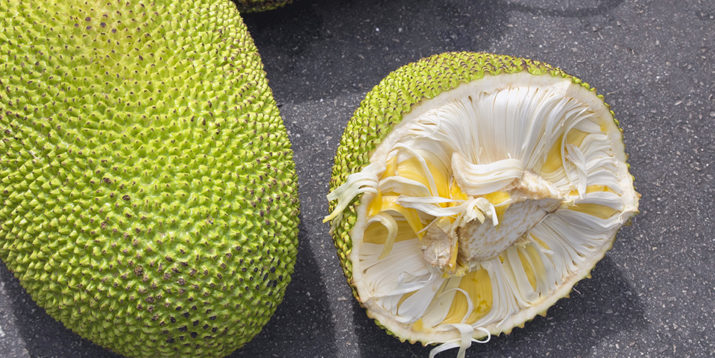 You may have seen a new meat substitute alongside vegetarian proteins like tempeh, tofu, and seitan: jackfruit. (Yes, you read that right: meat. substitute.)
Jackfruit is a weird-looking but delicious fruit that's popping up on store shelves and restaurant menus alike. Fans say it's the perfect swap for pulled pork, shredded chicken, and even beef brisket.
It has a mild flavor that melds well with a variety of seasonings, and it's stringy (in a good way) so it shreds easily. New to jackfruit? Get the scoop on this tasty faux meat.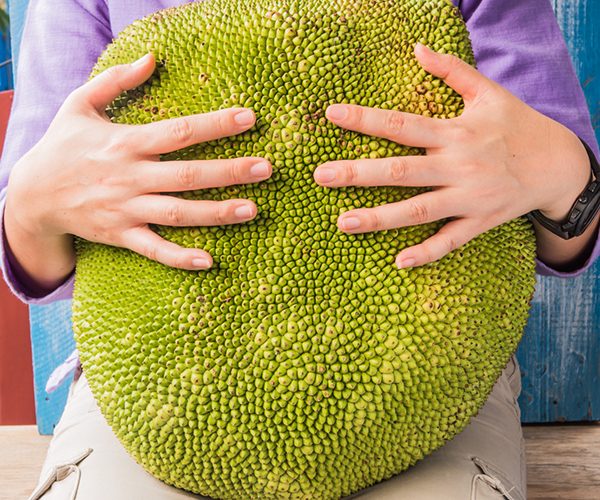 What Is Jackfruit?
Jackfruit is a tropical fruit that's fairly new to the US. Each jackfruit is massive, so if you spot one at the supermarket, it'd be hard to overlook. They start out at 10 pounds but can grow to 100 pounds each! (Don't worry — you can also buy it in more manageable portions.)
Where does jackfruit grow? These giant fruit — they're the largest tree fruit in the world — are native to South and Southeast Asia.
Jackfruit recipes can be found in Indian, Thai, and Balinese cuisine, and jackfruit happens to be the national fruit of Bangladesh. Ripe jackfruit is consumed as a meal or side dish in places like Sri Lanka.
The fruit has a thick, spiky skin that starts out green and then turns yellow with darker spots. Jackfruit won't have much of a scent when it's green, but it smells sweet, musky, and fruity when it's ripe.
"When I was living in Bali, I would enjoy sweet, ripe jackfruit as a treat with my breakfast," says Krista Maguire, R.D., C.S.S.D., and senior nutrition manager at BODi. Green jackfruit, which is the type used as a meat swap, has a taste and texture similar to artichoke hearts.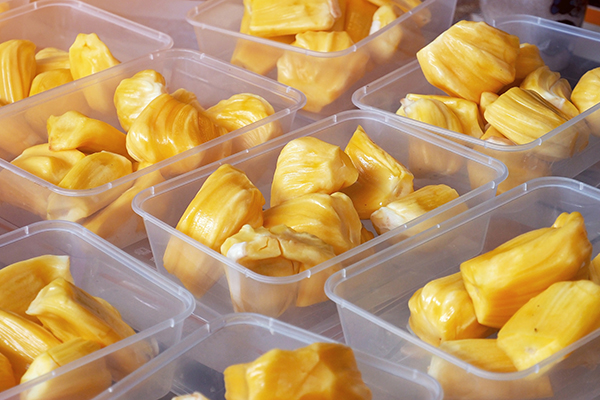 What Does Jackfruit Taste Like?
Wondering what jackfruit tastes like? It depends, because the flavor evolves as the fruit ripens. "It's somewhat similar in texture and flavor to a mango and a pineapple (or peach, depending on the one you get)," says Haynes. "Young jackfruit is more savory, yet 'tasteless,' and can be shredded, seasoned, and cooked to mimic meats."
Though the young, green jackfruit is what's hot right now (it appeared on the 2016 food trends list from Google), you can also find ripe whole jackfruit or cans of it packed in syrup at Asian markets.
What Are the Benefits of Jackfruit?
While jackfruit is popular as a meat stand-in, it doesn't contain much protein — so that's not one of the benefits of jackfruit. Each ½ cup of jackfruit pieces contains 72 calories, 1.3 grams of protein, 18 grams of carbs, and 0.5 grams of fat. "It also contains calcium, magnesium, vitamin C, and potassium," says Haynes.
Though jackfruit has been touted for its ability to "feed the world," you don't have to make this a new staple in your healthy diet. "I wouldn't say jackfruit is a superfood that should be included in one's diet to boost your health," says Haynes.
But she says that if you're craving comfort food and miss pulled pork (either while following a plant-based diet or while avoiding higher-fat meats), "by all means, this is a great option taste- and texture-wise."
Haynes adds one caveat: "Don't be fooled into thinking that it's high in protein simply because of the food it's replacing."
As with portobello mushrooms or spaghetti squash sliders, jackfruit is "not a burger, and thus isn't an exact macronutrient equivalent," says Haynes. "While it may have a meaty texture, it's actually a fruit like the name implies — and thus is higher in carbs and low in protein and fat."
If you're following Portion Fix, a serving of plain green jackfruit is ½ cup (or 4 ounces) and would count as one purple container.
"Because jackfruit doesn't have as much protein as meat, I like serving it with plant-based protein sources like beans, lentils, tofu, or tempeh," says Stephanie McKercher, M.S., R.D.N. For example, she serves jackfruit with barbecue sauce and black beans in a roasted squash "bowl."
Another benefit of jackfruit? "It's naturally high in fiber," says McKercher.
How to Eat Jackfruit
Ready to learn how to eat jackfruit? You have two basic options: Find a whole, unripe jackfruit and prep it yourself (we'll teach you how), or buy a can or package of plain green jackfruit in brine (a much easier option).
Though you can find jackfruit that's pre-seasoned, "be mindful of the added sugar and salt," cautions Haynes.
Since jackfruit is not as high in fat and protein as pulled pork, your jackfruit pulled pork recipe won't keep you as full as the real deal, so you will want to include other foods that provide those macronutrients.
If you're new to cooking jackfruit, try this healthy barbecue sauce recipe, and serve it with avocado or another healthy fat to boost satiety and mouth feel.
Add a layer of flavor by pan-frying your jackfruit in a nonstick skillet before adding sauce. To get some color on your jackfruit, pat it dry before adding to a hot pan with a small amount of oil (optional).
Here are some other jackfruit recipes and meal ideas:
Note: If you're using jackfruit in any Portion Fix-approved recipe, adjust the container calculations based on your swaps.
Use in place of crab in your favorite crabcake recipe.
Swap for the shredded pork in these tacos.
Take out the tuna in this Tuna Salad Sandwich, and add jackfruit.
Toss jackfruit with this rich mole sauce.
Season jackfruit with your favorite taco seasoning, then serve with black beans, fajita veggies, and this Vegan Cashew Queso Sauce.
Jackfruit Tips for Meat Eaters
Jackfruit is not just for vegans and vegetarians. If you're not looking to adopt a plant-based diet, try one of these jackfruit tips for meat eaters.
"Try mixing pulled pork and jackfruit together to add more fiber and phytonutrients to your regular meat-based barbecue dish," suggests McKercher. "Or try jackfruit as a delicious meat substitute for Meatless Mondays!"
Haynes thinks it's a great idea to add more fruits and veggies into your diet and cut back on high-fat meat consumption. "Replacing one or several meat-based meals per week has been shown to improve one's health," she says.
For example, the Mediterranean diet, which is considered one of the healthiest in the world, doesn't include much meat. You could also integrate jackfruit into a flexitarian diet.
"Jackfruit can be included as part of a healthy diet rich in other fruits and veggies and plant-based proteins and healthy fats," adds Haynes.
How to Prep Jackfruit
If you've decided to tackle a whole jackfruit by yourself, you'll want to plan ahead. Learning how to prep jackfruit can be somewhat tricky, so we're sharing a step-by-step guide:
Cover your work surface with newspaper or dishtowels. Put on an apron or old clothes.
Rub cooking oil (like coconut or olive) on your hands and/or wear rubber gloves, as the jackfruit contains sticky natural latex that will make a stringy mess.
Slice the fruit in half using a sharp serrated knife, then slice it into manageable pieces. You may want to oil the blade of your knife to keep it from sticking.
Boil until tender (if you have thin slices, this takes as little as 10 minutes — thicker chunks could take up to 45 minutes).
Remove the peel, exposing a stringy interior and seed pods, and discard the seeds. (Note: These are edible if they are boiled until tender. The outer shells need to be removed, and they are said to taste like potatoes.)
Once you've processed the entire fruit, you can proceed with your recipe as planned.
The Takeaway
Jackfruit is a delicious vegan swap for pulled pork and other shredded meats. In Portion Fix, it counts a fruit portion. Jackfruit is higher in carbs and lower in protein than the meat it may be replacing in a recipe, so pair it with a vegetarian protein like pulses.
The taste and texture may not completely fool meat eaters, but they can benefit from adding shredded young jackfruit to dishes as a way to eat less meat.
The easiest way to eat green jackfruit is to buy it canned or packaged, but you can also process whole jackfruits, too.