Mexican cuisine is packed with delicious, complex flavors, and mole is the perfect example.
(Fun fact: It's pronounced "MO-lay")
Mole is the catchall name for many Mexican sauces; dark Oaxacan mole is made with mild dried peppers and Mexican chocolate and has a savory, smoky taste.
The traditional version can take a long time to make and uses a lot of oil. Our lighter Chicken Mole recipe capitalizes on the richness of traditional mole while reducing the amount of oil.
This velvety mole sauce tastes amazing on chicken, beef, or tofu for a flavorful, protein-packed meal!
Store extra mole in the fridge for up to four days, or freeze individual portions in an ice cube tray.
Use it to top a Roasted Vegetable Quesadilla, as a dip for baby carrots, or add a dollop to your scrambled eggs.
For more Mexican-inspired meals, try these recipes for chicken burrito bowls, a breakfast scramble, and cheesy, slow-cooker enchiladas.
Watch the FIXATE episode on BODi!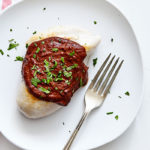 Chicken in Mole Sauce
This Chicken Mole recipe capitalizes on the flavorful richness of mole while keeping the calorie count low. Enjoy a taste of Mexico!
Prep Time 20 mins
Cook Time 40 mins
Total Time 1 hr
Servings 8 Servings (about ⅓ cup sauce each)
Calories 289 kcal
Ingredients
3 large dried ancho (or pasilla) chiles stems, seeds, and ribs removed and discarded
1½ cups hot water
2 Tbsp. olive oil divided use
1½ medium onions chopped
2 cloves garlic chopped
2 (6-inch) corn tortillas toasted, torn into pieces
2 Tbsp. all-natural smooth peanut butter
1 tsp. dried oregano leaves
1¾ cups low-sodium organic vegetable (or chicken) broth
1 (3.1-oz.) square Mexican chocolate (like Ibarra or Abuelita), chopped
1 tsp. sea salt (or Himalayan salt)
1 tsp. ground black pepper
8 (4-oz.) raw chicken breasts boneless, skinless
Instructions
Soak chiles in water for 15 minutes. Drain; set aside.

Heat 2 Tbsp. oil in large saucepan over medium-high heat.

Add onions; cook, stirring frequently, for 4 to 6 minutes, or until onions are translucent.

Add garlic; cook, stirring frequently, for 1 minute.

Place onion mixture, chiles, tortillas, peanut butter, oregano, and broth in blender, in two or more batches, if necessary; cover with lid and kitchen towel. Blend until very smooth.

Return mixture to saucepan; cook on medium-low heat, stirring frequently, for 15 to 20 minutes.

Add chocolate. Season with salt and pepper; cook, stirring frequently, for 3 to 4 minutes, or until chocolate is melted and mixture is thick enough to coat a wooden spoon. Set aside.

Heat remaining 1 tsp. oil in large nonstick skillet over medium-high heat.

Add chicken breasts; cook, turning once, for 7 to 9 minutes, or until chicken breasts are no longer pink in the middle.

Top each chicken breast with ⅓ cup mole sauce.
Recipe Notes
Dry or stale tortillas are best for this recipe.
You can substitute 3 oz. dark chocolate plus 1 pinch of ground cinnamon for Mexican chocolate. 
The Nutrition Facts box below provides estimated nutritional information for this recipe.
Nutrition Facts
Chicken in Mole Sauce
Amount Per Serving (1 serving)
Calories 289 Calories from Fat 99
% Daily Value*
Fat 11g17%
Saturated Fat 3g19%
Cholesterol 73mg24%
Sodium 539mg23%
Carbohydrates 21g7%
Fiber 3g13%
Sugar 15g17%
Protein 26g52%
* Percent Daily Values are based on a 2000 calorie diet.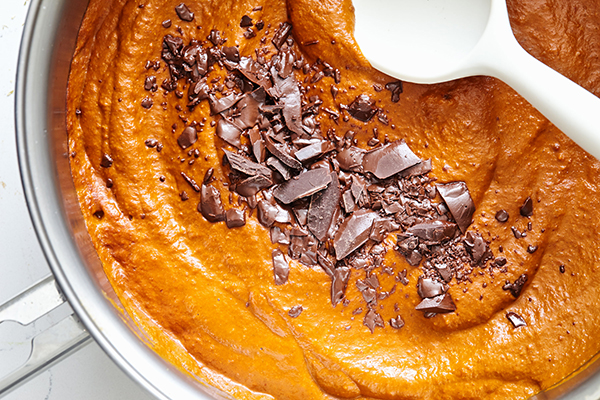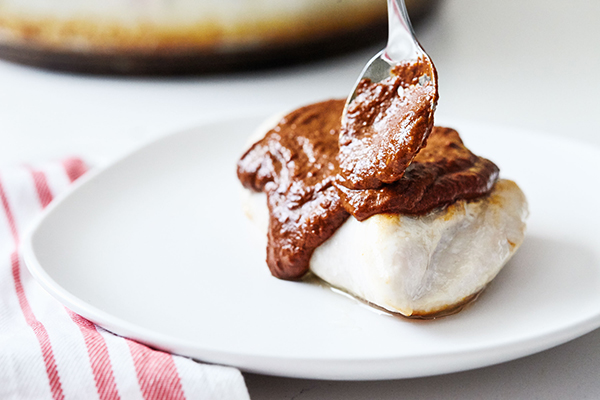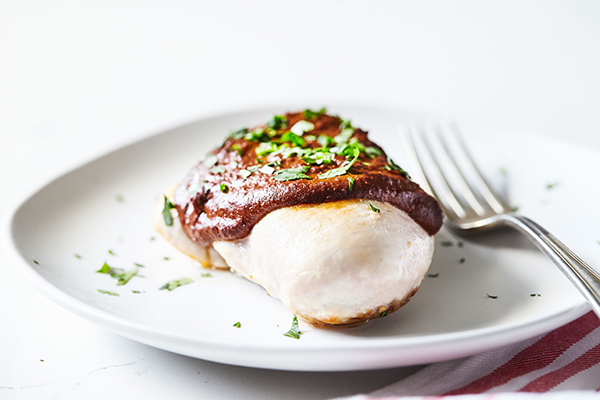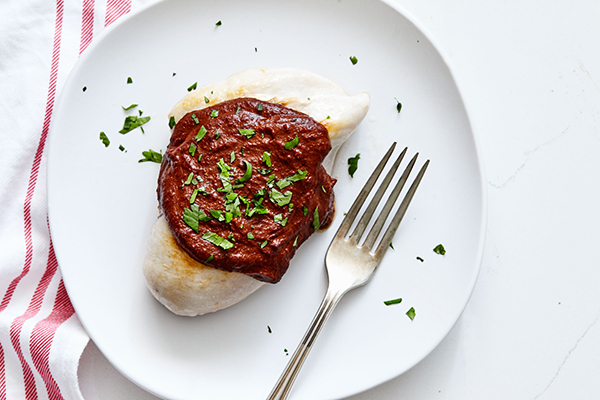 Container Equivalents
1 Red
1 Yellow
1½ tsp.
2B Mindset Plate It!
A protein and FFC as part of lunch.
If you have questions about the portions, please click here to post a question in our forums so our experts can help. Please include a link to the recipe you're asking about.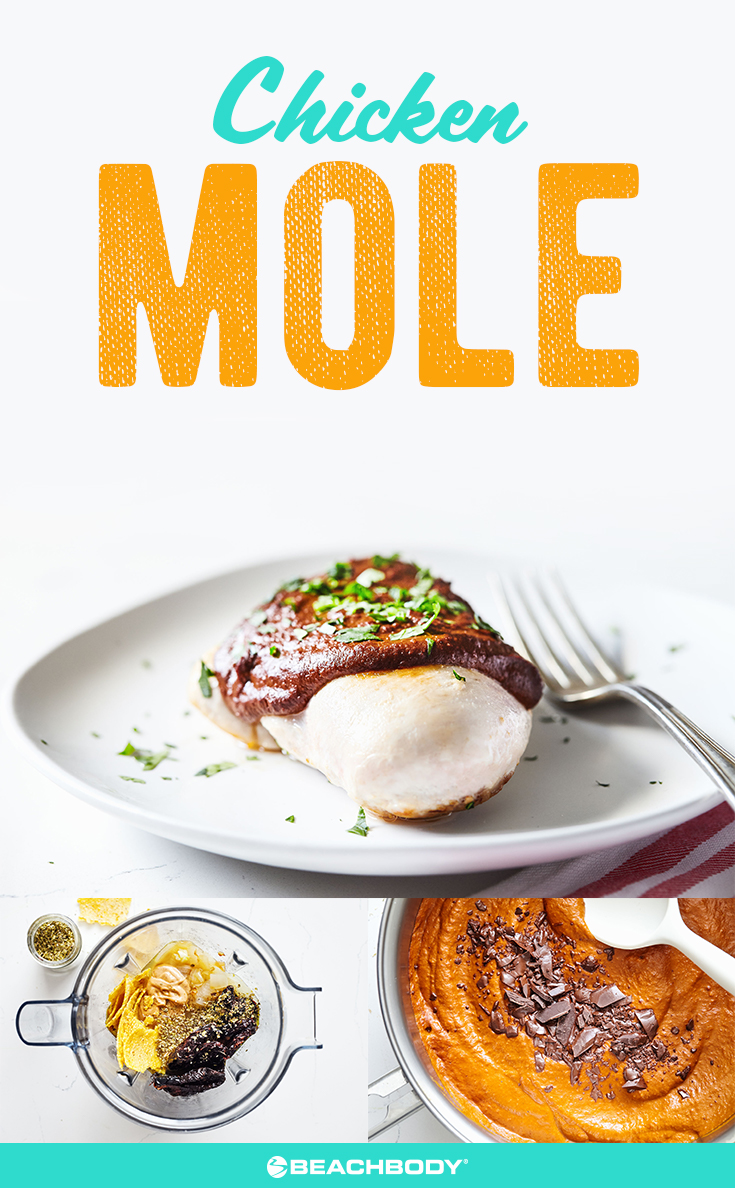 Photographs by Anguel Dimov