How to Make Your Best Shake
There's something about a flavorful, well-made shake that's so … satisfying.
But the "perfect shake" means different things to different people: For some, the perfect shake is just water, ice, and a few basic ingredients.
For others, it may be an elaborate combination of fruits, veggies, nut butters, and add-ins like chia seeds, spices, and toasted coconut.
Whatever your shake jam is, it's important to make sure you're putting in healthy ingredients in the right amounts that help fuel your body.
We've got hundreds of delicious Shakeology recipes, but we get it — sometimes you just want to improvise.
To help you get your creative blending juices going, we created this Shakeology recipe template to help you make your best shake.
Print it out, stick it on the fridge, or Pin it.
Pro tip: The "too much of a good thing" struggle is real — don't forget to keep an eye on portion sizes. Making a healthy shake is not a free pass to toss the contents of your fridge in a blender!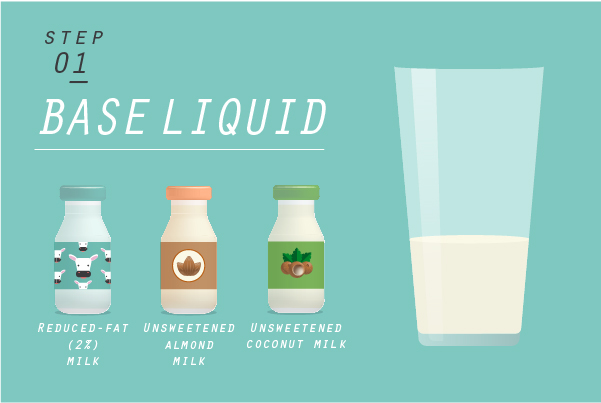 Step 1: Base Liquid
Your choice of a base will determine how thick or thin your shake will be. If you prefer a thinner shake, stick with plain water or coconut water.
A cup of ice in addition to your base will provide a nice texture. For a thicker shake, other options include:
Unsweetened almond milk
Reduced-fat (2%) milk
Unsweetened rice milk
Unsweetened organic soy milk
Unsweetened coconut milk
This step is super easy: Just add in a scoop of your favorite Shakeology flavor!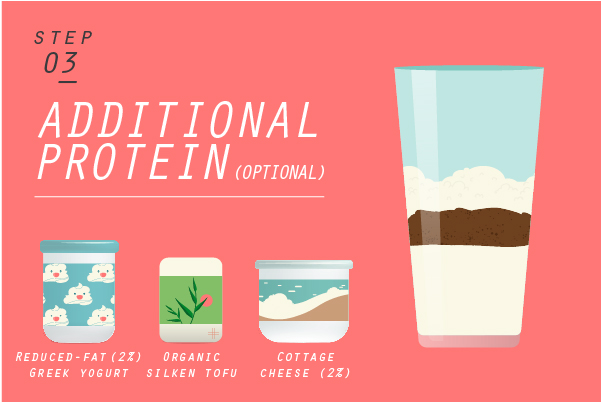 Step 3: Additional Protein (optional)
You may want to add a little more protein to your shake depending on your nutritional needs, or if you want your shake to be even thicker. Options include: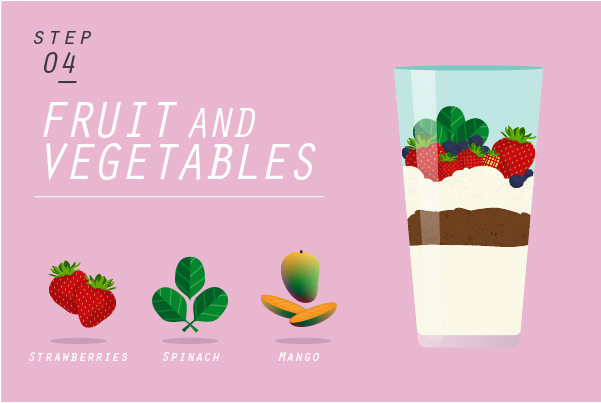 Step 4: Fruits and Vegetables
Fruits and vegetables are a great way to add heft to your smoothie without adding a bunch of calories.
You can use fresh or frozen fruit; frozen fruit adds thickness and makes your shake extra frosty!
For fruits, berries and bananas are dependable go-to's, but if you're feeling like a mad scientist, try one of these options:
Mango
Guava
Passion fruit
Pomegranate
Melon (honeydew, watermelon, cantaloupe)
Apple
Cherries
For veggies, kale and spinach are the workhorses of healthy shakes everywhere but don't be afraid to experiment with other veggies like:
If you're not a huge fan of vegetables or you don't have access to fresh greens, a supplement like Power Greens is a great option.
Each serving of Power Greens has the equivalent to one cup of green veggies (volume before drying) — with no artificial colors, flavors, sweeteners, or preservatives.†
Step 5: Healthy Fats, Seeds, and/or Nut Butters
Healthy fats are a key part of a great shake. Along with protein and fiber, healthy fats can help you stay fuller longer.
Keeping your portions in check for this step is important because a healthy shake or smoothie bowl can easily turn into a calorie bomb if you don't.
Healthy fats include:
Avocado (Remember: A single serving is ¼ of a medium avocado!)
Nuts (all varieties)
Seeds can add a nice nutty flavor to your shake. Try one of these:
Chia seeds
Pumpkin seeds
Hemp seeds
Sunflower seeds
There are several options for nut butters, but make sure to check the label: The fewer the ingredients, the better. The only ingredients that should be in a nut butter are the nuts — and perhaps a little salt.
Peanut butter (FYI: You can make your own in five minutes or less. Find out how.)
Almond butter
Cashew butter
Seed "butters" (all varieties). Fun fact: Sunflower "butter" is a spread made from sunflower seeds.
PB2, or powdered peanut butter. Peanut powder is made when roasted peanuts are stripped of their oils and the remaining nuts are ground into a fine powder. The result: Two tablespoons contains 45 calories, one gram of fat, four grams of protein, and six grams of carbohydrates (depending on the brand).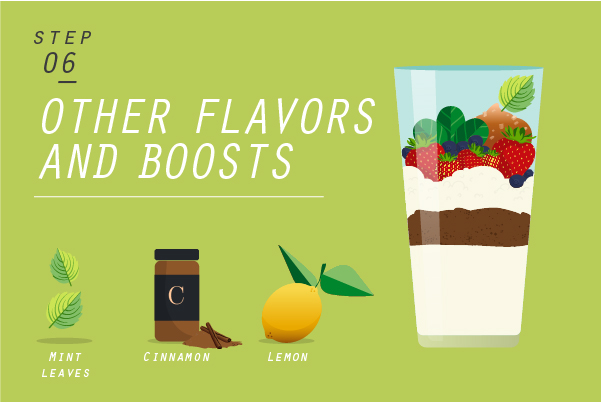 Step 6: Other Flavors and Boosts (optional)
For this step, you can add any herbs or spices that appeal to your tastebuds.
Or add in your favorite Shakeology Boost — Focused Energy for a wholesome boost of energy* or Digestive Health for an excellent source of fiber to help keep you regular.*
Other possible add-ins:
Cinnamon
Basil
Mint
Lemon
Pumpkin pie spice
Shakeology Boost Focused Energy
Shakeology Boost Digestive Health
Top Shakeology Recipes
If you're stumped on where to start, check out these top Shakeology recipes from the Beachbody (now BODi) blog.
Then, once you have those down, start making your own variations or create something completely new!
Peanut Butter Cookie Shakeology
PB and Banana Latte Shakeology
Watermelon Mint Lemonade Shakeology

†Each 5g serving of concentrated powder provides the equivalent of 1 cup green vegetables (volume before drying).
*These statements have not been evaluated by the Food and Drug Administration. This product is not intended to diagnose, treat, cure, or prevent any disease.