When I think of s'mores, I remember warm summer nights with family and friends gathered around a glowing campfire, a blanket of stars overhead, and laughter. Each person held a long skewer with a fluffy white marshmallow or two speared at one end, practicing their unique method of toasting them over the flames. As a kid, I always let mine catch fire (because fire is fun) and then quickly blew them out. I've since changed my technique to gently toast the exterior to an even caramel color without the char.
Next came the magic part, where we placed those gooey toasted marshmallows between two graham crackers with a slab of chocolate. I loved how the chocolate and marshmallow would melt together and get all over my hands as I ate the whole thing as quickly as possible, eager to put more marshmallows on my spear and make another. After all, s'more is a contraction of "some more!"
I still love the evocative flavor of s'mores but I don't want to eat an actual s'more every day. That's where this recipe for S'mores Shakeology comes in. It captures the summer's iconic flavor, and I can drink one every day if I so desire.
A scoop of Chocolate Shakeology gives the S'mores Shakeology a rich, chocolaty flavor, vanilla extract stands in for the sweet marshmallow, and real graham cracker crumbs blended into the shake and sprinkled on top are the finishing touch.
S'mores Shakeology Smoothie
Capture the classic taste of summer with this healthy Shakeology S'mores smoothie!
Ingredients
1 cup unsweetened vanilla almond milk
1 tsp. pure vanilla extract
1 scoop Chocolate Shakeology
2 tsp. ground whole wheat graham cracker crumbs, divided use
1 cup ice
Instructions
Place almond milk, extract, Shakeology, 1 tsp. graham cracker crumbs, and ice in blender; cover. Blend until smooth.
Pour into a serving glass and garnish with remaining 1 tsp. graham cracker crumbs; serve immediately.
https://www.beachbodyondemand.com/blog/smores-shakeology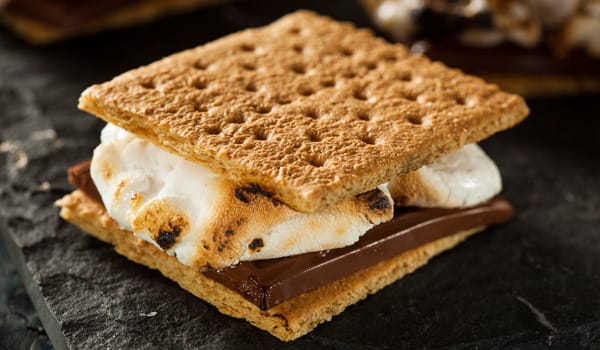 If you have questions about the portions, please click here to post a question in our forums so our experts can help. Please include a link to the recipe.