Beachbody On Demand iOS App: Everything You Need to Know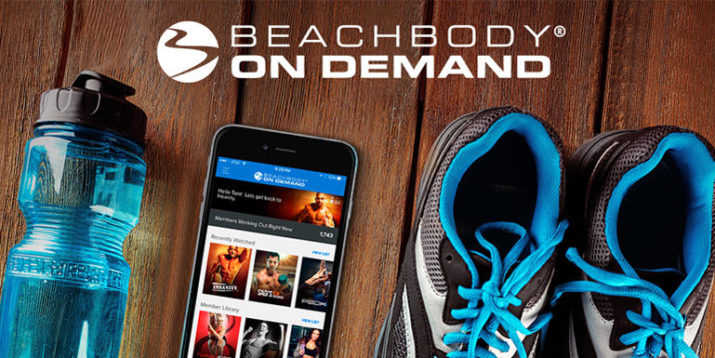 If you've ever explored Beachbody On Demand, you know it's packed with so many workouts that it's hard to imagine ever getting bored.
From bodybuilding and hip-hop to yoga and HIIT, there's something for everyone.
And the workouts range in length from 10 minutes to 90 minutes, so there's no excuse to skip a sweat session, even if you're short on time!
For those new to Beachbody On Demand, here's a quick overview of what you'll find within the Beachbody On Demand app for iPhone and iPad.
Download the BOD app on the App Store here.
Looking for details on the Beachbody On Demand App for Android? They're here!
Access to all Beachbody Workouts
Hop into the app and access hundreds of Beachbody workouts right from the home screen and exclusive content from Super Trainers like Autumn Calabrese, Shaun T, Jericho McMatthews, Amoila Cesar, Elise Joan, and more.
Every time you log on, you can find your most recently viewed programs at the top, under "Recently Watched."
That way, you can jump right back into your workouts without missing a beat.
Access to BODgroups
BODgroups is our community-based platform that will help you stay motivated, accountable, and connected, thanks to support from your Coach and virtual workout buddies.
BODgroups connects all of the tools you need to help you and your customers achieve results all in one place. BODgroups makes it simple to run (and join!) groups, build relationships for faster results, and kick-start your business or take it to the next level.
If you're a Team Beachbody Coach, log in to BODgroups.com with your Team Beachbody account email and password to access the BODgroups Coach Portal.
If you're a customer, log in using your existing Beachbody account email and password.
Don't have an account yet? Create a free Beachbody account and we'll connect you with a Coach. To access groups, tap on the "Groups" icon located on the bottom navigation bar. There you will find information on your Coach and all the groups they are running or are about to run. 
Recently Watched
Jump straight to where you left off. This is the list of programs you most recently watched.
Member Library
Here you'll find all of Beachbody's world-class programs, including 21 Day Fix, 80 Day Obsession, Transform :20, Morning Meltdown 100, 9 Week Control Freak, 645, and many more.
Offline Mode
No need to depend on WiFi to play your workouts. Download unlimited videos to your phone — as many as your device's storage will allow, and keep them forever (as long as you're a Beachbody On Demand member, that is.)
Once a workout is downloaded, you can access it at any time in the app, even if you're deep in the mountains or on a blimp, i.e. without a cell or WiFi connection.
How to download a workout
Tap on the program that contains the workout you would like to download.
Tap the downward arrow icon to the right of the workout.
If you are not connected to WiFi, you will be asked if you like to use cellular data to download the video. Choose how you would like to download the video to begin the process.
Cast and AirPlay
The app also features the ability to AirPlay to an Apple TV and Cast to a Chromecast device so you can stream and view your favorite workout videos on your TV.
See Your Caloric Burn Onscreen
Do you own an Apple Watch? Want to see your calorie burn and heart rate in real-time onscreen as you're working out?
With the Beachbody On Demand App for the Apple Watch, you'll get instant feedback and see your real-time workout data on the top right of the screen so you can adjust your effort to match your exercise goals.
And, you'll also be able to use your Apple Watch as a remote to control the playback of your workouts.
At the end of each workout, you'll see a summary of your performance. This includes the length of your workout, your average heart rate, your calories burned, and the amount of time you spent in five different heart rate zones.
You can compare your results over time to see how you're progressing.
What do I need to be able to use the Beachbody Apple Watch app?
To get access to this functionality, you'll need a membership to Beachbody On Demand, the Beachbody On Demand app, an Apple Watch, and an Apple device (iPhone, iPad, Apple TV) to play your workout.
If you have an Apple TV, stream Beachbody On Demand through your Apple TV and you'll see your heart rate and caloric burn displayed on the screen while you're exercising.
If you don't own an Apple TV, stream Beachbody On Demand from your iPhone or iPad and use AirPlay or Chromecast to beam it to your television. This will also allow you to see your activity information.
Where does the Beachbody Apple Watch app get my information for calorie burn and heart rate?
The Apple Watch is continuously tracking your heart rate and Apple HealthKit contains your other information.
The Beachbody On Demand app overlays that information onto the video screen.
The more data you provide (height, weight, body fat percentage, etc.), the more accurate your caloric burn numbers will be.
How to Get Started With Beachbody On Demand
You can look through the Beachbody On Demand app and see the details of programs without logging in, but if you want to watch an exercise video or view a meal plan, you'll need to log in, restore, or register.
You can sign in to your account using your Beachbody On Demand log in credentials or start a free trial.
If you previously purchased Beachbody On Demand through Apple TV, choose the "Restore Account" option on the login screen.
Click here to get the Beachbody On Demand app for iPhone and iPad.
Learn More About Beachbody On Demand: