19 Things You Don't Know About Shaun T
If you've ever made it through any of Shaun T's Beachbody On Demand (now BODi) programs, like INSANITY,  T25, Transform :20, and LET'S GET UP! you know what he's like: full of energy, motivating, relentless, and an all-around awe-inspiring person.
But do you really know Shaun T? We got the chance to sit down with him and get answers to some of our burning questions.
Check out Shaun T's idea of a perfect day, his biggest role model, and the best advice he's ever gotten!
What You Don't Know About Me … By Shaun T: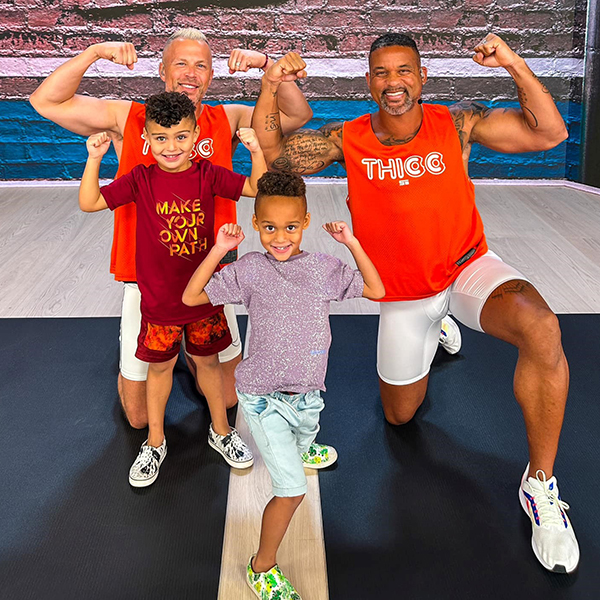 1. What are three qualities that have gotten you to where you are today?
My ability to be truthful. I am the type of person, who, if you hang out with me, I am going to be very honest with you — the good, the bad, and the helpful.
I'm trustworthy. I am just always honest, which helps me be my most authentic self, even if some people don't like my most authentic self.
I am transparent. I think being transparent is the best, then people can decide if you are their cup of tea or not. I am completely fine not being someone's cup of tea. But for those who I am, I thrive in it, and I believe it is a two-way street because the freer I am allows me to learn more about other people, too.
2. What do you think would be the #1 thing you hope people learn from you and continue to learn from you?
I believe that we are only here once on this earth. And I tell people all the time — "I am your biggest fan." The reason I tell people this is because I want you to stay true to who you are.
All my friends are completely different, nobody is the same. Not everybody is into fitness or into dancing. I have friends from all different walks of life and it's because I just allow them to be free. I hope people really take that from me.
3. What is something that recently moved you?
Music. I was very surprised with B25 that I enjoyed cycling like I used to 20 years ago.
The music in these workouts moves me and takes me to a place that enhances the experience for me to be able to deliver a message to people of inspiration and motivation while exercising.  So, music on the BODi Bike moves me.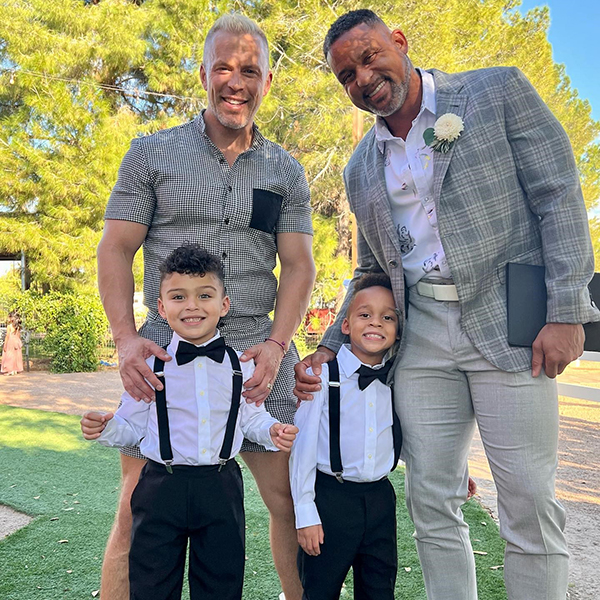 4. What does "family" mean to you?
Unit. Family means "unit" to me. Scott [my husband] and I have zero secrets in our relationship.
We have a zero-secret policy no matter how amazing the message is or how unamazing the message is. That's how we stay close to our kids. Through physical love, emotional love, and communicative love. I think that's really important.
5. What's the background on your phone?
It's purple! It's just a purple background right now because that's Scott's favorite color.
Sometimes I have his picture and sometimes I have purple because I love him so much. I want to think of him when I'm looking at my phone.
6. What are you most proud of and why?
Positively selfishly, I am proud of my ability to overcome triumph and turmoil from such a young age.
Unfortunately, being a sexual-abuse survivor, I had to learn to navigate stress. I am really proud that I am able to continually climb out of a negative headspace, and I know for a fact that's where my motivation comes from. This also helps me be a better parent and husband.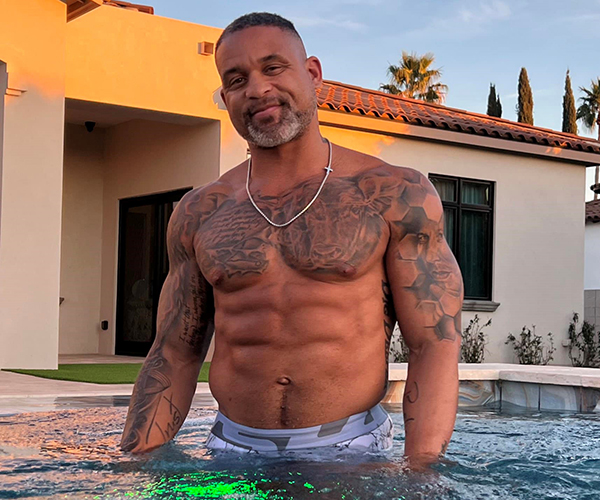 7. What's your idea of a perfect day?
My idea of a perfect day would be to wake up, work out, come back home after I finish working out, fall asleep watching a true-crime documentary in my theater, go get a massage, come back and play with my kids, and once my kids go to bed Scott and I would have a Ms. Pac-Man tournament, and then I would end the day cuddling with Scott, while falling asleep and watching TV in my bed.
Oh, and we're going in the hot tub first because that's always fun!
8. If you could pick one artist to dance to for the rest of your life, who would it be?
Janet Jackson, 100% hands-down! My first audition when I moved to Los Angeles was for Janet Jackson.
I didn't get a chance to dance for her, but I would literally drop most things I'm doing to go dance for her!
9. What is your guilty pleasure?
I don't really have one and I know that sounds crazy, but I've trained my brain to not feel guilty for things that give me pleasure.
I'm in such a great place in my life when it comes to health, exercise, fitness, and mental health (I go to therapy all the time) that I am not going to feel guilty for pleasurable things.
If you want to know what my pleasure pleasure pleasure is, it is every single time I get to go to the donut shop and sit in my car by myself with no kids and no husband around and enjoy 3 donuts. It makes my life so happy!
10. Who is your biggest role model?
I have to say my grandfather. He was a pastor of a church, and he was super-helpful to the community.
Someone could walk into our church who just got out of jail for 7 years and he would take the time at the end of the sermon to pray with them and love them.
11. What is the best advice you've ever gotten?
I think when Serena Williams said something along the lines of, "you can reach for the sky, and even though you will never touch the sky, that doesn't mean you should stop reaching for it."
Basically saying the more you try to reach for something, even if that particular thing is unattainable, you're still going to be able to grow, and you will be able to learn new things. It's such an amazing way to think about life!
12. What is the quality you cherish most in a friend?
Honestly, just honesty. Just straight-up honesty. That's it. I do not care what the situation is, I just care that you are honest.
13. If you had a theme song, what would it be?
Probably my favorite song ever is Whitney Houston's "I Wanna Dance With Somebody" because I dance in my head all the time. I dance with words, and I dance with movement.
If you've ever taken my dance class you know I talk in rhythm, and that's why I love that song so much. It's my favorite song in history!
14. Who is your favorite dinner companion?
Obviously, it's Scott. Scott knows that I don't like to share my food so he will keep his hands to himself. And even if I'm done eating, he will ask if I'm done first before he digs into my plate.
He's my favorite because he orders the entire menu and I think it's hilarious because he never finishes all the food — he just thinks he's going to be hungry forever, which he never is! I also just love looking at him!
15. What makes you laugh no matter what?
My LGBTQ community. There is a cultural way of communication that people just don't know. I just love the gay community! I think it's a happy community and 100% of us came from a place where we were hiding who we were.
So, when we can be free, it is so much fun, and you can just laugh and have a good time.
16. What's a skill you would like to learn?
Being good at massages! I have little pains after I teach because my job as a trainer is very strenuous, and I always wish there was a PT person right there waiting to help me. I'm starting with massage, and then going to get into scraping and stretch therapy.
17. What is the most adventurous thing you have ever done?
Surprising my husband when he turned 40 with a trip around the world. We started in Phoenix, Arizona, then went to Oakland, California, Tokyo, Hong Kong, Sydney, Dubai, South Africa, Germany, Miami, Turks & Caicos, Aruba, and Panama, and then finished in Los Angeles.
We only had a backpack and a small roller board. In Africa, we would wash our clothes in the tub. (My grandma taught me how to wash clothes in the tub, and how to hang them and not get them wrinkled.) It was so adventurous and fun!
18. What advice would you give someone who is intimidated to try your workouts?
Just trust and believe that I got you! I think there is no way for me to make someone feel comfortable because getting uncomfortable is the best way to get yourself comfortable.
In my book, I talk about how getting uncomfortable is the first superpower. Why do we have to stop learning and growing and getting uncomfortable just because we are adults?  Intimidating yourself is not going to give you the result you want.
19. What excites you most about your Super Blocks, FOCUS T25 + B25?
I am excited about T25 because you are not going to get bored! This workout MOVES! You are constantly moving and changing. It's almost like your body is part of a DJ set at a party, and it's only 25 minutes!
B25 is like going to church every day to be inspired and waking up every day to be the best that you can be.