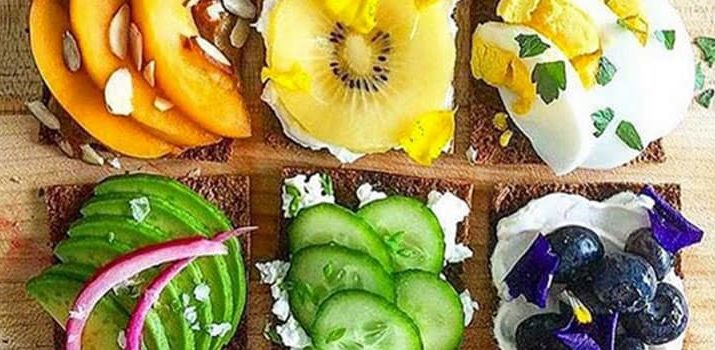 Confession time: I'm a snacker. I'm notorious for snacking throughout the day, which often leads to me feeling full after my first bite of dinner. As much as I love to chow down on a giant crunchy salad or treat myself to a burger and fries (for a cheat meal, of course), I could also probably live off snacks. Eating tiny meals opens the doors to eating a ton of different kinds of food and a multitude of flavors. Plus, bite-sized foods are adorable.
Although snacks can get a bad rap for being sugary, salty, empty calories, they really don't have to be unhealthy. Carrots and hummus are a popular snack duo that provide protein and easily fill a part of your veggie quota for the day. It might take some planning and preparation to stay on the path of healthy snacking, but that's what Meal Prep Mondays are for (or whichever day you meal prep). That's right, meal prep isn't just about lunches and dinners. Snacks are in the spotlight this week.
The possibilities for pre-prepped snacks are nearly endless, so here are some ideas to get you started!
Healthy Meal Prep Snacks
1. Bananas and peanut butter are a match made in snack heaven. These banana bites from @begoochie are a little sweet, a little salty, and have a whole lot of potassium and protein. Despite their small size, they'll give you a huge burst of energy to keep going.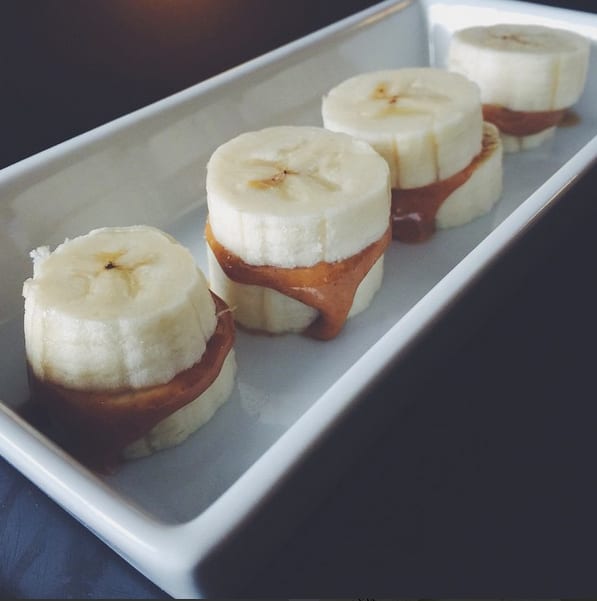 2. Fruit is a good snack. This frozen fruit idea makes it even better. These frozen grapes on a stick (a.k.a. healthy, grown up popsicles) from @mindovermunch are an ideal treat on a hot afternoon. It's easy to prep a bunch at once.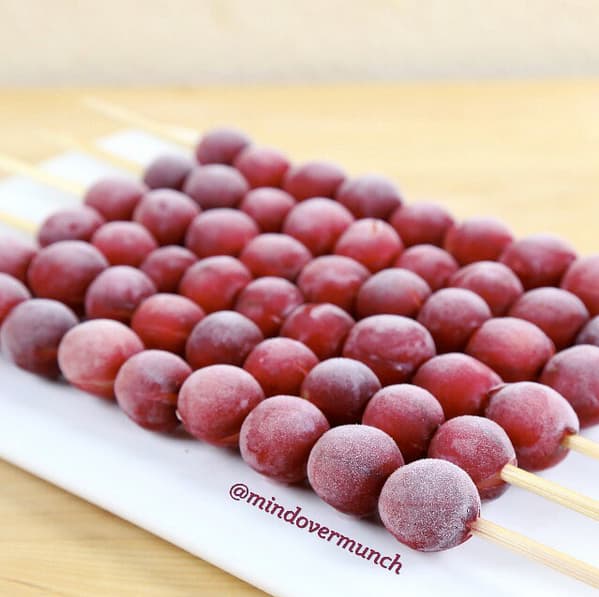 3. Popcorn is one of those snacks that some people just can't go a day without having. It's easy to munch on, it can be salty or sweet, it's light, and this whole grain can actually be extremely healthy! But there's a catch: not all popcorn is healthy … and some of it is downright scary. It's best to air-pop your own so you know exactly what's in it, and don't have to wonder about mystery ingredients lurking in the "butter." Homemade popcorn is quick and easy to make, and is totally customizable. Find a few ideas here.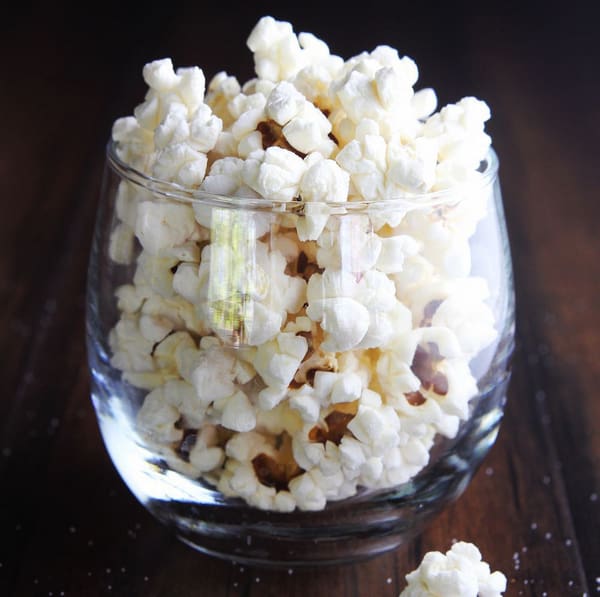 Photo by @amyshealthybaking
4. Sure, you might have tried your hand at making spaghetti squash pasta. But those seeds you threw away? You can eat those too! Just like pumpkin seeds, all squash seeds can be roasted to crunchy perfection. These spaghetti squash seeds from @d3annaaa are a great way to use the whole squash and make a perfectly delightful snack. If you need some inspiration for roasting seeds, check out this recipe.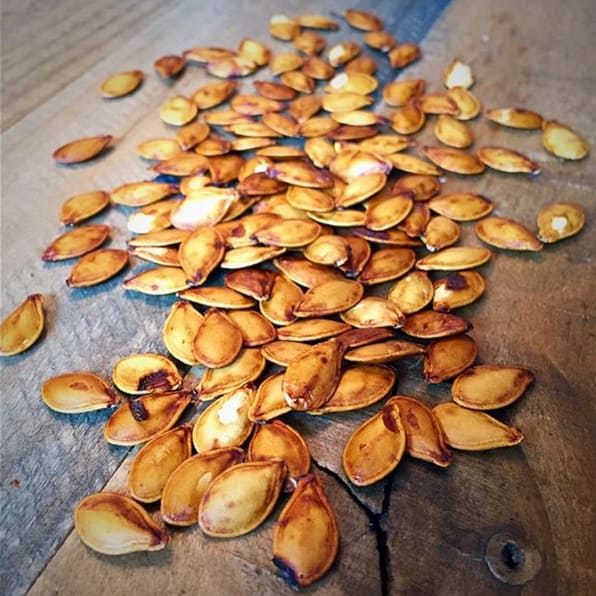 5. As we learned last week, it's more fun to eat the colors of the rainbow, especially when you're prepping a lot of food at once. Whole grain bread or crackers are an ideal blank canvas for you to decorate with healthy topping. Use these colorful ideas from @amandabisk. She managed to get the whole rainbow spectrum into her snacks. Can you do the same throughout the week?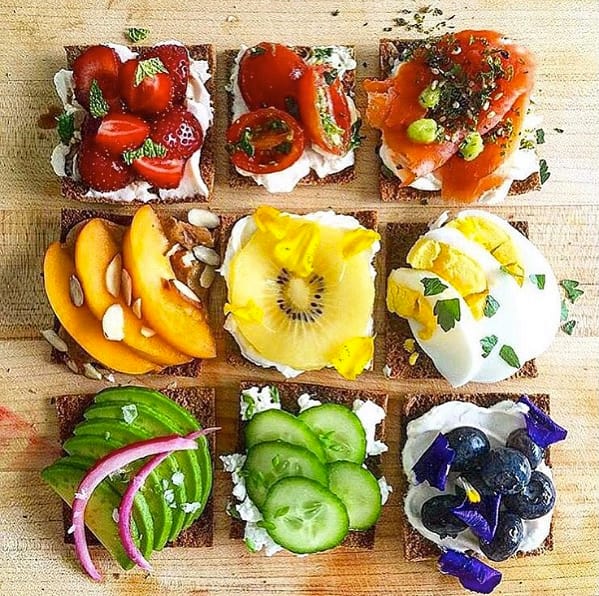 6. Did you ever have ants on a log when you were younger? Cucumber boats, like these from @crunches_and_lunches, are similar, but a little more sophisticated. You're all grown-up now, so your snacks can be too!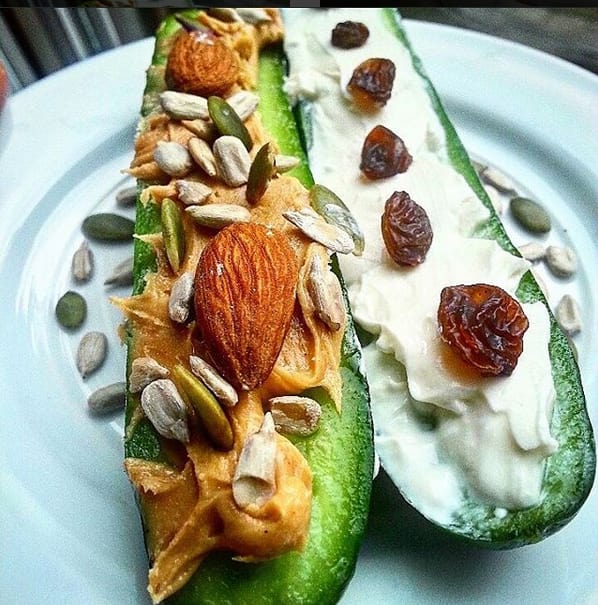 7. If you aren't a fan of peanut butter and bananas, then maybe peanut butter and apples are more your style. This snack is equal parts crunchy and smooth. For more crunch in your munch, try putting apple slices and a smear of peanut butter on crispbread, like @louisaboulaziz.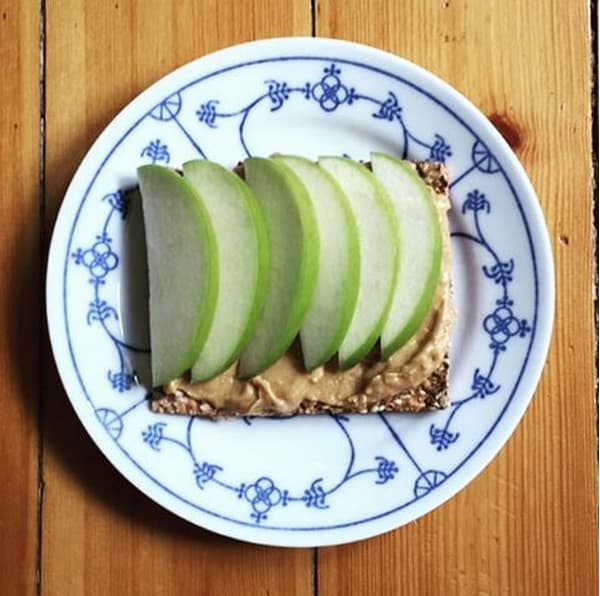 8. Energy balls, like these from @tradeskool, are proof that good things come in small packages. Like their name implies, these bite-sized wonders are packed with energy that will pick you up from an afternoon slump. Just pop one in your mouth and you're ready to go! You can make energy balls many different ways. Two of our favorite recipes are Vanilla Almond Energy Balls and Tony Horton's No-Bake Shakeology Balls.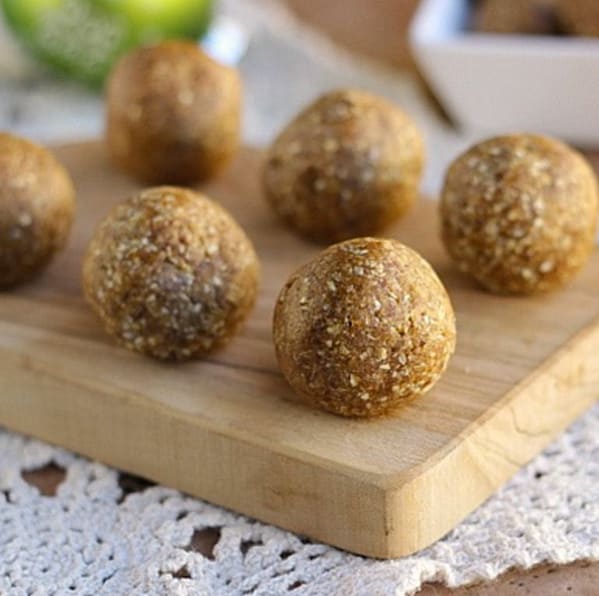 9. For an extra crispy crunch, swap out toast and for rice crackers. @jannekekoijen made a sweet snack with rice crackers, peanut butter, banana slices, blueberries, and coco nibs.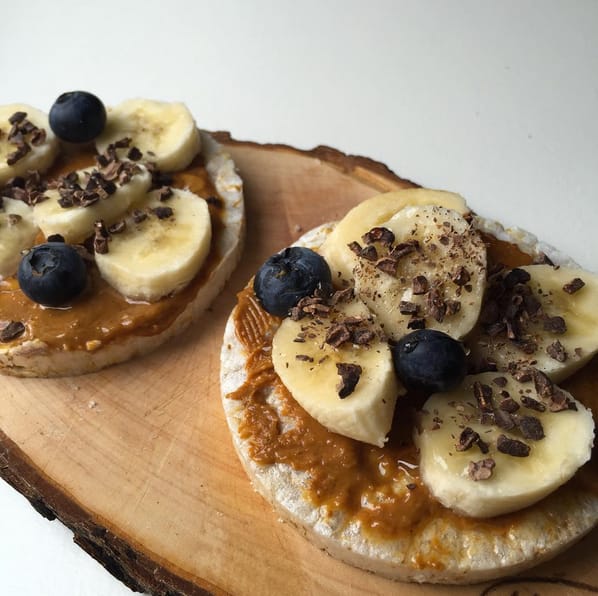 10. Shakeology packets are a meal preppers best friend. There is almost nothing that's as easy and healthy as blending up a shake…just add water. Throwing in some fresh or frozen fruit makes it even more delicious and nutritious. Try this great idea to prep your shakes for the week.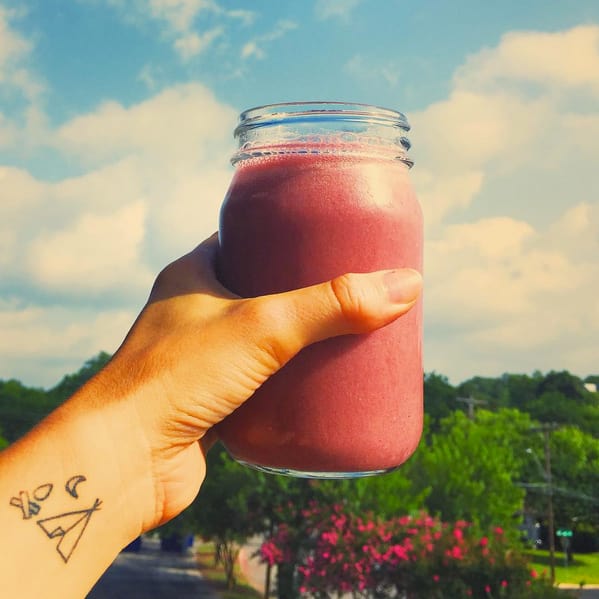 Photo by @lauren.lightning
11. Chia are tiny, inconspicuous seeds that might not look like much … until you soak them overnight in coconut or almond milk and they become a rich pudding that's packed with fiber and protein. It takes almost no time to prep chia pudding snacks for the week. Top with fruit and shredding coconut, like @fitcharliebbg.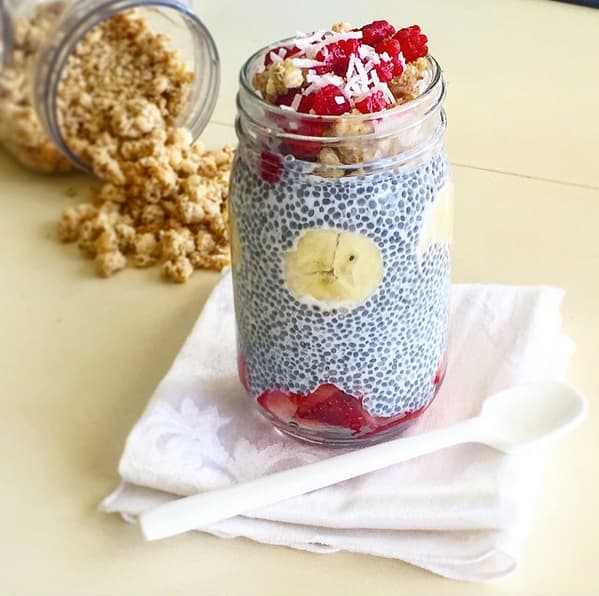 12. Not feeling the chia seeds? No problem. Go back to the basics with a fresh fruit yogurt parfait, like @martapmlima made. Putting it in a mason jar makes it easy to transport and more visually appealing on Instagram (because it's important to have priorities).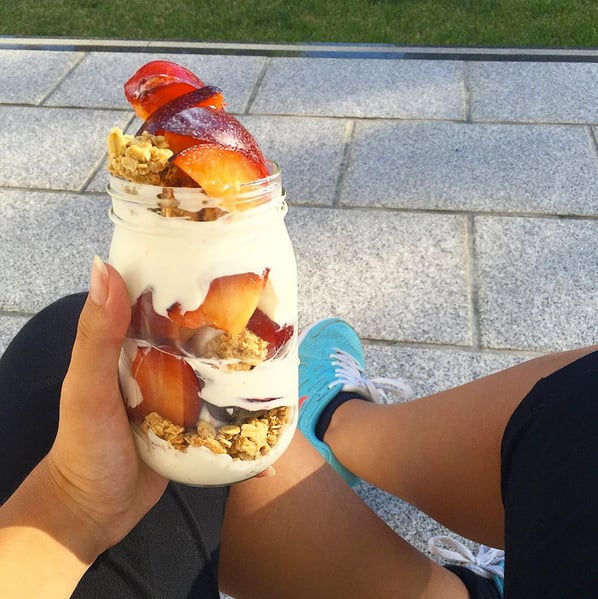 13. Kale chips obviously make our list of healthy snacks, because they easily take the place of fried potato chips, and they're so easy to make. Pop a tray in the oven while you bake chicken or roast veggies for your meal prep. This recipe from @jordan.sparrow uses tahini and a variety of other ingredients, but this recipe only has two ingredients, and is just as tasty.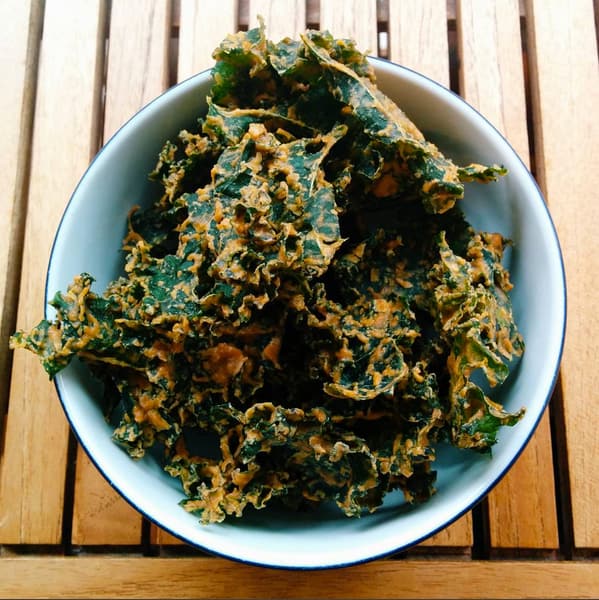 14. This smoked salmon and hard-boiled egg snack from @tiinavalkonen looks absolutely beautiful, and it's clear to see that it tastes just as good. Smoked salmon is an easy way to add fish into your diet, without having to cook it. Pairing it with an egg gives you a double-whammy of protein power.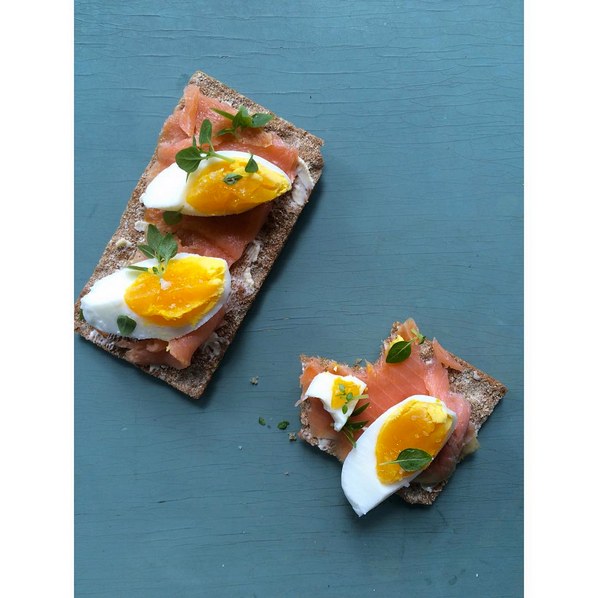 15. Veggies and hummus are a snacking staple, and you can prepare enough for the week in less than five minutes. There's an explosion of flavors in this White Bean and Roasted Red Pepper Hummus recipe, or keep it simple with this Classic Hummus recipe. If you want something spicy, add a jalapeño to your hummus, like @saarahaashia did.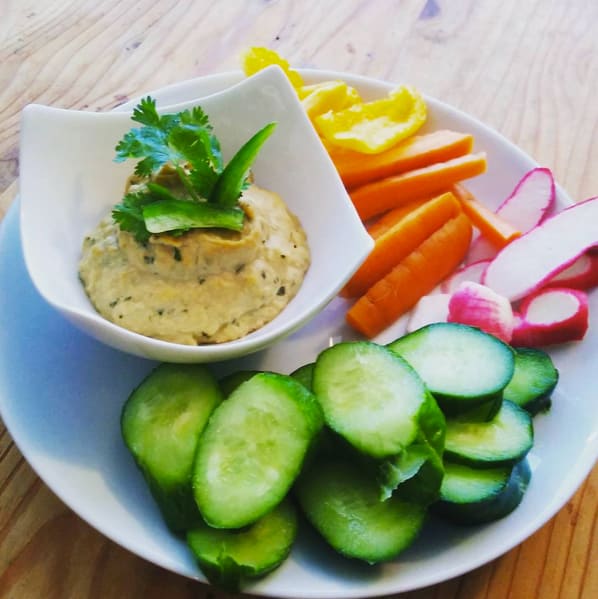 16. Create your ideal snack concoction by mixing together your favorite nuts, seeds, and unsweetened dried fruit. Try this combination of almonds, pecans, pepitas, sunflower seeds, and dried cranberries from @panchitosgrub. Divide into portions of about ¼ cup and pack into small bags or containers to stash in your bag.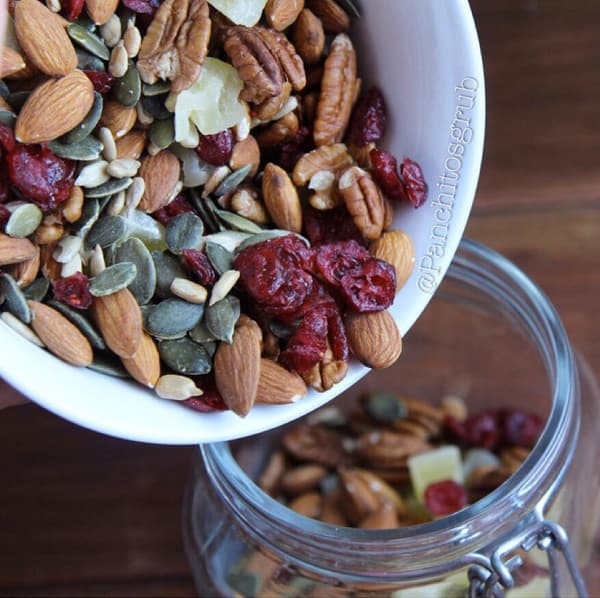 17. Mason jar salads are the perfected version of salads on-the-go, and veggie jar dippers are the snackified version. Make this portable treat in minutes by putting your favorite, healthy dip on the bottom and adding sliced veggies.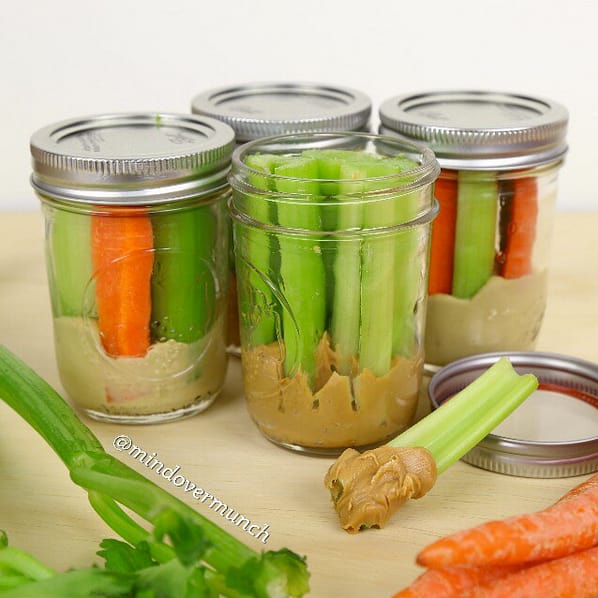 Photo by @mindovermunch
18. It can be tempting to indulge in crispy, salty fries or chips, but they'll only leave you farther from your fitness and nutrition goals. Sweet potato chips are a healthy compromise for a salty side dish, and they're a little sweet so you get a full spectrum of flavors. @tradeskool
19. Protein, vitamins, omega-3s and amino acids…the perfect makings for a super snack! Hard-boiled eggs are easy to prep and even easier to plan into your snacking schedule. Learn how to perfectly cook and peel a hard boiled egg here.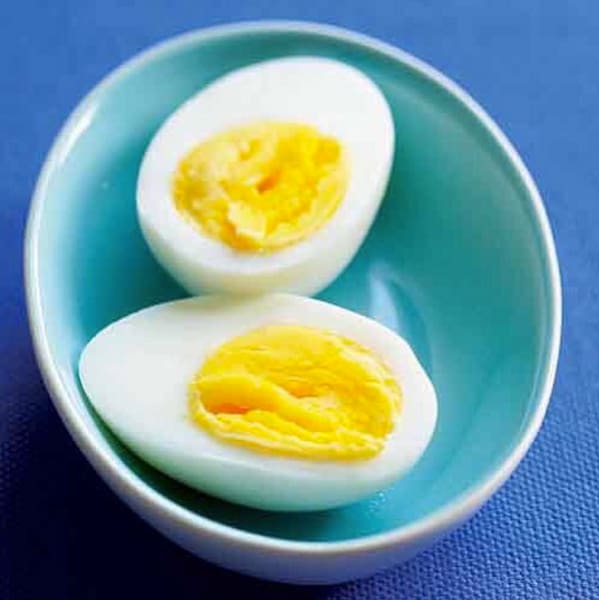 Photo by @yummymummyfitness
20. Roasted chickpeas are a fun diversion from usual snack fare, and they definitely shouldn't be overlooked. You can make them sweet or savory, or do a combination of both, like @xxmissmoulexx made. Eat them by themselves as a snack, or add them into a salad for a more complete meal.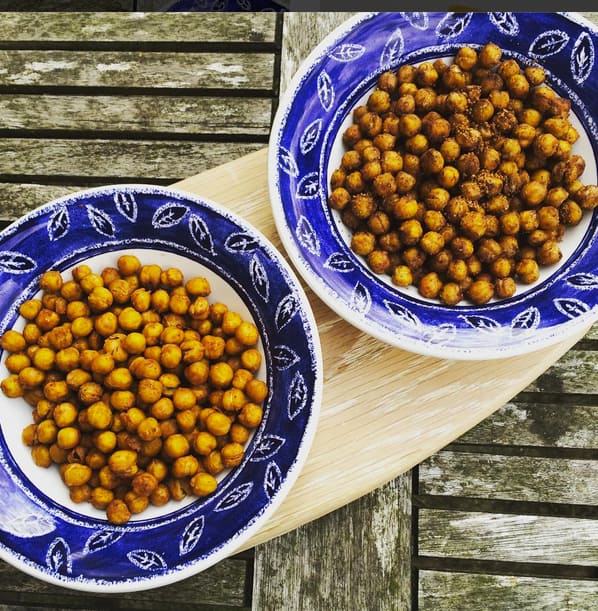 21. Oatmeal isn't just for breakfast anymore. Oatmeal cups, like these from @snacksfiercefitmom, make a delightful snack that's filling and easy to eat on the run. Create your own combination of ingredients, or try making these Baked Oatmeal Cups with Berries and Bananas.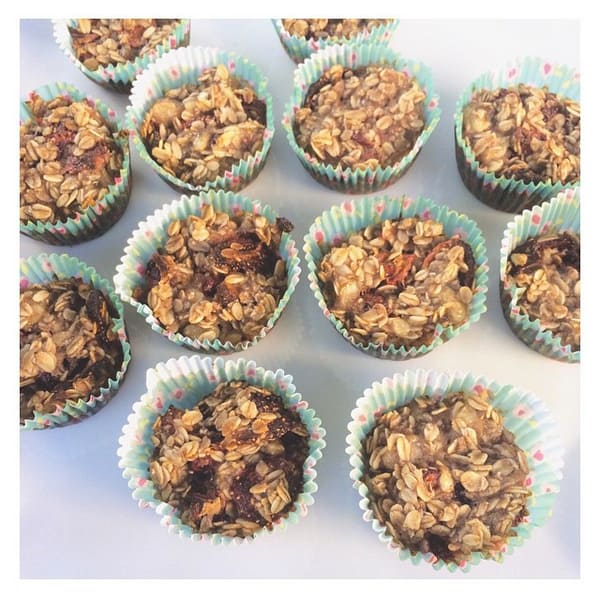 What are you snacking on this week?