Carrot and Spiced Chickpea Salad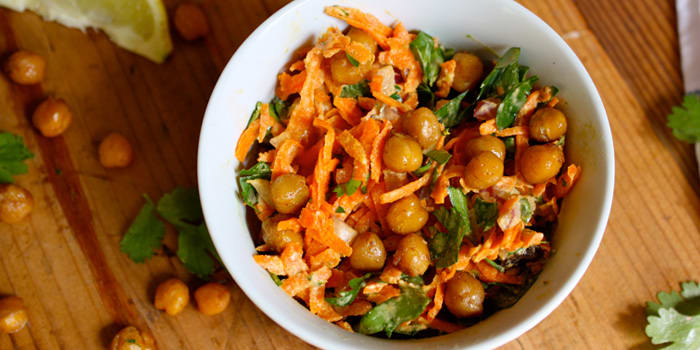 Loaded with flavor and bursting with color, this salad might seem complex but it's actually easy to make.
The combination of spices, plus a little tahini, lemon, garlic, and honey create a taste that will excite your tastebuds.
It's stellar as a side or main dish and will be a hit at any potluck party or picnic.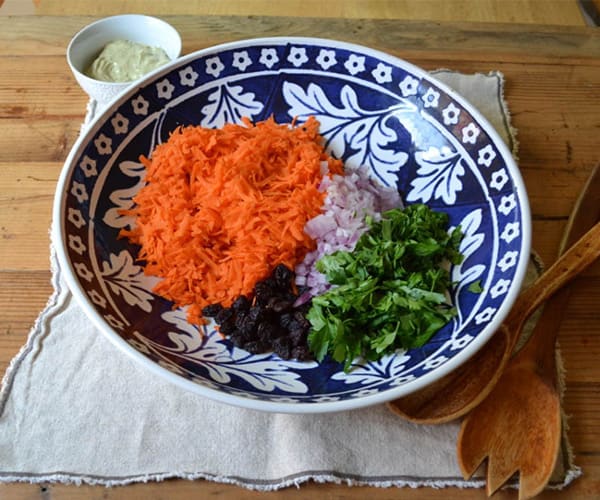 Simple (and inexpensive) ingredients get combined with a delectable tahini dressing and topped with crunchy baked chickpeas.
The chickpeas take a few minutes to make but require almost no effort. You just toss them with spices, spread on a baking sheet and put them in the oven for about 15 minutes.
These spicy beans get crunchy and give the salad great texture.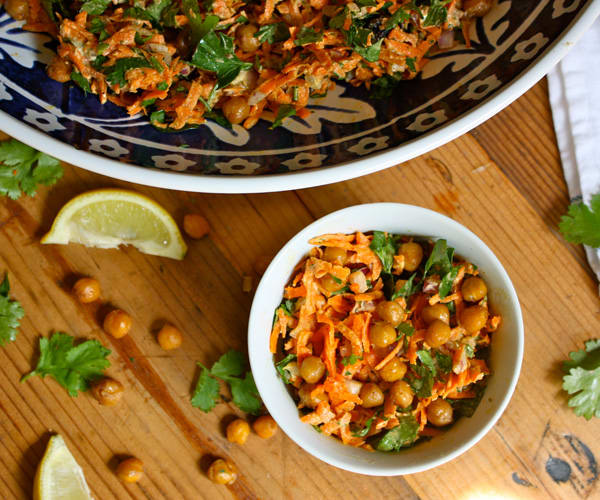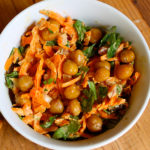 Carrot and Spiced Chickpea Salad
The carrot and chickpea salad combines spices, a little tahini, lemon, garlic, and honey.
Prep Time 15 mins
Cook Time 12 mins
Total Time 16 mins
Servings 6 servings
Calories 203 kcal
Ingredients
1 15-oz. can chickpeas (garbanzo beans) drained, rinsed, dried
4 tsp. olive oil divided use
¼ tsp. ground cumin
1 dash ground cinnamon
¼ tsp cayenne pepper divided use
Nonstick cooking spray
¼ cup fresh lemon juice
¼ cup tahini
1 clove garlic
1 tsp. raw honey
½ tsp. sea salt or Himalayan salt divided use
2 Tbsp + 1 cup finely chopped fresh parsley divided use
3 cups shredded carrots approximately 3 to 4 medium carrots
½ medium red onion chopped
½ cup raisins
Ground black pepper to taste; optional
Instructions
Preheat oven to 425° F.

Combine chickpeas, 1 tsp. oil, cumin, cinnamon, and 1 dash cayenne pepper in a small bowl; mix well. Place on baking sheet that is lightly coated with spray.

Bake, shaking baking sheet two to three times during baking, for 12 to 18 minutes, or until lightly browned and crisp. Cool.

Place remaining 3 tsp. oil, lemon juice, tahini, garlic, honey, ¼ tsp. salt, 2 Tbsp. parsley, and remaining 1 dash of cayenne pepper in blender; cover. Blend until smooth. Set aside.

Combine carrots, onion, raisins, remaining 1 cup parsley, and dressing in a large serving bowl; toss gently to blend. Season with remaining ¼ tsp. salt and pepper (if desired). Mix well.

Divide evenly between six serving plates. Top with chickpeas. Serve immediately.
Nutrition Facts
Carrot and Spiced Chickpea Salad
Amount Per Serving (1 serving)
Calories 203 Calories from Fat 81
% Daily Value*
Fat 9g14%
Saturated Fat 1g6%
Sodium 388mg17%
Carbohydrates 28g9%
Fiber 6g25%
Sugar 11g12%
Protein 5g10%
* Percent Daily Values are based on a 2000 calorie diet.
Container Equivalents
1 Green
½ Purple
1 Yellow
2 tsp.
If you have questions about the portions, please click here to post a question in our forums so our experts can help. Please include a link to the recipe.
Photos by Kirsten Morningstar