21 Day Fix Results: These Moms & Dads Lost More Than 500 POUNDS Combined!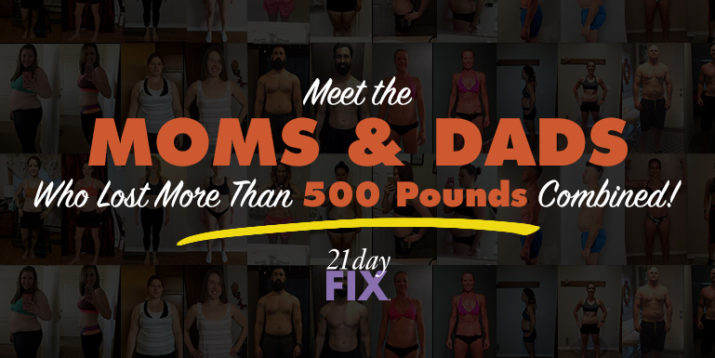 The parenting struggle is real, ya'll. The daily to-do list seems endless: meal planning, shopping, cleaning, errands, epic battles with the kids over what to wear and eat, trying to keep the house (and kids) clean, traffic, laundry, etc. — and then you get to start all over the next day.
It's no wonder that even the idea of working out and watching what you eat can be a foreign concept.
But these parents — moms and dads of all shapes, sizes, and ages — proved to themselves that they could do it. Not necessarily to look hot in a bathing suit or fit into their high-school jeans, but for their health, their self-confidence, and their families.
These 21 Day Fixers covered the spectrum: Some of them were exercise haters, others were diet haters, others were people with lifelong health issues.
But they all had one thing in common: The belief that they could change their lives. And they did. Read on and get inspired!
HEATHER: This mom of three lost 70 pounds, dropping from a size 18 to a size 8, and is now in the best shape of her life. The game-changer? 21 Day Fix and 21 Day Fix EXTREME.
"I happened to catch a 21 Day Fix infomercial late one night, and I was shocked at some of the results. I loved that not only did the program include a 30-minute workout, but it mostly focused on food. That's what I needed the most help with. I finally had to stop wishing for it and start working for it.
My biggest challenge was feeling comfortable in my own skin. I didn't like going to the store for fear of seeing someone I hadn't seen in a while. I hated buying new clothes because I always seemed to go up a size when I did. I was embarrassed by how far I had let myself go. 21 Day Fix has changed that for me.
Now I love shopping for clothes! Normal "off-the-rack" clothes fit and look good on me! I'm excited to see those people I once avoided in the store. I am happier than I've been in a long time thanks to 21 Day Fix and 21 Day Fix EXTREME."
TIFFANY: This stay-at-home mom lost 80 pounds and got back to her pre-pregnancy weight with 21 Day Fix and Shakeology.
"There's many things that inspired me to change my life and begin my transformation. One: My son. I'm a stay-at-home mom, and I want to be there for him and be a good role model for him. I want to be healthy/fit enough to be able to keep up with him without being out of breath. Two: My Coach and seeing other people who had already completed the program and had amazing results! Three: Me! Myself! I want to be healthy and comfortable with my own body.
I have gained back my confidence. I'm stronger, feel better than ever, and have more energy! I'm pumped! I just started The Master's Hammer and Chisel, and I'm excited to see what I can do!"
PAMELA: This working mom of three dropped 18 pounds in THREE months with 21 Day Fix and 21 Day Fix EXTREME.
"I have my confidence back. I know that happiness comes from the inside, but when I was really unhappy with the outside it took its toll on me emotionally. Finding the courage to start the 21 Day Fix has helped me feel strong physically and emotionally again.
I can't believe the energy I have gained back! I have so much muscle definition in my abs and upper body now, I feel like I am in better shape than when I was 25! My greatest achievement has been getting my inner confidence back. I finally feel proud of myself and there is nothing that is better than that!"
TARA: This mom of two lost 93 pounds after a lifelong struggle with her weight.
"I want to live a long, healthy life to see my children grow up. I want to make a healthy lifestyle for my children. I want to be able to enjoy playing on the ground with my kids or playing outside and running around with them. I want to teach my children to love healthy foods. I don't want my children to struggle with weight like I have my whole life.
I have a lot more energy than I did before starting 21 Day Fix. I feel so much better about myself. When I eat clean, I feel so much better than when I eat junk. I am feeling better about myself, and I am no longer concerned about depression and my blood pressure. I am able to enjoy life with my family, including running around outside with them."
OLIVIA: New mom Olivia lost 20 pounds with 21 Day Fix, Shakeology, and Beachbody Performance supplements.
"Before starting the program, I was about five months postpartum with my daughter. I was depressed, scared, and had no vision of where my life was going. I was drowning and couldn't find my way out.
Then I started 21 Day Fix and using the portion control containers. That's when things just really started to fall into all of the right places. I started losing weight, my mood drastically improved, I had more energy, and I actually wanted to spend time with my baby. I was a much better person as a whole."
PAOLA: This mom's inspiration to lose 40 pounds was her son. Now she has endless energy and feels better than she's ever felt before.
"When I started the program, I had no energy, ate horribly (maybe around 4,000 calories or more a day), and weighed close to 190 pounds at 25 years old. I was beyond overweight. I am so proud that I am now on a healthy, 1,500-1,800 calories a day, weighing 145 pounds. I am proud to say I work out a minimum of five to six times a week and look forward to it!"
TANYA: This busy mom of FIVE lost a total of 69 pounds, quit smoking, and plans to run a 5K.
"I am no longer tired or feel sick. I have the energy to actually play outside with my children. I'm no longer winded going up the stairs. I no longer smoke cigarettes for stress relief; exercise has replaced that. We eat healthier as a family now. I've started running again after 20 years, and I am planning on running my first 5K soon.
My husband has started using Beachbody programs now, and as a family, we enjoy going for walks and being more active. I am no longer unhappy. I have some slipped discs in my back. Every few months I used to re-injure my back.
Since starting the programs, I haven't had any back pain. Not even once. I think strengthening my core and abs have helped tremendously. This program has helped my mood and self-confidence as well."
HAYLEE: This mom lost 40 pounds after going overboard during – and after — her pregnancy.
"For me, I have always hated — and by hated, I mean loathed — working out. I never wanted to do it, ever. But with 21 Day Fix, the workouts were all different and only 30 minutes each, so I thought: 'Hey, I can do this!'
I loved the 21 Day Fix program because of the short workouts that I saw results with. I also loved that it wasn't the same workout every day. That made it so much easier to keep going. All that and the fact that it basically told me what to eat, but gave me the freedom to pick what I liked and didn't like."
JOY: This mom dropped 50 pounds in six months by making time for herself and working with a Beachbody Coach who checked in with her constantly and helped her throughout her entire journey.
"I am stronger, more confident, and feel better about myself. I have a lot more energy to keep up with two toddlers. I am stronger than I have ever been. [I] lost 50 pounds in six months! I now weigh 15 pounds less than I did on my wedding day! I'm proud to say I'm in the best shape of my life!"
MICHELLE: Michelle is a mom of five, including QUADRUPLETS. She lost 20 pounds and 26 inches with 21 Day Fix.
"I realized it is not selfish for my boys to see me take care of myself and develop their own lifelong habits not only for themselves but to integrate them into their own families' lives someday.
God gave me my body not to be careless with, but to take care of and nurture. It has done amazing things in giving me my beautiful boys, and I need to in turn be grateful for all it has done and learn to be kind to myself.
My absolute favorite part about it [21 Day Fix] is that it has given me freedom from my self-imposed limitations. My goal was to complete the first 21 days, and it was only in seeing results that I wanted to continue. I would get discouraged or be so hungry on previous programs, that I would not be able to see them through.
I also did not need to make my food separately from my family's. I could fix meals we all would enjoy. As I saw my progress during my second round, I realized I am really doing this! It felt so good!"
JOHN: This dad lost 30 pounds in 42 days. The best part? Now he has the energy to play with his son.
"My greatest challenge was sticking to the program, and doing the workouts. I have tried many other diets and did them for a little bit but always just went back to my old ways of eating until I was stuffed with processed foods and sweets.
Also, my first challenge was telling myself that this was not a diet, diets fail for me. This was a life change and a new way of thinking about myself and the food I was eating."
JOJI: This dad struggled with motivation, ate fast food for lunch and dinner. But with the support of his family and his Beachbody Coaches, he lost 13 pounds in 21 days.
"I feel better about myself. I'm in a better mood throughout the day. I have more energy to come home from work and play with my kids. I feel motivated to continue to eat healthy and exercise daily. It's like I'm on autopilot now. 21 Day Fix has been a game-changer in my life!"
Need more inspiration? Check out more Success Stories, or better yet — share your own!
Results vary depending on starting point and effort. Always consult with your physician before commencing any fitness program or nutritional product if you are pregnant or postpartum.