21 Day Fix Results: Mother of Two Lost 93 Pounds, Wins $500!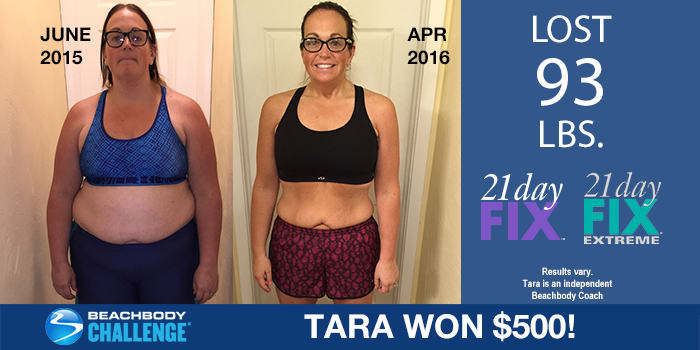 Tara Domski lost 93 lbs. with 21 Day Fix, 21 Day Fix EXTREME, and Shakeology. She entered her results into the Beachbody Challenge, and won the $500 Daily Prize for June 3rd!
Tell us about your life before you started the program. How did you feel about yourself and your body?
I have been heavy my whole life. After having two children, I needed a change. My clothes didn't even fit anymore. I would cry to myself about how fat I was and how horrible I looked and felt. I was concerned about my blood pressure and becoming depressed. I was at a bad place in my life. No energy to do anything.
What inspired you to change your life and begin your transformation journey?
My children and family. I want to live a long, healthy life to see my children grow up. I want to make a healthy lifestyle for my children. I want to be able to enjoy playing on the ground with my kids or playing outside and running around with them. I want to teach my children to love healthy foods. I don't want my children to struggle with weight like I have my whole life.
What is the greatest challenge you faced before beginning the program? How did the program and Beachbody help you overcome that challenge?
Thinking "Am I going to like Shakeology? It seems like a lot of money." Or thinking that I would not be able to follow the program and do the workouts every day was a challenge. Having a Coach put me in Challenge Groups for support and motivation helped me overcome this. I kept seeing other people's results. I knew if I would stick to it, I could have awesome results like them.
What in particular did you like about the program you chose?
I like the portion-control containers and food booklets, so I knew exactly what I could eat and how much of it. The food guide was easy to follow, and the workouts were already planned out on which day to do them. I also liked all of the good recipes for Shakeology. Everything was right in front of me. I just had to do the work, then I would see results.
Describe the results you achieved with your Beachbody program. Which achievements are you proud of?
I am very excited about the results. I pushed hard each and every day, and it does show. I can feel the lost inches in my clothes, and I have a lot more energy than before. I am proud that I pushed play every day to do the workouts and followed the meal plans. Losing 93 pounds feels great. I feel so much better than when I started.
How has your life changed since completing your Beachbody program?
I have a lot more energy than I did before starting 21 Day Fix. I feel so much better about myself. When I eat clean, I feel so much better than when I eat junk. I am feeling better about myself, and I am no longer concerned about depression and my blood pressure. I am able to enjoy life with my family, including running around outside with them.
How did participating in a Challenge Group help you reach your goals? How did your group support you and keep you accountable?
I posted my workouts and meals and Shakeology. We would post different recipes, cheer each other on, and motivate each other day-in and day-out. We were a success team, helping each other out! We supported everyone and did daily activities. We worked as a group.
How did your Team Beachbody Coach support you on your journey?
She would ask us if we worked out and to post pictures and ask questions. She was always there to help out and support our team.
How did a Beachbody supplement, nutritional product, or program (such as Shakeology or Beachbody Ultimate Reset) support your transformation? What are the greatest benefits you gained? Did you see benefits to your energy, sleep, mood/mental clarity, or digestion/regularity?
After starting Shakeology, my energy level is higher than before, I sleep better, and my mood has been better. I have lots more energy, am sleeping better, and my digestion is also regulated.
You can change your life, too. Take the Beachbody Challenge for the tools you need to Decide, Commit, and Succeed! Complete any Beachbody program, and enter your results for a free gift and a chance to win cash and prizes.

Results vary depending on starting point, goals, and effort.