21 Day Fix Results: This Dad Lost 13 Pounds in 21 Days!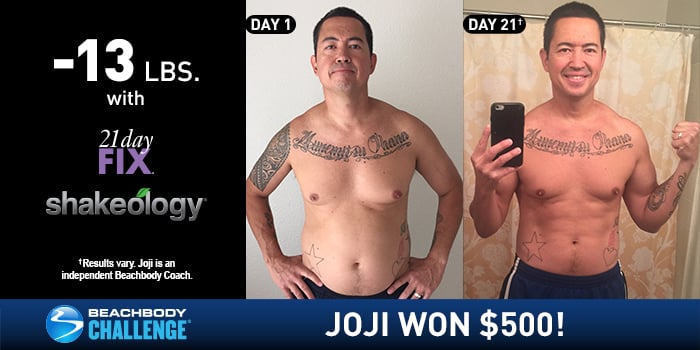 Joji Munemitsu lost 13 lbs. in 21 days with 21 Day Fix and Shakeology. He entered his results into the Beachbody Challenge, and won the $500 Daily Prize for August 10th!
Tell us about your life before you started the program. How did you feel about yourself and your body?
I was out of shape and not feeling very good about my self-image. My typical lunch and dinner was fast food, a lot of white rice, and processed foods. I would try to go to the gym and exercise, but it was always a struggle. I wasn't motivated.
What inspired you to change your life and begin your transformation journey?
I've been wanting to get in shape and eat better for a while now. I wanted to have energy when I came home from work to be the best husband and dad I could be. I was introduced to a Beachbody Coach, and she told me about her journey. She recommended 21 Day Fix, and it sounded like a program I could do. With the support of my wife and family, I committed to the program and started my health and fitness journey. 21 Day Fix was a game-changer for me!
What is the greatest challenge you faced before beginning the program? How did the program and Beachbody help you overcome that challenge?
My greatest challenge was eating healthy and exercising consistently. 21 Day Fix changed everything! The meal plan and portion containers made it easy to eat healthy without overeating, and exercising for a half-hour at home made it easy to stay focused and consistent.
What in particular did you like about the program you chose?
I love everything about 21 Day Fix! But the biggest help were the portion containers and meal plan. They helped me eat better without overeating. That, along with the exercise videos, made it possible for me to lose 13 pounds in 21 days.
Describe the results you achieved with your Beachbody program. Which achievements are you proud of?
I lost 13 pounds in 21 days! That's amazing! 21 Day Fix, along with my Coaches, gave me the tools and support that I needed to reach my health and fitness goals. I'm now waking up before my alarm clock to exercise, and that's something I never thought I could do (lol). I feel great, and I'm motivated and committed to living a healthy, fit life!
How has your life changed since completing your Beachbody program?
I feel better about myself! I'm in a better mood throughout the day! I have more energy to come home from work and play with my kids! I feel motivated to continue to eat healthy and exercise daily! It's like I'm on autopilot now. 21 Day Fix has been a game-changer in my life!
How did participating in a Challenge Group help you reach your goals? How did your group support you and keep you accountable?
Having other people around you doing the programs, exercising and eating healthy, with similar goals as you, is huge! We all kept each other accountable and helped each other with encouraging words if someone was feeling discouraged.
How did your Team Beachbody Coach support you on your journey?
Coach Trenie was there whenever I needed support and help. Even when I didn't need it, she was there to motivate me and make sure I was doing good. She shared her journey and experiences with me, and it helped me to stay focused and committed!
How did a Beachbody supplement, nutritional product, or program (such as Shakeology or Beachbody Ultimate Reset) support your transformation? What are the greatest benefits you gained? Did you see benefits to your energy, sleep, mood/mental clarity, or digestion/regularity?
I drank Shakeology every day of the program, and I'm still drinking it daily! I love the energy it gives me to exercise, work my 9–5, and then come home to play with my kids! And it tastes great!
You can change your life, too. Take the Beachbody Challenge for the tools you need to Decide, Commit, and Succeed! Complete any Beachbody program, and enter your results for a free gift and a chance to win cash and prizes.

†Results vary depending on starting point, goals, and effort.