21 Day Fix Results: Jennifer Lost 51 Pounds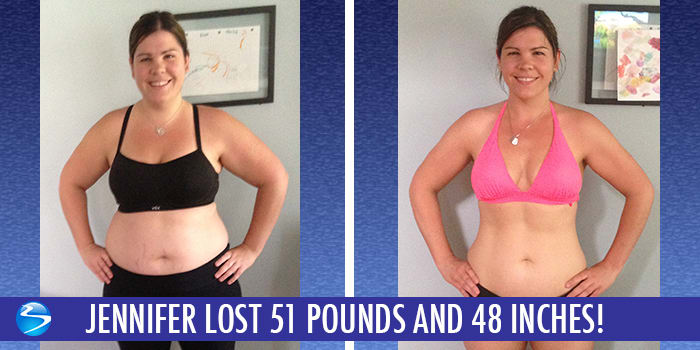 Jennifer loved her kids but was afraid to be in photos with them. When she realized she was missing out on special time with her family, she made a change. With 21 Day Fix and 21 Day Fix EXTREME, she lost a total of 51 pounds and 48 inches! Read on to hear from Jennifer how she did it!
It was summer and I was turning 31 years old. I had no energy and a ton of anxiety. I had a very active 2-year-old and 8-month-old. I hated taking pictures with my children! I had this beautiful family but was so upset with the way I looked and felt that I was missing out on so much! I have all these pictures of my beautiful children without me in them! I was tired of feeling sad, sluggish and dreading BBQs because of the way I looked! The worst was taking my daughter to mommy and me swim classes and having so much anxiety over the way I looked in a bathing suit that I didn't enjoy the time we were spending together. I had zero confidence and felt so tired. I couldn't believe that this is what I allowed myself to become. I decided: no more!
I completed my first round of the 21 Day Fix and lost 14 pounds and 19 inches! I couldn't believe it! I completed 4 total rounds of the 21 Day Fix and lost 44 pounds in 6 months! I was so impressed that I moved on to the 21 Day Fix EXTREME! I lost 11 pounds doing 2 rounds of EXTREME, bringing me to a grand total of 51 pounds and 48 inches gone! The 21 Day Fix definitely jump-started my weight loss! The 21 Day Fix EXTREME has helped me really tighten and tone my body.
21 Day Fix and 21 Day Fix EXTREME really have propelled me on my fitness journey! The 21 Day Fix programs taught me how and what to eat. It was so simple! The containers are genius! The workouts are only 30 mins of my time, yet challenging! Plus I have constant support. My family, friends and former co-workers are pretty astonished! I signed up for a mud run when I hit 50 pounds gone! After I completed that and really saw how much I could really do and how strong I really was, I decided I would sign up to run a half marathon! 
I feel like I found myself again! I have so much confidence and even though I am a lot thinner I feel strong! My anxiety is gone too! That's been the biggest accomplishment! In order to be a good mom and wife, I had to love myself first! I discovered my "why" wasn't for my family, but really had to be for me! I have so much confidence and I feel like I can accomplish anything! I am really looking forward to Shaun T's CIZE coming out! I would like to complete another round of the extreme and then move onto FOCUS T25.
---
You can change your life, too. Take the Beachbody Challenge for the tools you need to Decide, Commit, and Succeed! Complete any Beachbody program, and enter your results for a free gift and a chance to win cash and prizes.