What's New on Beachbody On Demand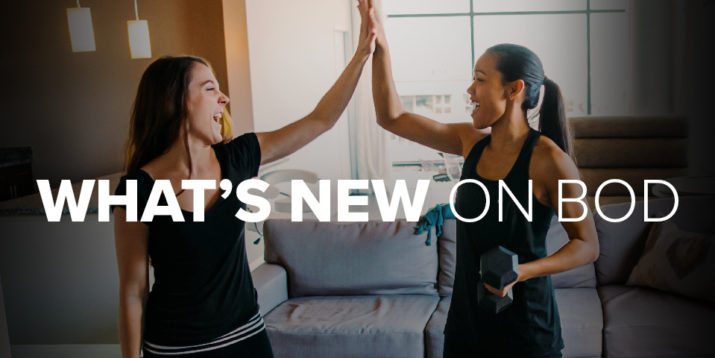 Welcome to all things new at Beachbody On Demand!
Get the latest updates on new features, improvements to existing features, and much more. Bookmark, pin, or favorite this page so you don't miss out on anything!
September 11, 2020
Now available: Search functionality is now included in the desktop version of Beachbody On Demand!
You can quickly and easily search categories like programs, fitness videos, keywords, and recipes. Plus, added filters help you refine your search even further. Happy searching!
This new search functionality will be available in the BOD app in October 2020.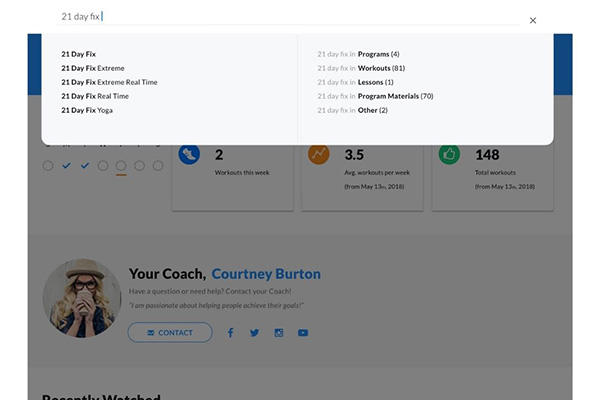 August 31, 2020: BODgroups updates
You spoke, we listened — since we launched BODgroups, we've been adding enhancements and improvements based on your input. We want BODgroups to work for you and help you succeed, so your feedback is invaluable!
Check out these new and exciting features on BODgroups:
Progress Tab: This new tab will allow you to view your goals, tracked activity, total results, and progress photos. You can filter your data easily by date range.
Members Shared Today: The ability to view all group members who have shared workout/Shakeology tracking that day at the top of the group feed.
Super Trainer Posts: Super Trainers and experts can now broadcast messages into groups that are associated with their programs if the Coach opts in for that feature.
Live Video: Coaches will now be able to broadcast live within their groups and participants can join, respond, and chat in real-time.
More exciting features are lined up for release throughout the year, so stay tuned! Learn more about BODgroups here.
June 30, 2020: BOD App Redesign
Below are the BOD app tech notes on what's coming to the apps. As you can see, this update will make the app pretty similar to the web redesign.
We've completely redesigned the program browsing experience! Here are some of the things we've added:
Programs: Now organized by categories, making it easy to find the right program for you!
Categories: New categories include Most Popular, Nutrition, Weight Loss, Strength & Muscle, Lean & Sculpted, Cardio, Low Impact, Yoga, Dance, Pre/Post-Natal + Kids, Short Workouts, Rest & Recovery, and No-Equipment Required
Start Here: A new section within a program to easily learn about the program and get all the info and materials you need to get started.
Recipes: Now it's easier to find recipes within Fixate and the Nutrition programs to help you cook healthy, delicious meals.
NOTE: The app must be updated in order to see the changes.
May 27, 2020: Team Beachbody in France
Team Beachbody has landed in France!
We're launching in the market with our special Pre-Launch Pack, which includes Beachbody On Demand, Ultimate Portion Fix and 2B Mindset nutrition programs, Beachbody Performance Energize, BEACHBAR, and the Quick Start Eating Guide.
We also added a French-language page to the Beachbody On Demand Blog. You'll find program announcements, recipes, as well as fitness, nutrition, weight-loss content, and more.
New Features on Beachbody On Demand
We launched some exciting new features on the desktop version of BeachbodyOnDemand.com!
Here are some of the updates you'll see:
Programs from the Workout and Nutrition tabs have been combined so it will be easier than ever to find your favorite programs and discover new ones.
Program pages now include more details about what the program is about and the number of weeks and workouts.
Recipe videos got an upgrade and will now include the dietary information (i.e., Gluten-Free, Paleo-Friendly, etc.) as well as Ultimate Portion Fix container counts and 2B Mindset Plate It! information.
2BMindset and Ultimate Portion Fix recipes now have icons so you'll know at a glance which programs these recipes work well with. You can see food types, container portions, and the recipe PDF download link — all in one place!
Geolocation: Based on your location, the site will be in the native language (English/French) and videos will also be dubbed in that language without needing to do anything. If you want to change the language of the site, you can do so from the flag icon in the header.
April 26, 2020: BODgroups launch!
BODgroups is our new community-based platform to help you stay motivated, accountable, and connected to reach your goals.
Join a group and you can stream Beachbody On Demand fitness and nutrition program videos, track your daily workouts and Shakeology intake, update your weight and measurements, as well as stay engaged with your Team Beachbody Coach and your virtual workout buddies — all in one place!
To get started, download the latest version of the Beachbody On Demand app. Once you're logged in, click on the Groups icon from the bottom navigation and request to join a group that your Coach is running.
If you're new to Beachbody, all you need to do is create a free Team Beachbody account, which will pair you with a Coach.
Learn more about BODgroups here.
March 1, 2019: Nutrition Tracking Available on the Beachbody On Demand Android App
Nutrition tracking on the Beachbody On Demand Android app allows you to record your meals, water intake, daily Shakeology, and weight so you can easily stay on track with your goals.
You can track your meals using the portion-control system with Ultimate Portion Fix or through the Plate It! method with 2B Mindset.
Download the latest version of the app (V3.0.0 or later) to access.
January 31, 2019: Learn More About Your Coach in the New Personalized Coach Display
You can now learn more about your Team Beachbody Coach in the new "Personalized Coach Display" on the BeachbodyOnDemand.com homepage when you're logged in.
As a Beachbody On Demand member, you have free access to your own personal Coach, who can provide the support, motivation, and encouragement you need to stay accountable to your health and fitness goals.
Pro tip: Learn how to become a Team Beachbody Coach here.
December 12: Modifier Track Available on BOD iOS Devices
The modifier option (available for select programs) has now been enabled on BOD iOS devices. When streaming a workout, select the 'MOD' option in the lower right screen to view the modifier.
Note: You must have the latest version of the BOD iOS to view this option.
 The modifier track is also available on desktop, Amazon Fire, Roku, and Android BOD devices.
December 4: Nutrition Tab Now Available on the Android Beachbody On Demand App
The Nutrition tab, which houses the 2B Mindset nutrition program, Shakeology channel, and FIXATE cooking show now appears on the Android Beachbody On Demand app. Learn more about the Nutrition tab in this FAQ.
November 14: Easily Contact Your Team Beachbody Coach With New Personalized Coach Banner
We've made it easier for you to stay connected with your Team Beachbody Coach!
When you're logged into BeachbodyOnDemand.com (excludes the BOD blog and Community), you'll see your Coach's contact info at the top of the page, so you can reach out to them anytime you want help getting started with a program, advice, and tips to stay motivated, or to join their next Challenge Group.
Your Coach's support can make all the difference in helping you stay accountable to achieving your health and fitness goals.
September 19, 2018: Additional Personalized Workout Stats Added to BOD Homepage
To give you more insights into your workout history, we've added two new stats to the Beachbody On Demand homepage: "Total Workouts" and "Average Workouts Per Week." You must be logged in to view your personal stats.
August 20, 2018: 2B Mindset Now Available on Android, Roku, and FireTV
2B Mindset can now be streamed through the Android, Roku, and FireTV Beachbody On Demand apps, in addition to web browser and the Beachbody Nutrition+ App.
August 29, 2018: Removal of Challenge Du Jour
Due to low usage, we are removing the Challenge Du Jour from Beachbody On Demand on August 29, 2018. 
We regularly evaluate feedback from our members to enhance the BOD experience and found members prefer to select workouts or programs that align with their specific health and fitness goals, as opposed to following the Challenge Du Jour general schedule of workouts.
Beachbody On Demand has hundreds of workouts and more than 45 programs, with new content added on a regular basis!
Whether you want to lose weight, build muscle, or just get healthier, there is a program on BOD for you.
If you need help choosing your next program, contact your Team Beachbody Coach. You'll find your Coach's contact information within the "My Account" page on TeamBeachbody.com – just use your Beachbody On Demand credentials to log in.
Note: You can still access any workout ever featured on the Challenge Du Jour on its associated program page.
August 2, 2018: Sync Your Workouts With My Challenge Tracker
If you are using the My Challenge Tracker app for your Challenge Group, we have some great news for you: It's now even easier to track your Beachbody On Demand workouts within the app!
By enabling "Activity Syncing" in My Challenge Tracker settings, any time you complete at least 75 percent of a workout on Beachbody On Demand, it will be automatically logged on My Challenge Tracker.                                                    
You can turn on "Activity Syncing" within the settings section of your My Challenge Tracker app. Learn more at FAQ 1360.
June 11, 2018: LIIFT4 & Mes de Más VIP Early Access Available for Purchase on Teambeachbody.com. Start Streaming Today!
LIIFT4 and Mes de Más are now available in the Beachbody On Demand member library! LIIFT4 and Mes de Más product bundles include essential equipment and nutritionals for maximum results. 
 
What is LIIFT4?
LIIFT4 is a no-nonsense combo of weightlifting and calorie-burning high-intensity (HIIT) cardio that helps you build lean muscle and burn fat in just 4 days a week for 8 weeks total.
The program features 32 unique workouts, 30-40 minutes a day, 4 days a week.
The workout moves are based on classic lifting techniques that let you isolate, stabilize and focus each rep on the muscle group you're working.
What is Mes de Más?
Beachbody's first Spanish-language program, Mes de Más, is a 4-week workout and nutrition program featuring one of the top Hispanic fitness trainers, Idalis Velazquez.
The program features 24 unique workouts, 30 minutes a day, 6 days a week.
Mes de Más is a practical solution to getting fit and staying healthy by adding more movement, more healthy foods, more water, and more sleep. 
May 29, 2018: New BEACHBODY Fire TV app
Features in the new Beachbody Fire TV app include:
Improved stability
Easier navigation to help you find your favorite programs even faster
Enhanced video features, such as access to workout modifiers in real-time without disrupting your workout
Closed captioning and multiple language audio tracks (when available)
A quick view of program details
Available on all Fire TV devices
May 2, 2018: Launch of Nutrition Tab on Beachbody On Demand
The new Nutrition tab on Beachbody On Demand is now the home to the premium 2B Mindset nutrition program, plus a new Shakeology channel, and the FIXATE cooking show with Autumn Calabrese and her brother, Bobby.
All Beachbody On Demand members will have continued access to the FIXATE recipes, but you must purchase the 2B Mindset Program separately to access the 2B Mindset content.
The Shakeology channel is free to anyone and includes a variety of Shakeology content that explains what it is, recipes, and why it's a daily habit that can help build the nutritional foundation for a healthier life.
Nutrition tab is only available on desktop and cannot be accessed using Roku, Amazon Fire, Apple TV, or the iOS app.
Learn more about the Nutrition tab in this FAQ.