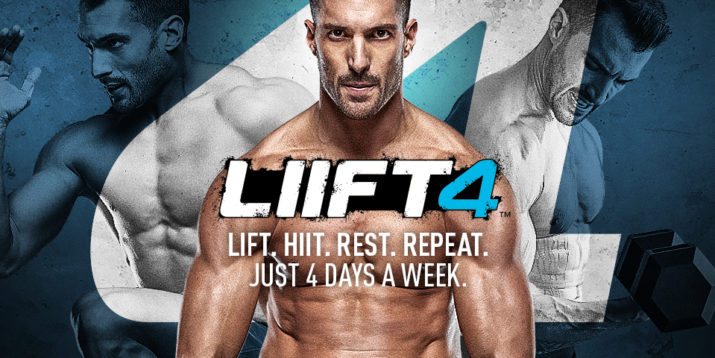 Strong and lean in just 4 days a week — Super Trainer Joel Freeman LIIFT4 will get you building lean muscle and burning a ton of calories.
You'll pack into just about 30 minutes on average what would normally take an hour and a half at the gym.
LIIFT4 is an efficient, no-nonsense workout that combines weightlifting and calorie-burning high-intensity interval training (HIIT).
The moves are based on classic lifting techniques that let you isolate, stabilize, and focus each rep on the muscle group you're working.
Every workout ends with a quick core routine for a full-body build and burn that leaves you shredded.
There are no gimmicky moves, no overly complicated routines, and no opportunity for boredom because you'll do all 32 workouts of the program in Joel and the cast, never doing the same workout twice.
Because you're only working out 4 days a week, Joel makes every second count during each workout.
They're structured to keep you lifting on pace and constantly moving, while timed rest periods allow you to catch your breath before attacking each set.
Joel believes if you train smart you'll never overtrain.
Three recovery days a week give muscles time to repair so you can push harder, lift heavier, and get better results faster.
There are two phases for maximum results: For the first 6 weeks, you'll build, cut, and define your body, followed by 2 weeks to burn through calories and fat, revealing your ultimate physique.
And since a hardworking body needs fuel, we've put together a LIIFT4 Nutrition Guide to make sure you're getting all the protein, nutrients, and healthy carbs you need for your best results.
Joel also wants to make sure you drink your daily Shakeology.
Each superfood nutrition shake has a healthy blend of potent ingredients, including high-quality proteins, probiotics, and essential vitamins and minerals.
To take your workouts and results even further, he's added the performance-enhancing benefits of Beachbody Performance to your daily routine.
This performance-enhancing supplement system can help you get the most out of LIIFT4.
Beachbody Performance gives you more energy to work out and helps you recover faster, so you can hit it again.
Motivation has never come easier than with these incredible supplements.*
Pro tip: If you love LIIFT4 and want more, make sure to check out LIIFT MORE! It's everything you love about LIIFT4, but with a focus on more muscle, more days of lifting, and more moves for even bigger results.
Who Is Joel Freeman?
You probably know Joel from CORE DE FORCE, the mixed martial arts-inspired workout phenomenon he created with Jericho McMatthews.
This time, he's flying solo — and he's pumped to get you motivated with the same workouts he does at home that have given him crazy-good results.
Working over 15 years in the health and fitness industry, Joel has held certifications from the American Fitness Association of America (AFAA) and the American Council on Exercise (ACE), and he's currently a National Academy of Sports Medicine (NASM) Certified Personal Trainer and Behavior Change Specialist.
From running day-to-day operations in gyms in Texas and Washington to directing Group X programming at Gold's Gym SoCal and becoming an International Fitness Presenter — he's done it all.
What Equipment Do I Need?
All you need is a set of light, medium, and heavy weights (depending on your fitness level), or you can substitute with resistance bands.
What Intensity Level Is LIIFT4?
The intensity level of LIIFT4 is high.
Whether you're weightlifting or HIIT training, the breaks are short and Joel continually pushes you to do your best.
This is an intermediate to advanced program, but don't let that scare you. There's a modifier you can follow for every workout.
How Much Space Do I Need for LIIFT4?
All you need is about a 6×6 space to get this program done.
What Nutritional Supplements Do You Recommend for LIIFT4?
First and foremost, we recommend drinking Shakeology daily to help build a strong nutritional foundation.
New changes to your diet or exercise habits can increase the demand on your body. Shakeology helps your body get more of the nutrients it needs every day.*
It's a delicious superfood nutrition shake meticulously crafted with premium proteins, fiber, probiotics, and essential vitamins and minerals that'll help your body make the most of the program.
We also recommend the Beachbody Performance line.
Energize gives you a boost to help push you harder during your workout. Hydrate is made with a fast-absorbing combination of water, carbs, and electrolytes that replaces what's lost through sweat and can improve endurance.*
Recover post-workout provides you with just the right proteins and phytonutrients to help speed recovery.*
Finally, BEACHBAR is a satisfying, wholesome snack you can use to get more protein — and satisfy your sweet tooth.
The LIIFT4 Program and Nutrition Guide
The LIIFT4 Program and Nutrition Guide features simple, back-to-basics nutrition with common-sense guidelines that facilitate muscle building and fat burning.
The BEST part is you can still have a life — the plan includes an optional "cheat day." There are no gimmicks, no complicated recipes. Just five easy steps designed to deliver serious results.
Ready to try LIIFT4? Head over to BODi today!
*These statements have not been evaluated by the Food and Drug Administration. This product is not intended to diagnose, treat, cure, or prevent any disease.