Get Results With My Challenge Tracker
Update April 26, 2020: 
BODgroups is a new community-based platform that will help you stay motivated, accountable, and connected, thanks to support from your Coach and virtual workout buddies.
BODgroups completely replaces My Challenge Tracker, bringing you new and improved features and functionalities. All your groups (past, current, and future) and tracking information automatically migrated to BODgroups upon launch, with the exception of direct messages.
You'll be able to engage with your groups from the "Groups" tab on the Beachbody On Demand app.
Learn more about BODgroups and get started today!
---
Want an easy way to keep up with your Group, track your workouts, and log your delicious Shakeology superfood protein shakes?
There's an app for that! And, it's free!
The My Challenge Tracker app — available on both iOS and Android — also helps your Team Beachbody Coach be a great accountability partner for you.
Keep reading to find how My Challenge Tracker works and how it can help you reach your health and fitness goals.
What Is My Challenge Tracker?
My Challenge Tracker is an app created by Team Beachbody to help keep you motivated and accountable through the duration of your Group.
Use the app to update your weight and measurements, post photos, and log your workouts and Shakeology shakes. You'll also find it's a great way to communicate with your Team Beachbody Coach and fellow Group participants when you're feeling stuck and need a little motivation!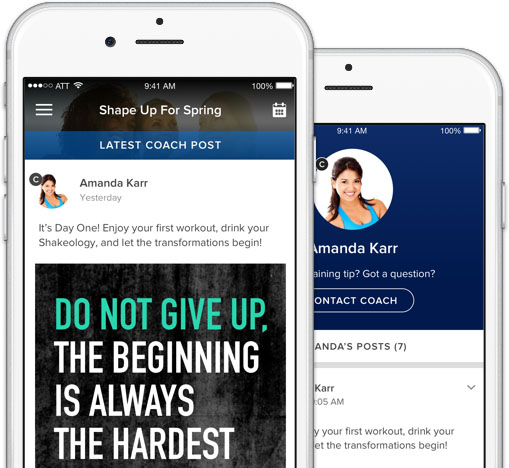 What Features Are Included in the My Challenge Tracker App?
Once a Team Beachbody Coach invites you to download the My Challenge Tracker app, you can:
Stay on top of your goals by tracking your Shakeology and Beachbody workouts.
View stats and monitor your progress week by week.
Set up daily notifications to remind you to log activity.
Get support and motivation from your Team Beachbody Coach.
Connect with people in your Group to help you stay motivated.
Reach your goals and get the best possible results!
How Can I Access My Challenge Tracker?
You must be invited by a Team Beachbody Coach in order to log in to My Challenge Tracker. So make sure to reach out to your Coach to be added!
Once you are, you'll receive an email from your Coach with a link to download the app or you can download the app directly at MyChallengeTrackerApp.com.
Don't have an account or a Team Beachbody Coach? Get one here.

How to Start Using My Challenge Tracker
Getting started with My Challenge Tracker is easy. Just follow these three steps:
1. Log in using your Team Beachbody/Beachbody On Demand account credentials, and you'll automatically be directed into your Group. You'll see a Welcome Screen with your Group as well as your Team Beachbody Coach's name.
2. Click on the Get Started button.
3. Create your profile. On the next few screens, you'll be asked for information that will help complete your user profile. If you don't want to fill these out right away, you have the option to skip and complete them later. You can update your profile any time by clicking on "view checklist" from the home screen to add photos measurements, weight, and goals.
If your Group hasn't started yet, you'll see the group start date displayed at the top of the page. Before your group begins, we recommend completing the pre-start checklist, which includes your goals for the Group, as well as your starting weight and your "before" photo and measurements.
You'll also be able to see messages from your Coach, join group discussions and change your privacy settings, however, you won't be able to log additional activity until the Group officially starts.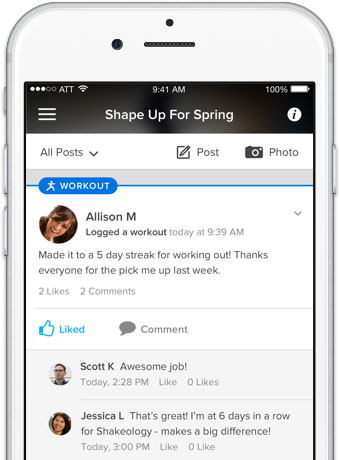 How My Challenge Tracker Helps Keep You Accountable
Choosing to share your journey on the My Challenge Tracker app allows your Team Beachbody Coach to better support and help keep you accountable.
And, you'll be happy to know your posts on My Challenge Tracker can only be seen by your Coach and your fellow Group members. So you can feel confident when logging your workouts and uploading those sweaty selfies. The app also includes:
Progress Reporting: My Challenge Tracker charts your progress by tracking your logged workouts, Shakeology shakes, progress photos, measurements, and weight!
Reminders: Your Team Beachbody Coach is there to help keep you accountable to your goals, but you can also enable push notifications that will remind you to log your daily workouts and Shakeology.
Group Support: Post messages, share photos, like or comment on other members' posts, and see who else has worked out and logged their Shakeology all within the app. Within the Group support section, you'll also be able to find the group info and files page where you can view all participants, workout calendars, meal guides, and worksheets your Coach may have posted. Remember, you can always contact your Team Beachbody Coach directly at any time by email or by tagging them in the group feed.

How to Track Your Workouts and Shakeology
Once the Group starts, you can log your Shakeology or your workouts from the home screen. To do so, simply click on the "Add Shakeology" or "Add Workout" icon.
"What if I forget to log my workout or Shakeology?" Not a problem! If you missed logging any of your activities, you can easily add past activity for any days the group was active.
Here are a few more helpful tracking tips:
To check out your progress, click on the person icon at the bottom of the screen.
Made a mistake? It happens. If you logged your Shakeology or created a workout by mistake, click the trash icon in the lower left corner.
Activate automatic reminders. Help yourself stay accountable by enabling "Push Notifications" for activity reminders in Settings. To choose which specific notifications you want to receive, click on "Notifications." Also, make sure you turn on Reminders in the settings page.
Celebrate your monthly achievements! The calendar icon in the home screen provides a monthly view of your activity and allows you add or edit past activity.
When your Challenge Group is over, you can view your progress and add your final photo and weight.
Use the free My Challenge Tracker app along with a Beachbody Challenge Pack to reach your goals. We know that combining healthy nutrition, convenient workouts and personal support can dramatically improve your results.
The Beachbody Challenge Pack delivers all three with a daily dose of dense nutrition in Shakeology, a full year of workouts on Beachbody On Demand, and a free Team Beachbody Coach who can help support and motivate you to stay on track.
Start today!