How to Lose Weight On a Budget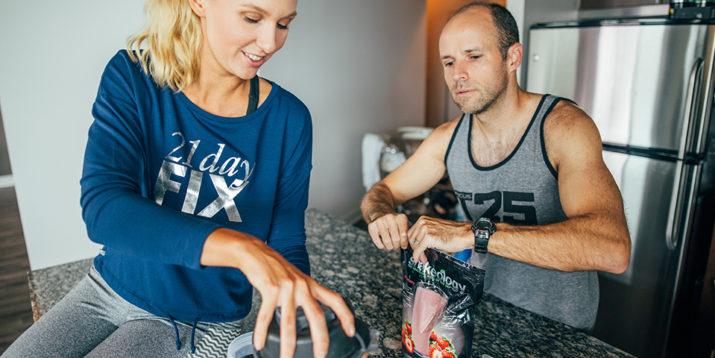 Here's Pro tip #1 on how to lose weight on a budget: Don't spend your paycheck on imported superfoods, a personal trainer, and spendy meals.
Losing weight on a budget is completely doable, says Krista Maguire, R.D., C.S.S.D., and BODi nutrition manager. What's more, eating healthfully on a regular basis doesn't have to cost significantly more.
Maguire points to research showing that the healthiest diet patterns cost only about $1.50 more per day than the least healthy diet habits.
That adds up to about $40 extra a month, an amount you can easily save in other areas, like meal prepping or making coffee at home.
That said, there are still a number of smart budgeting and creative hacks to help you stretch your dollar even further, says Maguire.
Before you get started, though, it's important to map out your weight-loss strategy.
Identify Your Goals and Create a Budget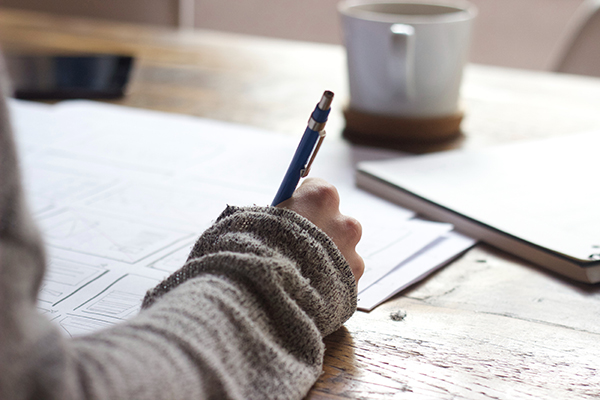 First things first: Spend a little time brainstorming your specific weight-loss intentions, whether it's exercising three times a week or eating one serving of vegetables at every meal.
Next, consider what will motivate you to follow through (or not) with your goals. Do you need to participate in a guided workout program to exercise regularly? Or do you need a detailed grocery list to avoid temptation?
Having a clear idea of what's necessary to carry out your weight-loss goals will help you stay on-track and effectively determine where to allocate your spending money.
13 Weight-Loss Tips If You're On a Budget
1. Stock up on simple, healthy staples
"You don't need fancy foods like chia seeds, coconut kefir, or organic sprouts to lose weight," says Maguire. "Keep it simple and stock up on some basic veggies, fruit, lean protein, canned beans, nuts, seeds, and whole grains [that you can] mix and match to make a variety of meals."
Maguire adds that BODI's Portion Fix eating plan, which comes with a comprehensive food list and color-coded portion containers, can help you prepare inexpensive, nutritious, and delicious meals that won't break the bank.
(Pro tip #2: Check out this comprehensive guide on how to lose weight with simple adjustments to your diet.)
2. Rely on budget-friendly sources of protein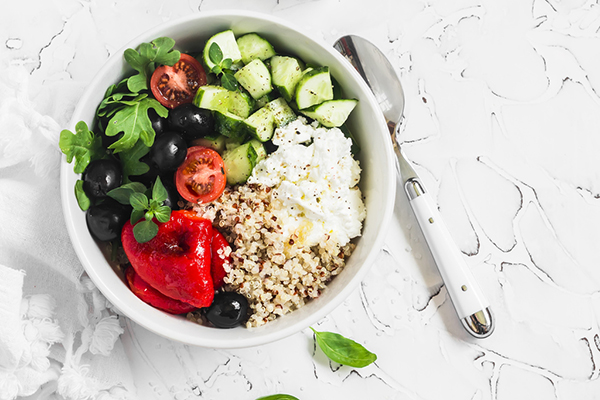 Instead of meat, which can be expensive, look to more affordable sources of protein for your meals, suggests Jackie Newgent, RDN.
"Eggs are delightful beyond just breakfast time, [and] lentils and beans contain both protein and fiber; this nutrient combo is especially satiating," she says.
If you're a vegetarian, you're probably well-versed in budget-friendly vegetarian sources of protein, like yogurt, cottage cheese, tofu, quinoa, and teff, to name just a few.
For ideas on how to incorporate more plant-based proteins into your meals, check out these vegetarian recipes.
3. Do at-home workouts
You don't need to belong to a pricey gym or buy an expensive (and space-hogging) treadmill to get fit and healthy.
When you join BODi, you can stream workouts from the comfort and privacy of your home.
You'll have 24/7 access to hundreds of different workouts designed for exercise newbies, advanced athletes, and everyone in between.
(Pro tip #3: Find out which BODi program is right for you.)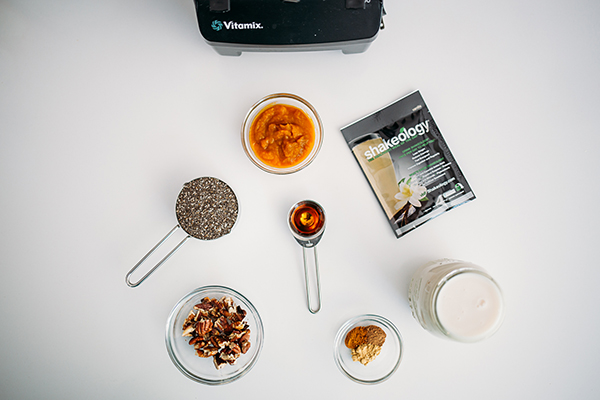 4. Drink Shakeology
All BODi programs include a nutrition plan to help you learn how to eat a healthy, balanced diet, fuel your body, and make the most of your workouts.
Shakeology is an important part of that nutrition plan. It isn't a meal replacement, but it can be part of a healthy meal, and it's a great way to help curb junk-food cravings so you won't be tempted by sugary or fatty (and expensive!) snacks.*
This superfood protein shake can also help you hit your daily nutrient targets when you're on the go or don't have access to a wide variety of healthy fruits and veggies.*
5. Double down on water
Make water your go-to beverage, Newgent suggests. "It quenches thirst, provides zero calories, and can be virtually free," she says.
Water should be an essential part of your diet, regardless: Up to 60 percent of your body is composed of water, and your body needs plenty of it to function properly.
The amount you need will vary by individual, but BODi experts recommend consuming half your body weight in ounces of water each day. So, if you weigh 150 pounds, you should drink 75 ounces of water daily.
Don't like plain water? Infuse it with your favorite fruits and herbs for a hydrating and delicious drink.
In terms of cost, consider this: Replacing your morning coffee drink or afternoon soda with a tall glass of good old-fashioned H2O can save you anywhere from $2 to $5 a day, which amounts to a whopping $60 to $150 a month.
The same goes for alcoholic beverages, like happy hour cocktails and mimosas at brunch, which tend to be high in cost, sugar, and calorie count.
6. Go grocery shopping with a list
Instead of ambling through the grocery store with only a vague idea of what you want to buy, go prepared.
"Once you know what you plan to eat for a week, even if it's just a rough outline, then you can wisely plan your shopping list," says Newgent.
And a good shopping list will help you stick to your budget and your healthy meal plan. The key to creating one? Be specific, yet flexible.
"Keep some foods in general categories on your weight-loss menu and shopping list," says Newgent.
Instead of listing apples and pears, for example, just list "fruits," then wait until you see what's on sale/in season in the produce aisle.
"As a bonus, it'll likely be what's most seasonal and [in] its peak of nutritional value and flavor," Newgent explains.
7. Move more throughout the day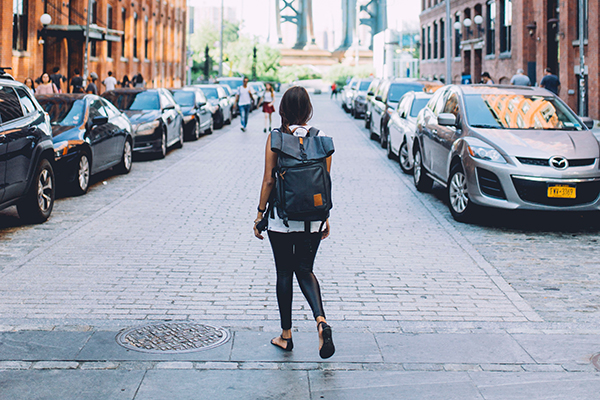 Ramping up your daily activity level outside of your regular workouts is an effective and affordable way to burn even more calories.
When you're going about your day, all your movements — washing the dishes, mowing the lawn, and taking out the garbage — are often referred to as NEAT: Non-Exercise Activity Thermogenesis.
Research calls NEAT an "essential tool" for controlling body weight. A Mayo Clinic report shows that the differences in energy expenditure between two people of about the same height and weight can vary as much as 2,000 calories per day based on NEAT.
So, get your NEAT on by making small changes to your routine: Take the stairs instead of the elevator. Park your car farther from the store. Do a lap around the office every hour, or see how many calf raises you can complete while your coffee is brewing.
(Pro tip #5: Get more [almost] free ideas on how you can move more here.)
8. Buy healthy food in bulk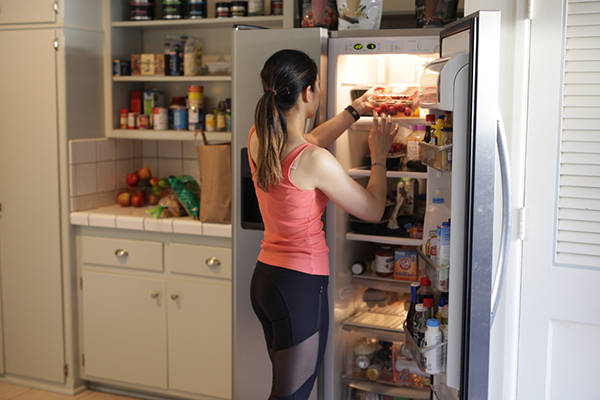 "You don't have to shop at Whole Foods or Erewhon to be healthy and lose weight," says Maguire. "Stores like Costco sell organic produce and other high-quality foods in bulk for lower prices."
Before you head to the store, make a list of healthy foods you reach for on a regular basis. That'll help you stick within your budget and prevent food waste.
Items like apples, carrots, eggs, mixed greens, beans, lentils, nuts, and whole grains are great staples to have on hand at all times because you can use them in a wide variety of meals and snacks.
9. Meal prep and cook at home
If you adopt just one new habit from this list of weight-loss tips, make it this one.
Preparing your own nutritious meals and snacks can do wonders for both your body and your bank account.
Let's face it: Dining out regularly can get expensive, not to mention super challenging if you're trying to eat the proper portions and cut back on processed foods.
"By cooking more at home," Newgent says, "you'll have more control over calories and cost."
Research shows that people who cook at home are more likely to choose nutritious foods and consume fewer calories per meal than people who dine out.
To maximize your grocery budget and save time, try meal-prepping nutritious foods for the week so you always have something calorie-friendly at the ready, says Newgent.
For instance, if you cook a big batch of low-calorie soup and whole grains and chop your veggies at the beginning of the week, all you'll need to do is mix and match and you'll have dinner done in a snap.
As Maguire notes, buying presliced or precooked foods (say, a head of romaine lettuce versus a prepackaged bag of it) is often more expensive than doing the prep work yourself.
10. Skip the processed snacks and make your own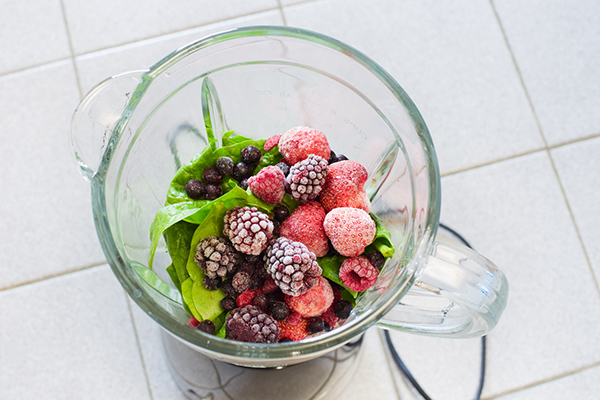 Processed packaged snacks can be pricey, not to mention loaded with refined sugar and other additives.
Making your own healthy grab-and-go snacks requires a little more effort, but it's a weight-loss tip that can save you precious money and calories.
"Planned snacks can help keep you satisfied and curb overeating at mealtime," says Newgent.
For a high-protein snack, try mixing cashews, almonds, and pumpkin seeds with roasted edamame. Or try your hand at making your own protein or energy snack bars.
Or satisfy your sweet tooth with a Chocolate Caramel Delight Smoothie or a Pineapple Mango Smoothie.
11. For produce, go seasonal or frozen
When buying produce on a budget, it's a good idea to look for seasonal fruits and vegetables.
"Produce that is in season is not only more fresh and nutritious, it is [also] more economical," says Maguire.
But if you want produce that's not local or in season — say, strawberries in January or Brussels sprouts in the summertime — go for the frozen variety.
"It'll be both budget-friendly and diet-friendly — and in ready-to-fix form," says Newgent. Bonus: Frozen produce means less food waste because it won't spoil as quickly as fresh, giving you more time to use it, adds Maguire.
12. Find your group
Exercise groups can help make working out more fun. They can also help keep you accountable for working out, increasing your exercise consistency — and your odds of achieving your fitness goals.
With a BODi membership, you'll be assigned a BODi partner who hosts online groups with other like-minded members and provides one-on-one guidance and support.
With an online support group, you can check in, ask questions, share workout advice, and track your progress.
13. Be creative with leftovers and scraps
"Food waste can add up to a lot of wasted money," says Maguire. Before you buy more groceries or call for takeout, try to use up whatever is left in your fridge or pantry.
Leftover brown rice? Use it to bulk up soup. Four eggs, half an onion, and a can of beans that haven't been used? Make a filling scramble. Berries that are about to go bad? Throw them in a shake.
If you can't eat food that's about to expire, don't stress — just freeze it to enjoy later on, Maguire suggests.
Check out these tricks from the pros that will make your leftovers taste like new:
Store leftover plain pasta with a little oil to keep it moist. If your pasta is sauced, reheat it in the oven (covered) at 350º F until heated through.
Use the stove for "soupy" grains like risotto, and use the microwave for grains like quinoa and rice — add a little water or broth to keep them from drying out.
The Bottom Line
With some practical hacks, smart choices, and a little elbow grease, you'll find that losing weight on a budget is totally doable and may even save you money in the long run!