Teff: Everything to Know About This Superfood
Teff has been called the new quinoa. Like that South American superfood, teff has actually been around for centuries. Teff is the tiniest grain — each one is only the size of a poppy seed — but it's packed with nutrition.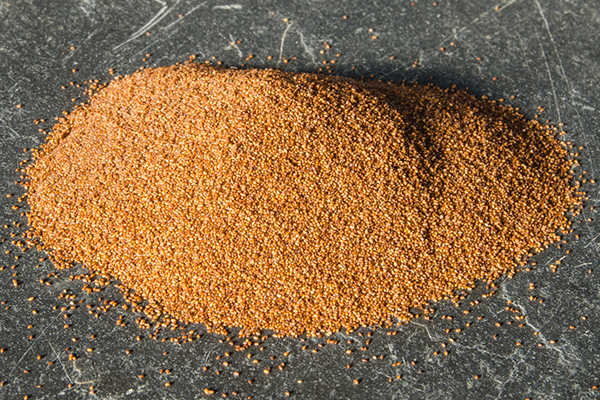 What Is Teff?
"Teff is a fine, ancient grain that originated in and around Ethiopia," says Denver-based dietitian Stephanie McKercher, M.S., R.D.N. "Its color ranges from white to dark brown, and it can be cooked whole or ground into a flour."
Teff is a naturally gluten-free grain, too, and "nutritionally, it makes a great wheat alternative," adds McKercher.
Teff is being hailed as a new superfood. The reason you may just now be hearing about it is that, until recently, exporting it from Ethiopia was largely banned.
This was due, in part, to avoid the fate of quinoa in its native Bolivia and Peru — and keep teff affordable for Ethiopians. (Teff accounts for more than 10 percent of all calories in the average Ethiopian diet.)
In Ethiopia, teff is consumed as a flatbread called injera, as well as a porridge, unleavened bread, and even beverages.
The Ethiopian Agricultural Transformation Agency has a strategic long-term plan to promote and protect teff (also known as "tef"). Changes in farming techniques improved yields in the last few years, allowing for export.
By 2016, teff had staked its claim in the American food landscape. Along with sorghum (another "ancient grain"), it has been increasing in popularity among food manufacturers.
What Are the Nutritional Benefits of Teff?
Teff proves good things do come in small packages. "Teff is naturally rich in minerals, especially calcium," says McKercher. "It also contains health-promoting fiber," she says, which helps digestion and satiety.
Each half-cup of cooked teff contains 127 calories, 5 grams of protein, 1 gram of fat, 25 grams of carbs, and nearly 4 grams of fiber.
It was long believed that teff was high in iron, but research has shown that the iron actually comes from the soil that gets mixed with the grain after harvest.
Like banana flour, teff is high in resistant starch, a type of fiber that may help support insulin sensitivity and increase satiety. Teff has gained attention for being both gluten-free and a complex carbohydrate.
If you're following the Portion Fix nutrition program, teff counts as one yellow container (carbohydrates).
How Do You Cook Teff?
Though teff is most common in Ethiopian cuisine, you can also integrate it into your favorite whole-grain recipes. "You can use teff like you might use millet or cornmeal," suggests McKercher.
To cook teff, add a half cup of teff to two cups boiling water or stock. Cover and simmer for 15 to 20 minutes, until cooked through.
The result is a thick, sticky side dish that's similar to polenta. If you prefer a thinner, porridge-like texture, you can add more water. "You can make a simple side of cooked teff by simmering one cup of the grain with three cups of water," says McKercher. "Mix in fresh herbs and turmeric, garlic, ginger, and/or cinnamon for extra flavor."
McKercher likes to serve the whole grain with veggies and beans, and she also says you can use teff flour in baked goods like pancakes and bread. Teff does have a distinct nutty flavor, so you may want to start by mixing it with other flours.
Here are some other ideas for cooking with teff:
Replace some of the flour in your favorite banana bread recipe with teff flour. The sweet bananas pair well with teff's nuttiness.
Make teff porridge instead of your usual oatmeal, and top as desired.
Use teff flour in the crumb topping on a fruit crumble.
Mix teff with polenta and serve with a spicy tomato sauce.
Serve your simple cooked teff with spicy shakshuka.
Swap half the quinoa in this stuffing recipe for teff.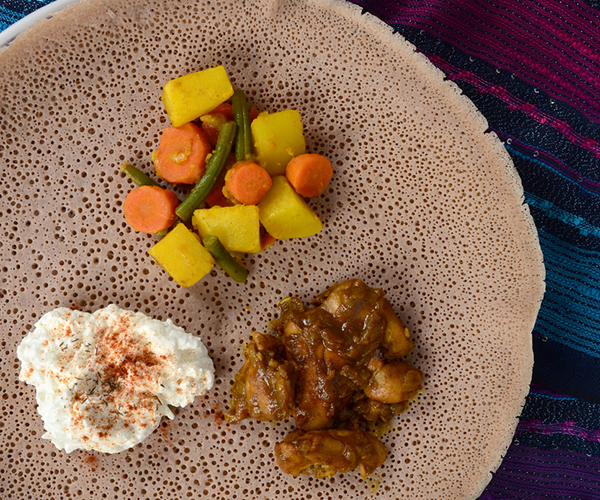 What Is Injera?
You've eaten teff if you've ever had Ethiopian food. Teff is the grain used to make injera, the spongy sourdough flatbread that's used to scoop up bites of cooked meat, pulses, and vegetables. Injera has a unique texture and taste. It's slightly sour but pleasantly nutty, and it's stretchy, thin, and spongy.
If you've never tried injera, I suggest visiting an Ethiopian restaurant before trying to make it at home. The cuisine is richly spiced and heavy on the vegetables — even the meat dishes!
Injera is often spread across a plate or serving platter, and more is served rolled up on the side. Instead of using silverware, you pull off pieces of injera, its tanginess cutting through the spices of stews and other braised dishes.
This injera recipe is simple, but it does require an overnight fermentation. Injera is cooked on the stovetop and requires just three ingredients — teff flour, water, and salt.
These injera will last for three days in the fridge, and they can be eaten cold or at room temperature. You cook injera like a pancake or crepe, but you don't have to flip them. (Hooray!)
Homemade Injera (Ethiopian Flatbread)
Makes 4 flatbreads
Ingredients
2 cups teff flour
2½ cups water
½ teaspoon salt
Preparation
In a medium bowl, whisk the teff flour and water together until smooth.
Cover with a clean, lint-free dish towel, and let sit on the counter at room temperature overnight.
Your batter will be slightly foamy, with a mild sour smell — that's normal.
When you're ready to make your injera, heat a large nonstick skillet over medium-high heat.
Stir the salt into your batter.
Once the pan is hot, pour ½ cup of batter into the pan and swirl to coat.
Cook for about 30 seconds, until the injera begins to bubble.
Cover with a tight-fitting lid, and cook for another 30 seconds.
The injera will be ready when it is cooked through and the top is slightly glossy. You should be able to press down on the injera with one fingertip and have it come away clean. (Be careful — don't burn yourself!) If any batter sticks to your finger, cook a few seconds longer. The injera will be slightly spongy.
Transfer the injera to a cutting board or plate. Once it cools, you can roll it up or slice it.
Each injera is one yellow container (carbohydrates) in Portion Fix.
The Takeaway
Teff is a gluten-free whole grain that's native to Ethiopia. It has a nutty flavor that pairs well with spicy dishes, and it's also good with sweet fruit like apples and pears. It's a staple in Ethiopian dishes, and if you like the taste, you can can choose to integrate it into your healthy diet.