How Cooking at Home Can Help You Lose Weight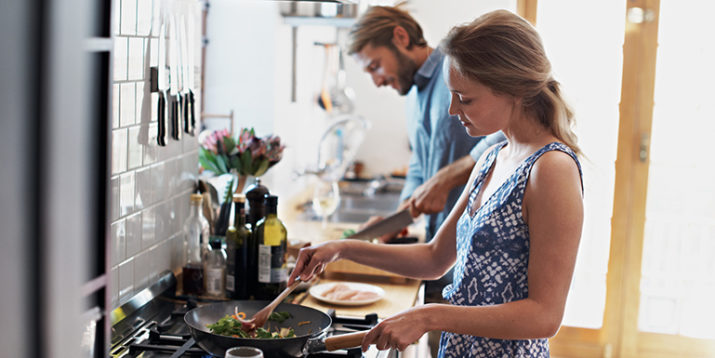 It's easier than ever not to cook at home: Takeout, pickup, and a slew of food-delivery apps make no-cook eating as easy as tapping a few buttons on your phone.
But that convenience can come at a high caloric cost.
One simple — and usually less expensive — way to block those extra calories from heading for your waistline? Cook at home.
Science backs it up, too: A 2014 study published in the journal Public Health Nutrition found that people who eat more meals at home consume 200 fewer calories at meals than those who eat out on the regular.
And when these home cooks do eat out, they pick healthier options.
(Pro tip: A daily Shakeology is an easy, delicious way to make sure you're fueling your body right, at home and on the go. Find your favorite recipe here!)
Find why firing up the stove can help you lose weight, and tips to make cooking at home easy and doable.

Why Cooking at Home Can Help You Lose Weight
It's not good enough to just eat at home, though — you have to make those meals, too.
And remember: Just because you cooked something at home doesn't automatically make it healthy.
(Sorry, but those "homemade" double-chocolate fudge brownies don't count.)
But if you stick with healthy recipes, then you're definitely giving yourself the home advantage.
"The bottom line is that eating at home is healthier for you because it gives you so much more control," says Meg Hagar, M.S., R.D., and author of Little Book of Kitchen Wonders.
You know exactly how much salt or fat or sugar is going into your dish; you also have the power to swap ingredients in (and out) to fit your nutritional and caloric goals.
And eating healthy at home doesn't have to cost more.
A study from researchers at the University of Washington found that home-cooked dinners were lower in fat, calories, and sugar — but not higher in grocery bills.
The study also found that people who eat at home are more likely to meet U.S. government guidelines for a healthy diet.
The control you get with cooking at home extends to other facets of your health as well.
According to the Centers for Disease Control and Prevention (CDC), one in six Americans gets sick from food-borne illness each year.
Of course, food poisoning can happen anywhere, but when you're preparing meals at home, you know exactly how food is being handled — and how clean the kitchen is.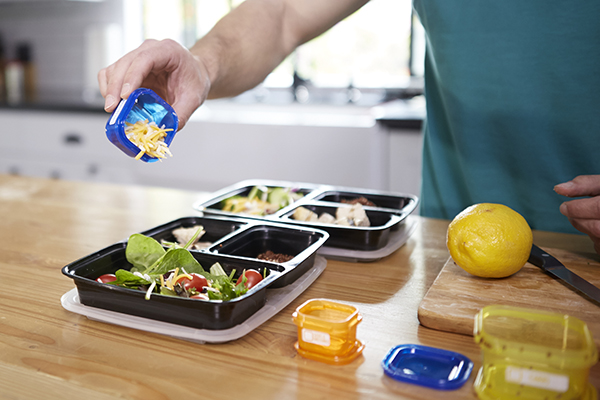 Master the Art of Meal Prep
One of the biggest reasons people eat out is for convenience.
But that convenience comes at a hefty price: According to data from the USDA, Americans spend almost $3,000 a year eating out.
We get it: It's easier to just pick something from a menu versus shopping, preparing, cooking, and cleaning, especially if you're crazy busy.
But if you arm yourself with some smart shopping tips and time-saving meal plans, you can lose pounds and gain some cold, hard cash.
"I'm a huge believer in batch cooking, or preparing multiple servings of a meal all at once," says Hagar. "The best part is that I only have to cook a few times a week and I get to eat my own homemade meals all week!"
Sounds easy, but the reality of it can be overwhelming.
Start slow, like cooking three dinners at home one week. Then, the following week, add two home-cooked breakfasts.
Keep building on each subsequent week until it becomes a habit to cook at home, instead of eating out.
How to Eat Healthy at Home
Restaurants use everything from color to music to influence what you eat — and how much you spend — at their establishments.
Follow their lead by creating an environment at home that supports healthy eating and habits:
Put your meal on a plate before you sit down to eat; no eating out of bags or boxes of food.
Keep healthy foods like fruits and nuts easily accessible and tuck the less healthy temptations in the pantry or cupboards.
Put away all electronics — be mindful of what you're eating and how much. "At home, you can turn off distractions while eating, allowing you to really tune into our hunger signals and avoid overeating, " says Hagar.
Use portion-control containers to make sure you're eating a balanced meal. "Load up on veggies and lean proteins plus a small amount of complex carbohydrates to make your plate look more full of food," she advises.
How to Eat Healthy While Eating Out
While we're definitely fans of eating at home, that doesn't mean you have to be a hermit who never enjoys a meal out.
With a few tips and tricks in your back pocket, you can stay on track and eat out with friends and family with zero guilt:
Scope out the menu online beforehand to see which meals will fit your goals. Chain restaurants are required to list calorie counts and other nutritional info, making the search for the right dish a lot easier.
Read the fine print on the menu: Stay away from foods that are described as "crispy," "pan-fried," "buttered," or "stuffed," and stick with healthier preparations like "broiled," "baked," or "steamed."
Don't be afraid to ask for substitutions, or for dressings and sauces on the side — or not at all.
And don't beat yourself up if you eat out more than you plan to.
Just roll with the punches and know that making the switch to healthy cooking and eating, like with any new habit, takes time to master.