How to Cook Sweet Potatoes (Plus 8 Ways to Eat Them!)
Sweet potatoes aren't just for pies anymore.
Like regular potatoes, they're one of the most versatile veggies out there: You can add them to a breakfast scramble, toss them on a salad for lunch, or stuff them for a quick and satisfying dinner. Sweet potatoes can even satisfy your sweet tooth as part of a healthier dessert.
Before we get into the nitty-gritty cooking details, let's take a closer look at this tasty tuber.
Yam vs. Sweet Potato
First things first: A yam is not a sweet potato, and a sweet potato is not a yam.
Sweet potatoes and yams are from two different plant families. Sweet potato skin and flesh come in a variety of colors, but most people are familiar with the red skin/orange flesh combo.
Yams often have dark brown, bark-like skin (they can also come in purple), with white flesh that's firmer and starchier than sweet potato flesh, which is more moist and sweeter.
Yams are generally imported to the U.S. from Africa and Asia and are usually found in specialty grocery stores, rather than your market down the street.
So why do people use the terms interchangeably? The most common theory is that in the 1800s, sweet potatoes were called "yams," short for "nyami," the African word for "to eat."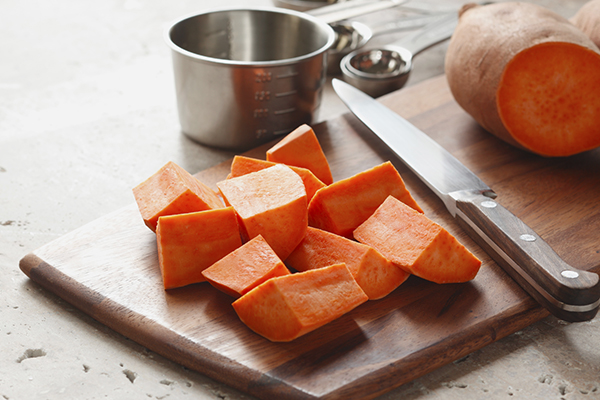 Sweet Potato Nutrition
A medium baked sweet potato (114 g) contains 2 g of protein, 24 g of carbohydrates, less than 1 g of fat, and 4 g of fiber.
In addition, one medium sweet potato delivers 438 percent of the daily recommended value of vitamin A and 37 percent of the daily recommended value of vitamin C.
It contains minerals such as potassium, calcium, magnesium, and phosphorus.
(Pro tip: A serving of sweet potato fits in the yellow Portion Fix container.)
How to Buy, Store, and Prep Sweet Potatoes
How long do sweet potatoes stay fresh? How can you spot a "good" one? Here are the sweet potato basics you need to know.
Buying Sweet Potatoes
Look for firm sweet potatoes with clean, relatively smooth skin.
Avoid potatoes that are soft or have brown/black spots.
Storing Sweet Potatoes
At room temperature, sweet potatoes will most likely last 1 to 2 weeks. Ideally, store sweet potatoes in a cool, dark, well-ventilated space; they can be safely stored this way for 3 to 4 months.
Don't refrigerate them, because cold temperatures will convert the potatoes' starch into sugar, which may affect the flavor.
Prepping Sweet Potatoes
Wash them right before you cook with them. Don't wash them sooner — water may get trapped in the eyes of the potato and make it musty or moldy.
Use a food-safe scrub brush — not the same one you use to clean around the house, obviously — to dislodge any dirt.
If your sweet potatoes have "eyes," or sprouts, don't toss them — just scoop them out with a peeler or knife.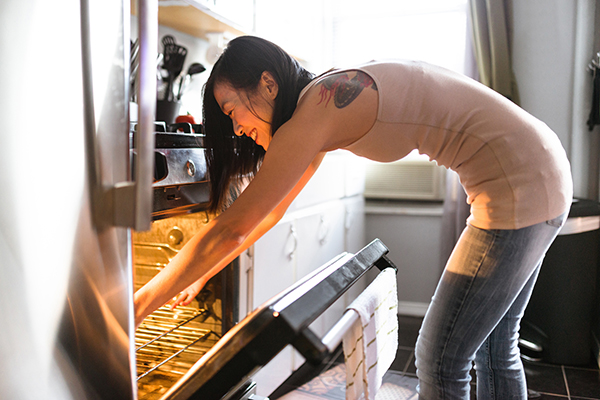 How to Cook Sweet Potatoes
For optimal texture, baking sweet potatoes in the oven — or toaster oven, if you're only making one or two — is your best bet.
How to Bake Sweet Potatoes in the Oven
Preheat oven to 400° F.
Place sweet potatoes on a baking sheet.
Pierce each sweet potato three to four times with a fork.
Bake for 35 to 45 minutes, or until tender.
Pro tip: If you want to get fancy, cut your sweet potatoes into small cubes and toss them with oil, herbs, and spices before you roast them. Or slice them and spice them for homemade sweet potato fries.
How to Cook Sweet Potatoes in the Microwave
Note: While you can cook a sweet potato in the microwave, it may cook unevenly and the result can be a gummy-like texture if you get the timing wrong.
Depending on how fancy/not fancy your microwave is, you may want to experiment with cooking times until you get your preferred texture. But in general:
Place sweet potatoes on a microwavable plate.
Pierce each sweet potato three to four times with a fork.
Microwave on HIGH for 5 to 8 minutes, rotating halfway through.
How to Bake Sweet Potatoes in Foil
When you bake a sweet potato in foil, it traps the potato's moisture — so it's more like steaming it than baking it.
This can leave you with slightly soft potato skins, but it's great in a pinch — for example, if you're cooking a big meal and your oven is already full.
If you wrap each potato in aluminum foil, you can place them right on the rack around or between large pans that hog precious oven real estate.
Cooking a sweet potato in foil is the same as baking it on a sheet:
Preheat oven to 400° F.
Pierce each sweet potato three to four times with a fork. Wrap each individually in foil.
Place directly on the oven rack and bake for 35 to 45 minutes, or until tender.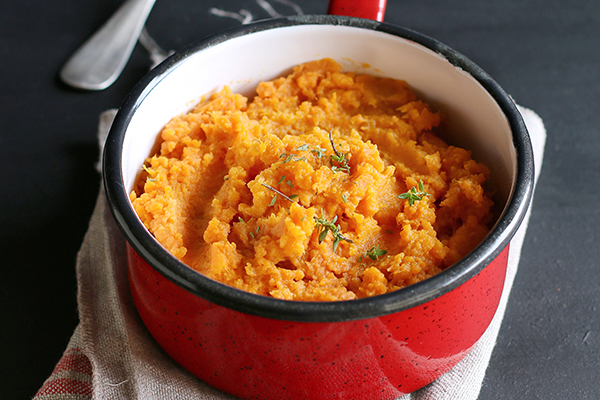 8 Creative Ways to Eat Sweet Potatoes
Did we mention the sweet potato is super versatile? Here are a few fun ways to eat this veggie.
1. Mashed Sweet Potatoes
There's a reason mashed potatoes are considered a comfort food: They're warm, delicious, and filling.
Swap in this mashed sweet potato recipe and you've got the same warm comfort, minus the added calories and fat from butter, sour cream, and milk.
Everything you do with regular mashed potatoes you can do with mashed sweet potatoes: Spread them on top of a shepherd's pie, add them to baked goods, or use them as a thickening agent in gravies and sauces.
2. Sweet Potato Smoothie
Similar to the way bananas thicken smoothies, baked sweet potatoes make them super creamy and thick.
Try this sweet potato pie smoothie, which includes Vanilla Shakeology, cinnamon, allspice, and nutmeg for a healthy take on the classic fall dessert.
3. Sweet Potato Egg Cups
Who knew that the humble muffin tin would turn out to be such a clutch kitchen player?
In addition to cooking more traditional sweet breakfast muffins, you can use muffin tins to bake savory "muffins," like these sweet potato egg cups.
Cook one batch (12 egg cups, two per serving) and you have a delicious grab-and-go breakfast (or snack!) for 6 days.
Bonus: Here are 12 egg cup recipes with five ingredients or less!
4. Sweet Potato Latkes
When you hear "potato pancake," you might immediately think of the beloved Hanukkah mainstay — and you can use sweet potatoes for a healthier latke recipe.
With just sweet potatoes, onion, egg, flour, breadcrumbs, and garlic, you'll want to eat these crisp, savory latkes any time of year.
5. Sweet Potato Hash With Eggs
This sheet-pan breakfast recipe couldn't be easier: Simply combine all the ingredients, spread on a sheet pan, crack some eggs on top, and bake.
6. Sweet Potato Salad
Sweet potatoes are a delicious way to add heft to your salads. Bake an extra potato with dinner, then cube it and toss it on top of your favorite greens the next day.
Try this apple, arugula, sweet potato, and pumpkin seed salad — or for something heartier, try this more substantial winter superfood bowl, which features beets, sweet potatoes, brussels sprouts, avocado, bulgur, and more.
7. Stuffed Sweet Potatoes
Baked sweet potatoes can quickly transform last night's leftovers into a full-on entree. Try these filling barbecue chicken baked sweet potatoes: With just five ingredients — sweet potatoes, shredded chicken, barbecue sauce, red onions, and fresh parsley — prep is a cinch.
8. Sweet Potato Pie
It would be a sin to overlook desserts when we're talking about a veggie with "sweet" in its name. Sweet potato pie is a classic, but traditional recipes tend to include lots of sugar and butter.
This healthier spin on sweet potato pie incorporates Medjool dates and pure maple syrup (or raw honey) for sweetness and pecans for a little crunch.
The Bottom Line
Sweet potatoes are an easy-to-cook, healthy base for just about any meal. Bake a few at the start of the week to save time and then chop, mash, or puree them when you're ready.