These Female Fitness Transformations Will Blow Your Mind!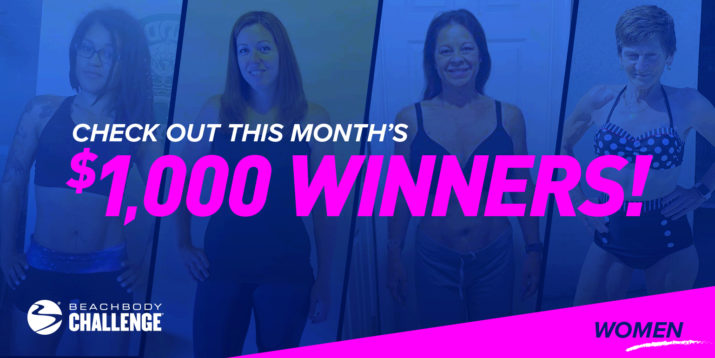 These ladies transformed their bodies and their lives at home with Beachbody fitness and nutrition programs, and they each won $1,000 as monthly winners of the Beachbody Challenge contest August 2017! See their jaw-dropping "before" and "after" photos…
Tiffany Jacques-Issac Lost 74 Pounds
Tiffany unleashed her inner badass and loves what she sees in the mirror after shedding 74 pounds!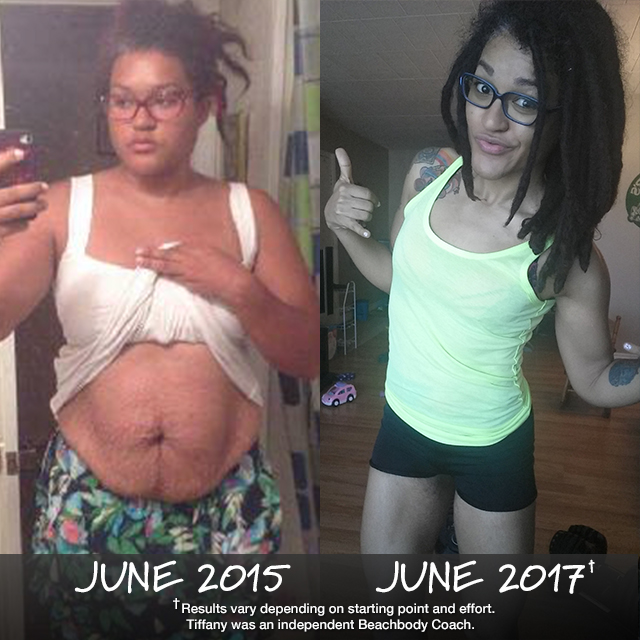 "I needed to lose some weight for my mental and physical well-being. My goal was primarily to regain control over my life, to be able to look in the mirror and see pride, not shame, to finally be happy in my skin, and to make my kids proud. 21 Day Fix taught me that it can be done in just 30 minutes per day. Then came Body Beast, and I've never felt more badass than pushing my limits with Sagi. That passion led me to ChaLEAN Extreme and The Master's Hammer and Chisel. There was something new every day. Not only did I meet my goals, I've exceeded them. It's crazy what just shy of 2 years can do. I stand in front of the world, proud, accomplished, humbled, and blessed. That girl in the mirror, yah, she's badass!"
---
Marie-Pierre Rauzon Lost 105 Pounds
What started with an invitation from her Coach to try "just 21 days" of the 21 Day Fix ultimately blossomed into a full-blown, year-long, healthy lifestyle change for Marie. In the last year, doing her workouts on Beachbody On Demand, she has lost a life-changing 105 pounds!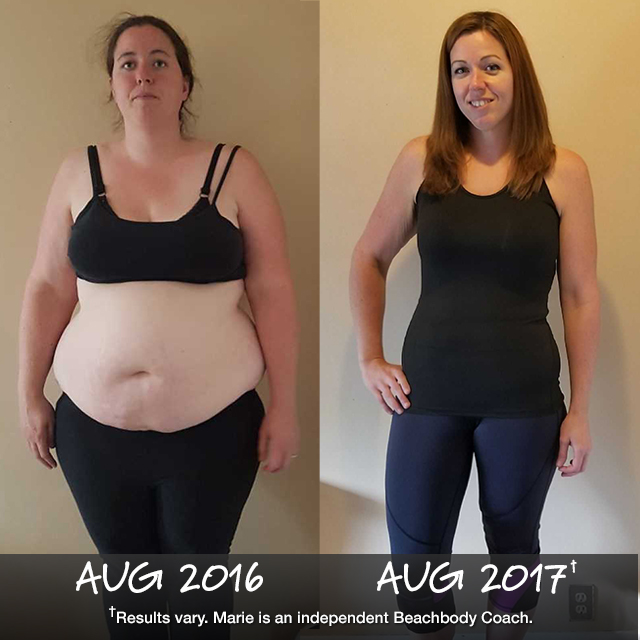 "My friend (and Coach) convinced me to give 21 Day Fix a try, and I agreed *just* for 21 days. After those 3 weeks and 15 lbs of weight loss, there was no turning back… I think I'm a die-hard 21 Day Fixer for life, but it's nice to be able to change things up on Beachbody On Demand and give the other programs a try once in a while. I liked the 21 Day Fix workouts because they were straight to the point and easy to follow. I always followed the 'modifier' [easier moves] in the beginning, and I liked that as I gained strength and stamina, I could ease into following Autumn [Calabrese]. My Coach and our team would check in on me and encourage me when I felt like I was failing. They never let me give up! Now, I feel so proud that I don't have to shop in the 'plus size' section anymore. I'm proud that I can see muscles in my body. I can keep up with the kids, and sometimes I dance just for the hell of it, because I'm happy again."
---
Antoinette Joyce Lost 45 Pounds
For years, Antoinette searched for a magic pill to improve the quality of her life, but she soon realized — there is no magic pill. She made her own magic by making time for 30-minute workouts each morning and supplementing her nutrition with Shakeology. In 7 months, she lost 45 lbs!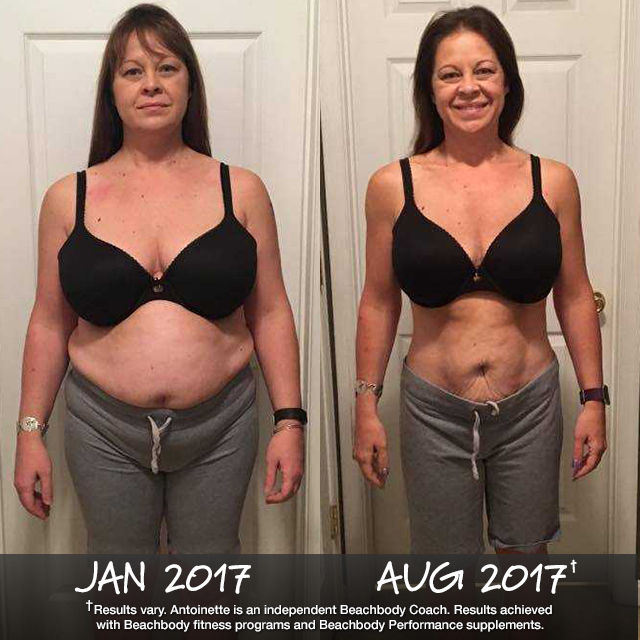 "After having my children I devoted myself entirely to them, in the process neglecting myself. For years, I searched for that magic pill or powder that would make it all go away and give me energy to go about my daily life without the constant feeling of fatigue. I talked to a friend of mine who is a Beachbody Coach. She recommended 21 Day Fix, which became my first program. After day one I knew my life was going to change. … By telling myself that eating clean and exercising was not an option, I made a commitment to myself and have not turned back. … I love Beachbody On Demand! It's so nice to know there is something new waiting for me after each program I complete. I have gained strength and energy and look forward to every workout. I just feel all around happier thanks to Beachbody! I knew I could do this, and I did it for me!"
---
Bunnie Andrade Lost 30 Pounds
At age 64, Bunnie lost 30 lbs. while working out alongside her husband with various programs on Beachbody On Demand. As a reward for their hard work, she won $1,000 in the Beachbody Challenge, and her husband did too!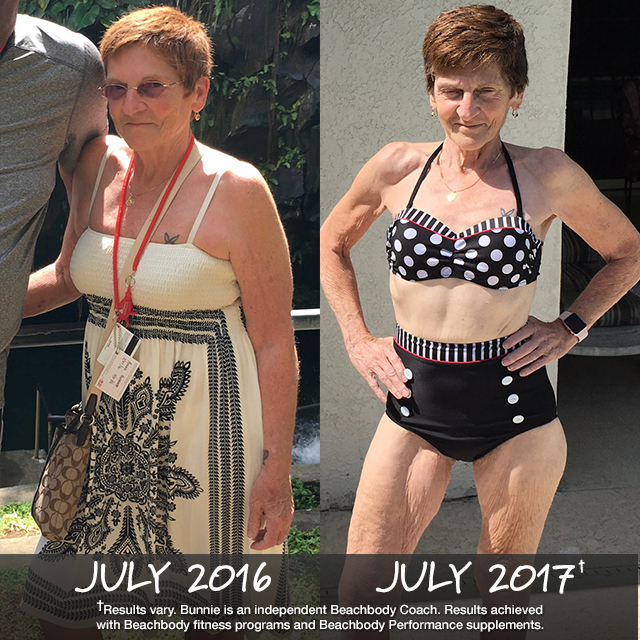 "I wanted to look and feel better. I wanted to be able to pick up my grandchildren, and play with them. I needed to get my zip back. I use Beachbody On Demand everyday. I have so many programs to choose from. Some days it's very difficult, and I still need to hit the pause button sometimes, but no matter what, I get my workouts in. I have gradually increased my strength and built muscle, which is what I needed. I have very defined muscles now, both upper body and lower body. I am strong and feel good about myself. I may be 64 years old, but as my teenage granddaughter says, I have the body that most 19-year-olds wish they had. For the first time in my life I'm not ashamed to put on a swimsuit, heck, I can now sport a bikini."
---
You can change your life, too. Take the Beachbody Challenge for the tools you need to Decide, Commit, and Succeed! Complete any Beachbody program, and enter your results for a free gift and a chance to win cash and prizes. What program are you committing to next?