Beachbody Challenge $100,000 Winners 2022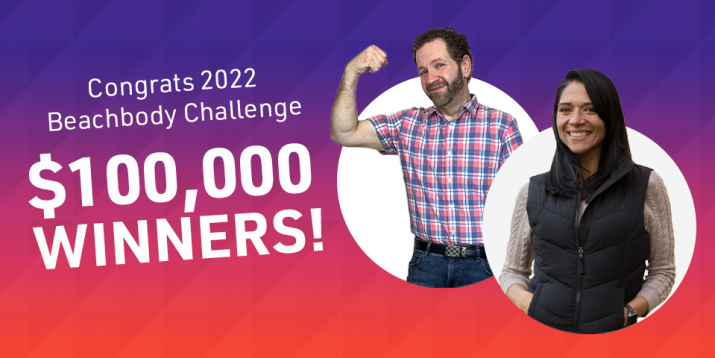 Meet the champions of the Beachbody Challenge contest 2022: Catreen Dow and Matthew Wyatt!
These well-deserving winners receive $100,000 each and the title of "Grand Prize Champion."
The announcement was made on Saturday, July 16, at the Team Beachbody Coach Summit 2022 in St. Louis, MO.
With hard work, consistent effort over time, support from the Beachbody community, and an "I don't give up ever" attitude, Catreen and Matthew completely transformed their lives — physically and emotionally.
Read on and get inspired!
Beachbody Challenge Grand Prize Champions
Catreen Dow lost 156 lbs in 16 months!*
"I was almost 300 pounds when I had a stroke, and the doctors told me that I had to change my lifestyle.† If I didn't, I was probably going to die and would not be around for my two beautiful daughters.
[Years later] I started eating healthy and following Beachbody programs, and it has literally changed my life forever.
This journey has been so much more than just 'weight loss' for me. I feel like I'm finally myself! I feel 100% more confident. This has given me my life back.
I love the strength I have gained in both body and mind. I am able to play with my kids and they are able to have the active, healthy mother they deserve. I will forever continue this lifestyle. I can't wait to see the things I will achieve."
Catreen's favorite fitness programs: 21 Day Fix, INSANITY MAX: 30, Country Heat, 80 Day Obsession, LIIFT4, and #MBF.
Read more about Catreen's amazing journey.
Matthew Wyatt lost 142 lbs in 10 months!*
"I struggled to keep up with my four kids. I felt I was failing as a father and as a husband.
I wanted to change, but after past failures, I believed change was impossible.
A friend, who had a lifelong struggle [with weight] like my own … introduced me to his Coach, Carmen [O'Quinn]. She was living proof that change is possible.
I knew that if I would just trust her, show up, commit to the program, and see it through, I would get results, too.
[10 months later,] I am half the man I used to be, but I've never felt more whole. I am stronger than I have ever been in my adult life.
My quality of life has transformed immeasurably since I started. I am a better, more present father and husband. My confidence and self-respect have soared.
When you change this much physically, it pours into every area of your life. The seemingly impossible becomes possible and nothing feels beyond your reach.
It may all sound a bit dramatic, but the change is that drastic. I am a different person, and I am thankful."
Matthew's favorite fitness programs: Morning Meltdown 100, LIIFT4, P90X3, #MBF, Country Heat, Let's Get Up!, A Week Of Hard Labor
Matthew's nutrition plan: Portion Fix
Read more about Matthew's amazing journey.
*Results vary based on starting point and effort and following Beachbody's exercise and healthy eating plan. Matthew W. is an independent Team Beachbody Coach.
†Always consult your physician about any unique medical needs before commencing any fitness program or nutritional product.