Four Award-Winning Fitness Mansformations
These dudes transformed their bodies and their lives at home with Beachbody fitness and nutrition programs, and they each won $1,000 as monthly winners of the Beachbody Challenge contest July 2017! Check out their jaw-dropping "Before & After" photos…
Brian Tavares Lost 120 Pounds
Brian from Manitoba, CA, put down the energy drinks and picked up Shakeology + a membership to Beachbody On Demand. He lost 120 lbs. in 2.5 years, and he won $1,000 in the Beachbody Challenge!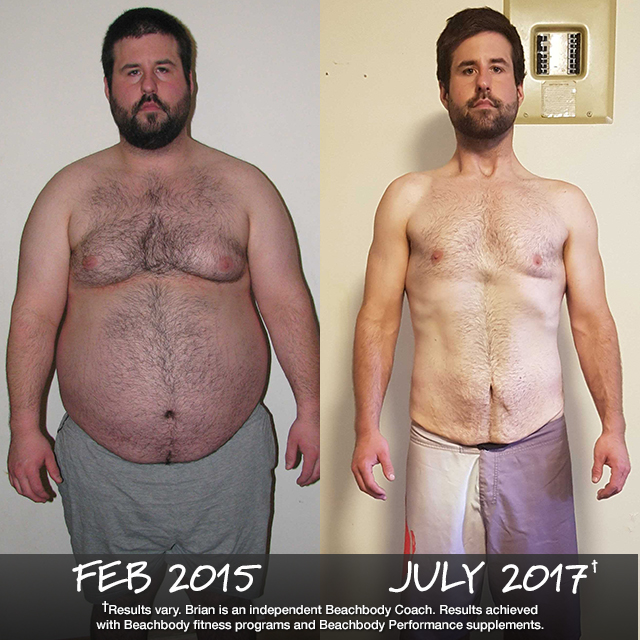 "My kids are my biggest inspiration. I want to be a role model for them, and I have kept pushing forward since my first round of 21 Day Fix. Since then, I've also completed 22 Minute Hard Corps, Body Beast, P90X3, CORE DE FORCE, and other programs on BOD. I am so proud of myself for losing 120 lbs and kicking my addictions to junk food and energy drinks (I was drinking 6–8 a day!). I'm proud that I pushed through some difficult challenges, like a divorce, and a common law separation, among other challenges. I feel like a whole new person! I know it sounds so cliché, but it's true. Shakeology has given me the energy to show up and push play every damn day!"
---
Joseph Jackson Lost 147 Pounds
From morbidly obese to INSANITY LIVE Instructor. Joseph lost 147 lbs. in 1 year with workouts on Beachbody On Demand.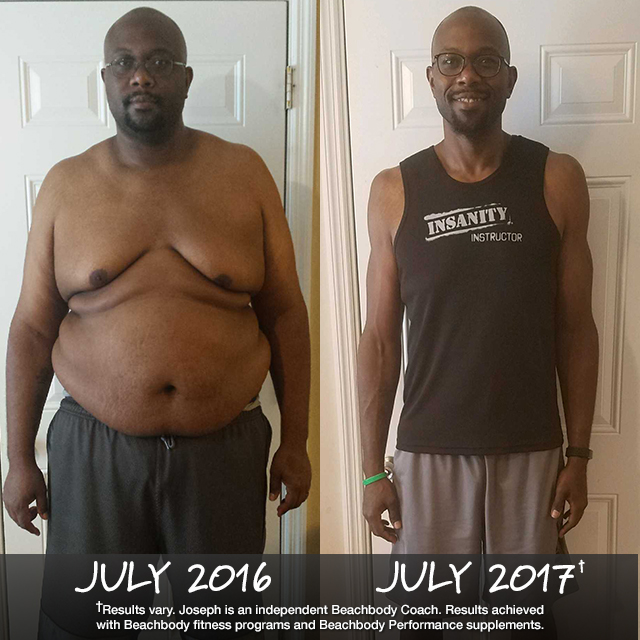 "I absolutely love BOD! All the programs I've done from CIZE to CORE DE FORCE have been different and challenging. I loved CIZE because of the music and cardio. I loved T25 because it was a little more challenging, but the workouts were only 25 min. long. I loved Body Beast because it helped build strength. I loved CORE DE FORCE to help tighten my core and taught me some great fighting moves and balance. In the end, I lost 147 pounds, 10+ inches off my waist, and went from a size 46 pants to now 34 pants. The biggest thing is that I can keep up with my son and take him to the park without huffing and puffing. I am also proud that I can lead INSANITY LIVE group fitness classes at a local gym, and I just feel great!"
---
Bob Ruff Lost 34.3 Pounds
Bob, from Ontario, Canada, says he's in the best shape of his adult life now, at age 44, after completing P90X and P90X3 on Beachbody On Demand. He's also $1,000 richer after sharing his story in the Beachbody Challenge contest.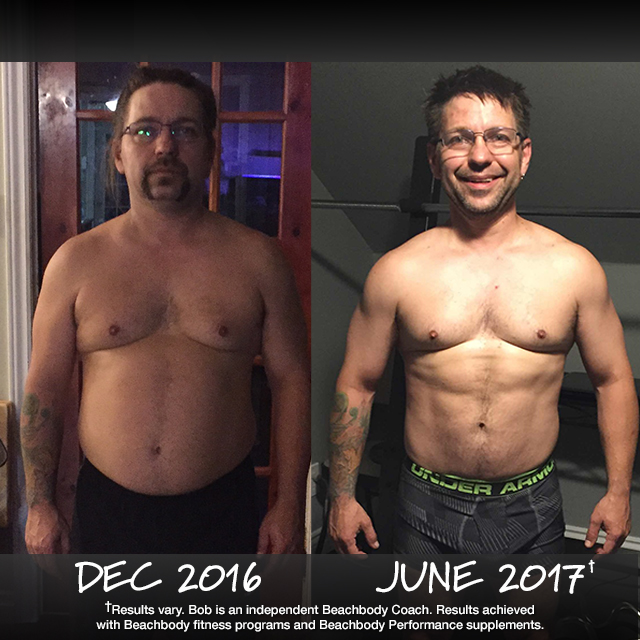 "I was lucky to talk to an old friend who was a Beachbody Coach, and she told me about her Challenge Group! [My partner] and I jumped in and the rest is history! The support, sharing of tips and ideas, and the sense of community and accountability cannot be matched. The groups were key to our success! And the results… where do I begin? I simply cannot believe what my partner and I have both accomplished on this program! I'm lighter than I've been in close to 25 years, and my level of fitness is quite simply above any level it's been in my entire adult life. I can't wait for summer, and I wont be afraid to hit the lake without a shirt on. I never thought I had it in me to be an 'after' photo, and now I am!"
---
Joseph Andrade Jr. Lost 111 Pounds
Joseph is on the brink of defeating type II diabetes at age 65 after starting his new healthy lifestyle and losing 111 lbs. in less than a year!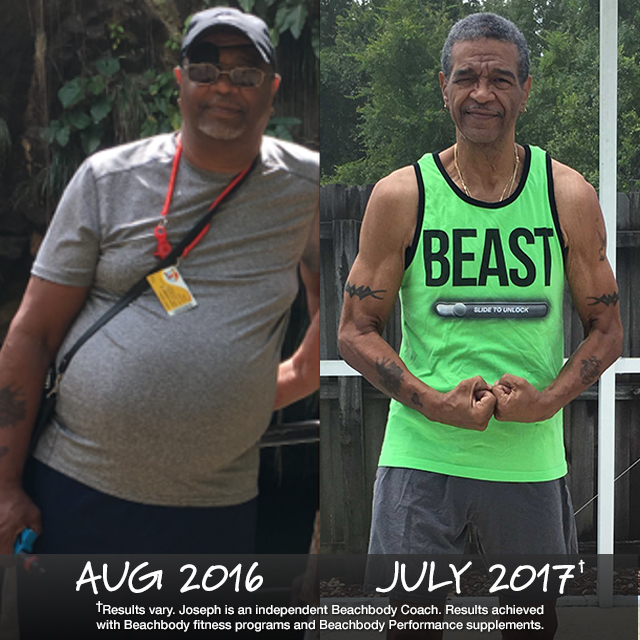 "I absolutely love Beachbody On Demand. I use it every day. I can continue to do my workouts no matter where I am. At home, on vacation, and even on cruises, I have my workouts available to stream on my phone, tablet or laptop. I went from 269 lbs. to 158 lbs. in 11 months. That's a 111 pound weight loss. With  my new healthy lifestyle of eating healthy and exercising regularly, I am on the brink of defeating [type II] diabetes. I haven't looked or felt this good since middle school! I can now shop for clothes in a size medium and not XXL. But, most of all, I am proud that I just turned 65 in May, and I did this! I-did-this! It was hard work, but as you can see, it was very worth it. I have more energy. I make healthier food choices when we eat out or cruise. I will continue to do daily workouts and drink my Shakeology. I have completely changed my lifestyle, and I love the healthier and more fit person I have become."
You can change your life, too. Take the Beachbody Challenge for the tools you need to Decide, Commit, and Succeed! Complete any Beachbody program, and enter your results for a free gift and a chance to win cash and prizes. What program are you committing to next?