Level Up Your Workout Routine With BODi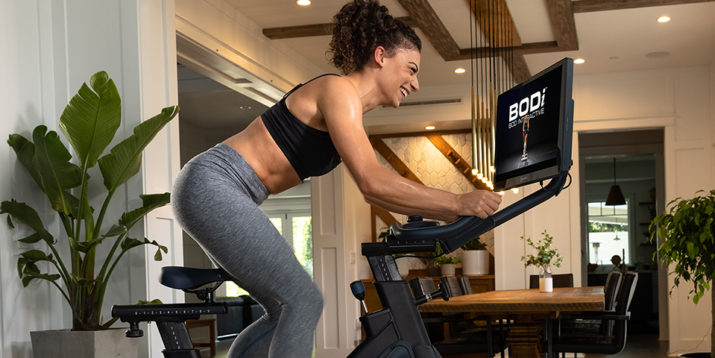 Beachbody On Demand is bringing the fun and interactivity of live workouts right into your home, with BODi (pronounced "BODY").
What Is BODi?
BODi's state-of-the-art streaming platform turns your living room into the world's most exciting home gym, where you can tap into the energy and accountability of live and on-demand studio classes on your own schedule.
As a BODi member, you'll have access to hundreds of live and on-demand studio classes designed for every fitness level — cycling workouts, cardio/HIIT, strength training, barre, Pilates, yoga, and more — taught in an exciting live class format.
Each is individually designed and is accompanied by original hit tracks from your favorite artists to keep you moving to the beat.
Who Are the Trainers?
When it comes to instructors, BODi boasts the best in the business, with a team anchored by Beachbody's world-famous Super Trainers, including Amoila Cesar, Autumn Calabrese, Elise Joan, Idalis Velazquez, Jennifer Jacobs, Jericho Matthews, Joel Freeman, Megan Davies, and Shaun T who can each now bring their own powerfully motivating style to BODi's live class experience.
Beachbody's Super Trainers will be joined by a group of instructors, including Monique Bell, Teo Chapelier, Lacee Green, Abe Hernandez, Chelsea Hill, Jenny Jaucian, Lee Jimenez, Kevin Lukata, Briana Masson, Taliah Mekki, Jennifer Padilla, Jared Sklar, Lindsay Sudell, and Eric Thomson.
How Interactive Are the Workouts?
BODi also lets you share your own video feed in real-time — as you work out — and see other BODi members working out live and on-screen in a feature called a "BODcast."
You can join a BODcast for your chance to see friends and get live shout-outs from trainers.
BODi also gives you premium nutrition support to help you reach your goals through our two nutrition programs, 2B Mindset and Portion Fix.
You'll have access to new meal plans and recipes every month, plus expert advice and a supportive community to help you keep your healthy eating on track.
What Makes BODi Better Than Other Workout Platforms?
BODi makes the home workout experience feel totally fresh.
We've elevated every detail — from original music to eye-popping production values — to create a fitness space you'll want to return to again and again.
In addition, to help you stay connected to your Coach and others like you, BODi easily integrates with BODgroups, so you can continue to get the support and accountability you need to stay consistent with your workouts and class schedule.
You can even see which of your fellow BODgroup members are signed up for upcoming classes, so you can work out with friends!
You'll also be able to join BODi cycling classes on the MYX bike — the most immersive cycling experience you can have without leaving home!
The bike's touchscreen tablet lets you stream any BODi workout, while its exclusive, integrated heart rate monitor maximizes your cardio training.
How Do I Access BODi?
Anyone with an active Beachbody On Demand membership can purchase a BODi membership — with discounts available to new and current customers.
How Is BODi Different From a Regular Beachbody On Demand Membership?
Once you upgrade to BODi, in addition to the more than 1,500 on-demand workouts currently available on Beachbody On Demand, you'll have exclusive access to all of BODi's daily live and on-demand studio classes, as well as exclusive monthly advice and support from our premium nutrition programs, Portion Fix and 2B Mindset.
With BODi, you'll find something totally new every day to keep you engaged, motivated, and on track to reaching your goals.
How Do I Stay Informed?
Keep up with BODi news, as well as access free content on Beachbody On Demand, including Clean Week and a variety of sample workouts, by creating a free account on Beachbody On Demand.
And bookmark this page  — What's New on BODi — to get the latest updates and information.