15 Bad Habits You Picked Up During COVID — And How to Break Them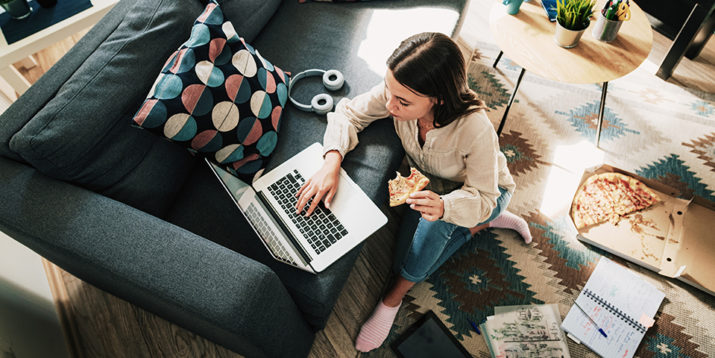 It's probably safe to say that we've all picked up some bad habits since COVID.
We became obsessed with staying healthy: wearing masks, washing our hands, keeping our distance, and Googling things like, "Should I disinfect my groceries?"
But we also picked up some not-so-healthy habits that helped us get through the current Groundhog Day vibes without going completely stir crazy.
We baked bread from scratch. We made "quarantini" cocktails.
We checked doom-scrolled 24/7. We stopped wearing pants with buttons.
The stats tell even more of the story: An international survey found that average physical activity dropped from 108 to 72 minutes per week during COVID, while sitting time increased from 5 to 8 hours per day.
Alcohol sales rose by 54 percent. And packing on extra pounds became so common that it was dubbed the "Quarantine 15."
Someday (soon? please?) life will resume some level of normalcy and here are 15 bad habits we should all learn to break.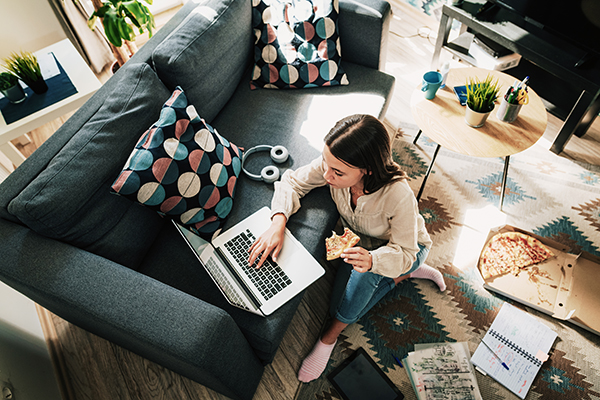 1. Stress Eating
Turns out, living through a global pandemic is pretty stressful. Who knew?!
You may find yourself reaching for comfort food to cope — especially if you're home all day and can wander to the fridge whenever the mood strikes.
So how can you kick the emotional eating habit?
Instead of snacking when you're stressed, find a healthier way to decompress.
"Rather than over-indulging in ice cream when stress surges, take the dog for a walk, hit the gym, or do some yoga to calming music," says Julie Mancuso, registered nutritionist and owner of JM Nutrition.
It also doesn't hurt to keep the kitchen stocked with healthier grab-and-go options — like Beachbody Bevvy, a tea supplement that can help curb cravings.
2. "Winging" Your Workouts
Work-from-home flexibility sounds great in theory — just squeeze in a workout whenever you have free time, right?
But it can be hard to find "free time" when work, home, school, and everything else is all happening in the same space.
"It's way too easy to push off workouts if you're 'winging it,'" says Tony Becker, B.S., NSCA-CPT, 200RYT, and owner/operator at Toned Body Fitness.
To get some structure back into your days, Becker recommends adding workouts to your calendar and honoring them like any other appointment.
Another option for reclaiming your routine?
Try Beachbody On Demand's 9 Week Control Freak, the latest program from Autumn Calabrese that helps you take control of your nutrition, strength, stamina, and sleep.
3. Googling Every Sneeze and Sniffle
Are you Patient Zero, or is it just allergy season?
We're relying on "Dr. Google" more than ever these days, but research suggests excessive online symptom-checking, a.k.a. "cyberchondria," can increase anxiety. (No surprise there!)
If you think you may have COVID symptoms, give your doctor a call.
Otherwise, put down the phone and go for a run or take a yoga class.
4. Scrolling Your Socials First Thing in the Morning
After months of social distancing, we're all craving connection right now.
So when your alarm goes off in the morning, you might instinctively start scrolling through social media to see some familiar faces.
But social media consumption — and all the clickbait stories, beauty-filter selfies, and political arguments that come along with it — has been linked to anxiety symptoms.
So you may want to rethink your morning routine in 2022.
"Our morning routine sets the tone for our whole day," says Rebecca Cowan, Ph.D., LPC, NCC, Owner, Anchor Counseling & Wellness, LLC in Virginia Beach.
Instead of checking your feed, Cowan recommends spending that time on something that sets a positive tone for the day — like a cup of tea, a good book, or a morning meditation.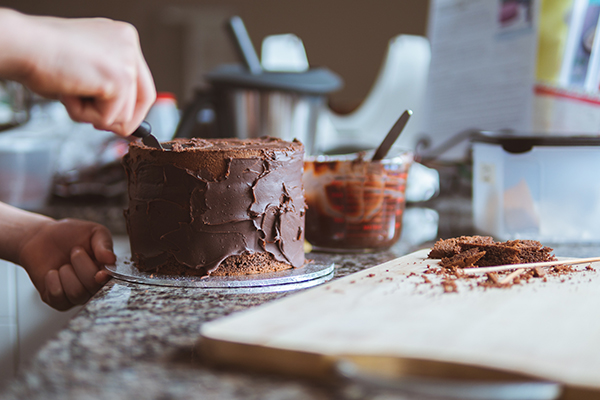 5. Baking All the Things
This is the year we all learned to make banana bread…and sourdough starters…and cinnamon rolls…and homemade bagels.
But turning your kitchen into a makeshift patisserie doesn't exactly make it easy to eat healthy.
Want to flex your culinary skills without wrecking your diet?
Try one of our healthier comfort food recipes or dessert recipes.
6. Becoming a Couch Potato
We're all leaning hard on Netflix to keep us entertained right now.
But make sure you're not falling into a rut of ignoring your friends while you catch up on your queue.
Two-thirds of adults have reported experiencing social isolation during the pandemic, so make sure you're staying connected with friends and family.
Your social life might look a little different right now, but you can still keep in touch with virtual parties, Zoom workouts, or online game nights.
7. Judging Your Zoom Thumbnail
We're spending more time in virtual meetings than ever before, which means we're staring at a tiny reflection of ourselves all day long — and that's not necessarily ideal for mental health.
"For some, staring at this thumbnail may further exacerbate negative feelings surrounding self-image," says Matt Glowiak, Ph.D., LCPC, CAADC, NCC, a counselor at Choosing Therapy.
This can be an especially serious issue for anyone dealing with body dysmorphia.
It can also make us feel disconnected.
There's a reason we don't stare in a mirror during face-to-face conversations, Glowiak notes: "We actively engage others with eye contact and subtle non-verbal cues."
To break this habit, focus on the person who's speaking like you would in a normal conversation. If you're still getting distracted, consider hiding your thumbnail image or turning off your camera.
8. Wearing Stretchy Pants Every Day
A lot of us are rocking the "Zoom mullet" these days — professional on top, leggings on the bottom.
But when you're wearing stretchy fabrics 24/7, it's easy to gain a few pounds without noticing.
Even if you're committed to riding out the pandemic in elastic waistbands, make it a habit to try on your favorite pair of jeans once a week to make sure they still fit.
It's an easy non-scale way to check in with your body.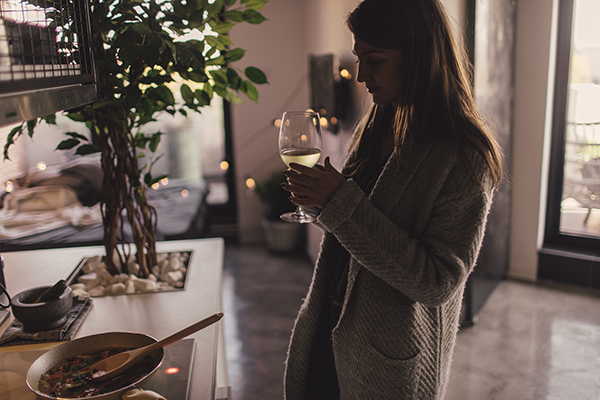 9. Unwinding With a Daily Quarantini
The quarantini trend — mixing Emergen-C packets with gin or vodka — was a fun diversion.
But immune-supporting supplements aren't really meant to be mixed with hard liquor, as the company noted on Twitter.
And on a broader note, many of us ramped up our alcohol consumption during the pandemic.
One survey found that reports of binge drinking increased by 26 percent between February and April.
If you've taken up day drinking as a hobby, switch to a healthier (and non-alcoholic) afternoon pick-me-up instead — like a yummy Shakeology smoothie or a refreshing BEVVY mocktail.
10. Refreshing the News Every 5 Minutes
There's a lot to keep up with right now, and it's important to stay informed. But consuming too much news can take a toll on your mental health.
So how can you minimize the time you spend doom-scrolling?
"Carefully select your news service, and view in bounded time intervals," says Jeffrey Ditzell, DO, a psychiatry specialist in NYC.
For example, you might allow yourself five minutes, once a day, to catch up on the top stories.
That's typically enough time to stay in the loop without falling into a rabbit hole of anxiety-inducing headlines.
11. Adding Everything to Your "Cart"
Online spending surged in 2020.
But along with getting groceries delivered and topping up our TP supply, the year-long combo of stress and boredom also inspired us to order a bunch of stuff we didn't need.
New leggings? Obviously. Face masks? Yep, the beauty kind and the COVID kind.
A book on calligraphy? Sure, might as well take up a new skill!
If you've been indulging in a little too much retail therapy, look for more wallet-friendly mood boosters in 2022: Go for a walk, call a friend, or enjoy a cup of coffee.
12. Throwing Your Schedule Out the Window
Without the usual "anchors" of your schedule — like your daily commute, lunch break, and social events — your days can start to feel like a blur.
But a daily routine is important for your mental health and can provide a much-needed sense of comfort.
Write out a schedule that includes specific times for meals, work, housework, exercise, sleep, and relaxation, says Sara Mikulsky, PT, DPT, FNS, CEAS, owner of Wellness Physical Therapy, PLLC.
"This way, there is always a general framework to follow, which takes the stress and anxiety out of planning the day."
13. Blurring the Work-Life Balance
When you're working from home, you may feel like you're never fully logged off.
In fact, some data tracking suggests that working from home during the pandemic has increased the average workday by about three hours.
No wonder many of us are experiencing feelings of burnout.
How can you create that separation between work and home?
Create a defined workspace, set office hours, and establish a clear end-of-day routine, says Kirby Davis, LMHP, a mental health counselor in Nebraska.
"Wrap up your day in a way that allows you to leave your workspace as if you've stepped out of your office building," Davis adds.
Spend 15 minutes answering emails and making a to-do list for tomorrow — then close all tabs and power down your computer for the night.
14. Subsisting on Takeout Meals
We're all about supporting local restaurants, which were hit hard during the pandemic.
But if you've been supporting your local sushi joint so often that your delivery driver is officially part of your COVID pod, you may want to start cooking more meals at home.
Try a creative new dinner entrée like vegetarian paella or bell pepper nachos, or check out our most popular dinner recipes for ideas.
15. Losing Ground on Your Weight-Loss Goals
If you gained the "quarantine 15," you're not alone.
One survey found that 22 percent of respondents had gained 5 to 10 pounds during the pandemic.
Don't let that setback discourage you — just make 2021 the year you get back on track.
"Start with one small change," says Melissa Lopez, ACE-certified personal trainer.
"Instead of trying to get back into a workout routine, change your diet completely, start meditating, and get better rest all overnight, choose one small goal — like going on a 15-minute walk each evening, or swapping your evening wine for an herbal tea," she suggests.
It took months for those COVID habits to creep up, so give yourself time to undo them and build some new, healthy habits in their place.
Looking for expert nutrition advice and workouts to help you get on track? Head over to Beachbody On Demand and find out how Beachbody's at-home workouts, nutrition programs, and online community work together to help you reach your health and fitness goals.