2B Mindset Dinner Recipes
With the 2B Mindset nutrition program with Ilana Muhlstein, you'll learn how to eat healthy without feeling deprived, without counting calories, and without cutting out whole food groups. It's a win-win-win!
A key part of building a positive relationship with food and eating is to have healthy recipes on hand for every meal.
To help you get started, we've put together this roundup of 2B Mindset dinner recipes so you'll never be tempted to order takeout or grab something unhealthy.
If you're not familiar with 2B Mindset but want to learn more about this healthy approach to eating, read about Ilana's journey here.
Pro tip: Check out these delicious, easy 2B Mindset recipes for breakfast, lunch, and snacks.
Get started with the 2B Mindset today!
2B Mindset Recipes for Dinner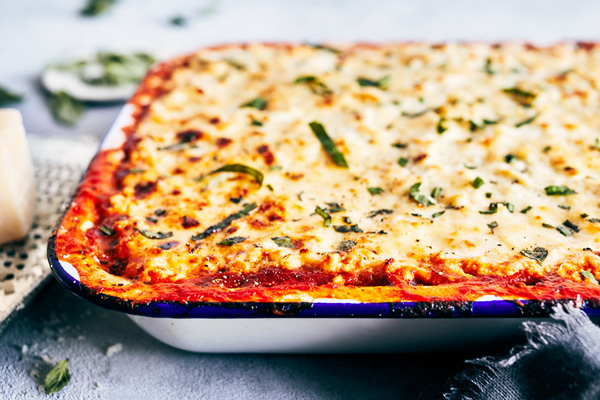 When you think of lasagna, what's the first thing that comes to mind?
(We bet it has something to do with melty hot cheese, al dente noodles, and lots of tomato sauce!)
With this healthy lasagna recipe, we focus on the good stuff, but you still get plenty of sauce and cheese.
Instead of traditional pasta, you'll load up on spaghetti squash instead, a fiber-rich, lower-carb alternative to pasta.
After a trip to the oven, the spaghetti squash noodles will have absorbed some of the tomato and cheesy goodness. Yum!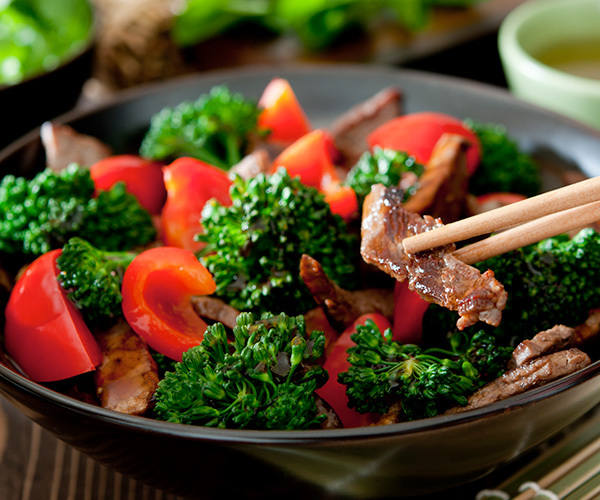 If your fridge is filled with a hodgepodge of extra veggies at the end of the week, this quick stir-fry is a great way to make good use of those orphans.
This versatile beef and broccoli recipe tastes phenomenal with bell peppers, garlic, and fresh ginger.
Bok choy, asparagus tips, and crisp water chestnuts would all work well, too. Get the recipe here.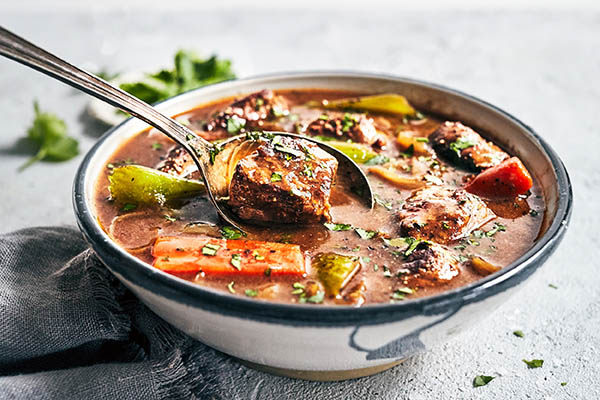 A traditional beef stew with fall-apart tender beef, silky vegetables, and rich broth is almost impossible to pull off on a weeknight.
It can take several hours of slow simmering for stew meat to soften and for complex flavors to develop in the broth.
Enter the Instant Pot (or any electric pressure cooker). This kitchen appliance takes beef stew from a special-occasion feast to totally a doable weeknight dinner.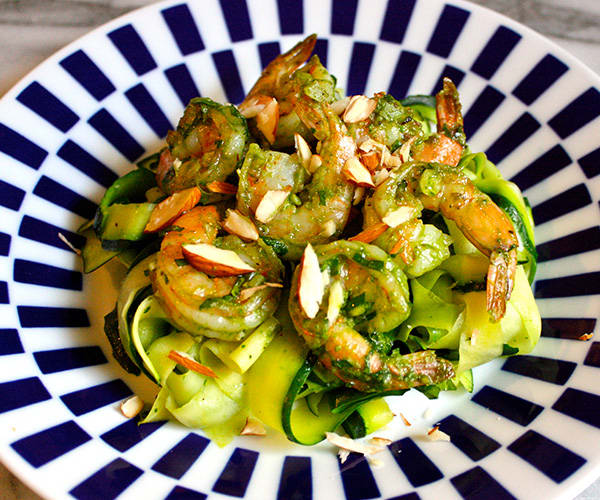 You can make zucchini noodles, or "zoodles," with a vegetable peeler, mandolin, or spiralizer.
The pasta-like texture is a perfect base for all sorts of sauces and toppings. Try these delicious garlic shrimp with fresh basil on a bed of zucchini noodles tonight.
Pro tip: If you're using a vegetable peeler, cut each zucchini into lengthwise strips about ⅛-inch thick.
Turn zucchini slightly after cutting each strip to work evenly around the outside, stopping when you hit the seeds at the core. Cut slices lengthwise into ½-inch ribbons.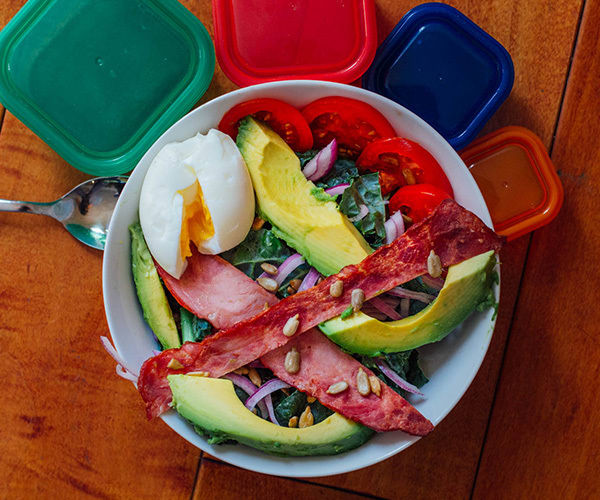 Breakfast for dinner? You bet. It's time to up your breakfast game and think outside of the cereal box. Who says you can't have a salad for breakfast?!
It's super simple and super delicious: just top hearty greens with egg, bacon, a few other salad staples.
We love the added crunchiness of the sunflower seeds and turkey bacon with the tenderness of the soft-boiled egg and tomatoes. Get the recipe here.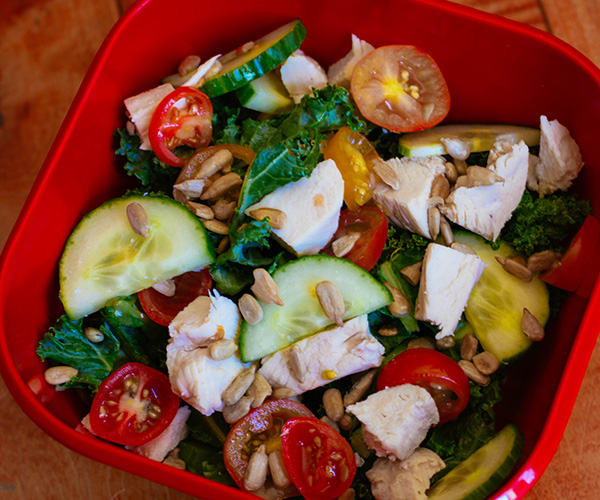 This hearty salad will blow away any sad desk lunch: It's packed with chicken, tomato, and refreshing cucumber slices, and sunflower seeds for a nutty crunch.
Finish it with a squeeze of lemon or this healthy Creamy Lemon Caesar Dressing.
Pro tip: Make your kale leaves softer and sweeter tasting by massaging them with both hands and rubbing them together.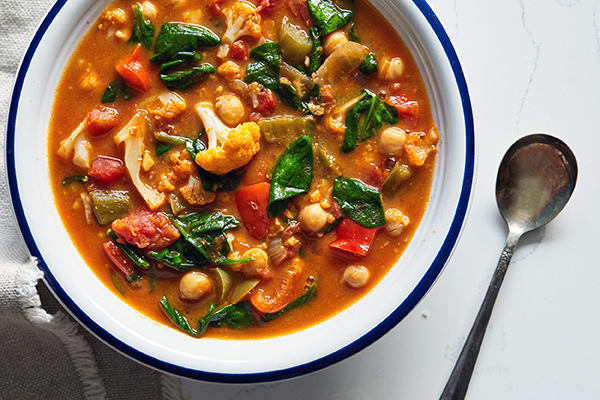 This vegan stew is packed with colorful veggies, like bell peppers, tomatoes, cauliflower, and spinach in a savory coconut curry broth.
Simmering everything in a slow cooker with garlic, ginger, and spices allows the flavors to meld into a fragrant, flavorful broth.
If you don't have a slow cooker, a big soup pot will work, too. Just cook over very low heat and reduce the cooking time.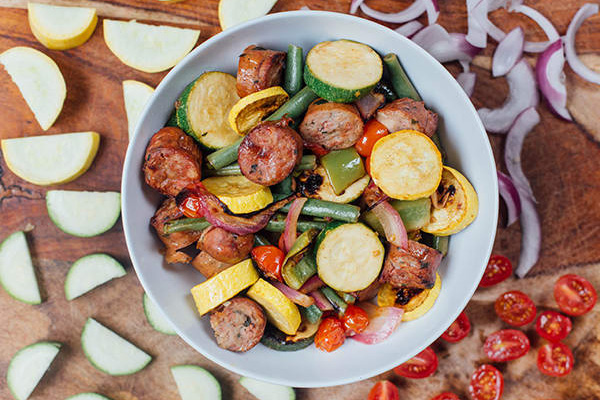 Balsamic vinegar, fresh lime juice, and garlic add a refreshing kick and brightness to this meal, and a sprinkle of fresh basil creates a "right-from-the-garden" flavor.
This simple recipe only requires chopping and slicing, so you can prep in advance or do a big chop-and-slice session for a bigger batch.
Pro tip: Look for all-natural chicken sausage to avoid preservatives and keep the sodium low.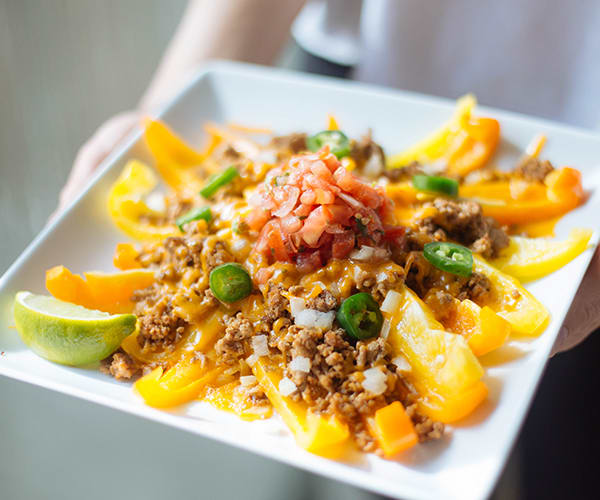 These nachos taste like the "real" thing but are actually healthy!
This nacho recipe features wedges of sweet bell peppers with seasoned ground turkey, fresh pico de gallo, jalapeños, and sharp cheddar cheese.
(Yes, these bell pepper nachos still have plenty of melted cheese — we're not monsters, you know!)
If you want to add a little more flair, top them with diced avocado or a dollop of low-fat Greek yogurt. Get the recipe.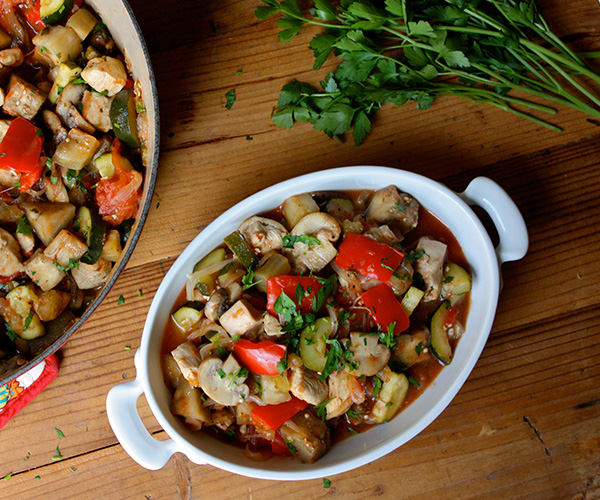 Our clean-and-lean version makes four very hearty servings that will keep you satisfied.
Freeze leftovers in individual portions for an easy dinner on a busy weeknight. Get the recipe.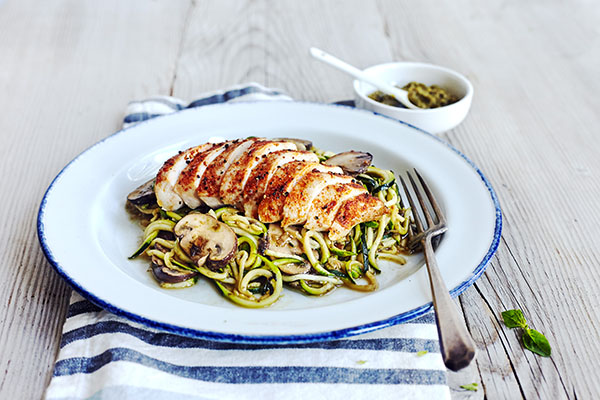 Zucchini noodles ("zoodles") are a great low-calorie alternative to traditional pasta.
Combined with the bright, light flavor of basil pesto, this "pasta" dish won't you make you fall into a food coma afterward.