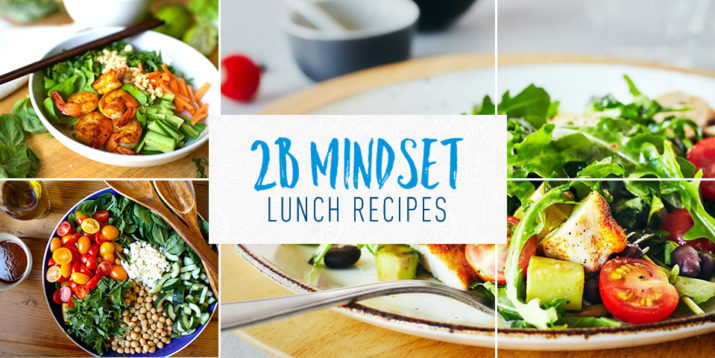 The 2B Mindset nutrition program can help you eat healthy without feeling deprived, without counting calories, and without cutting out whole food groups.
And an important part of building a positive relationship with food and eating is to have healthy recipes on hand for every meal.
To help you get started, we've put together this roundup of 2B Mindset recipes for lunch so you'll never be stumped in the kitchen.
If you're not familiar with 2B Mindset but want to learn more about this healthy approach to eating, read about co-creator Ilana Muhlstein's journey here.
Pro tip: Check out these delicious, easy 2B Mindset recipes for breakfast and dinner.
Get started with 2B Mindset today!
2B Mindset Recipes for Lunch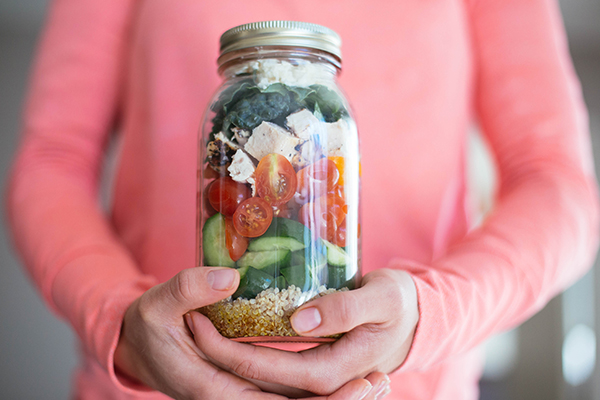 Say "goodbye" to the sad desk salad; say "hello" to this gorgeous, satisfying Quinoa Chicken Salad in a Mason Jar.
This simple recipe is a snap to meal prep, so you'll have four awesome desk salads for the week in no time. Get the recipe here.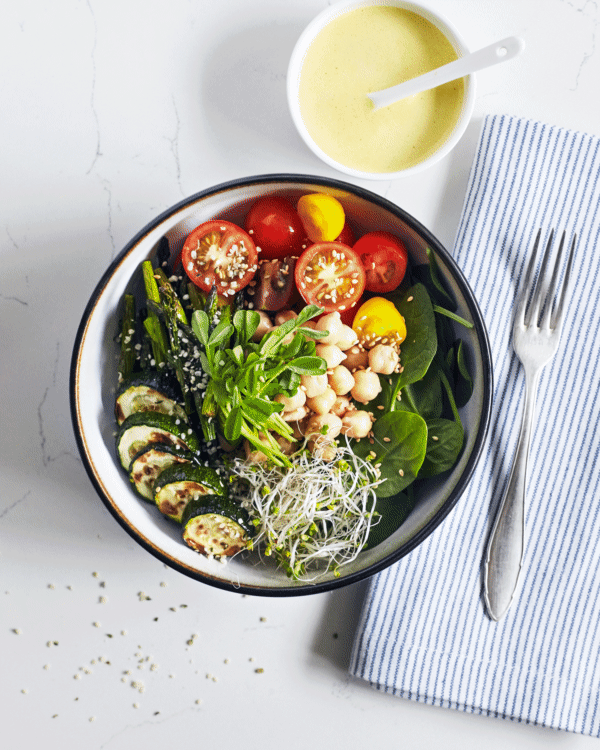 This Vegan Buddha Bowl is perfect for the veggie lover who wants a little bit of everything in their bowl.
It features whole grains, nutrient-dense powerhouses like hemp seeds and sprouts, and a mix of raw and roasted veggies for added color and texture. Get the recipe here.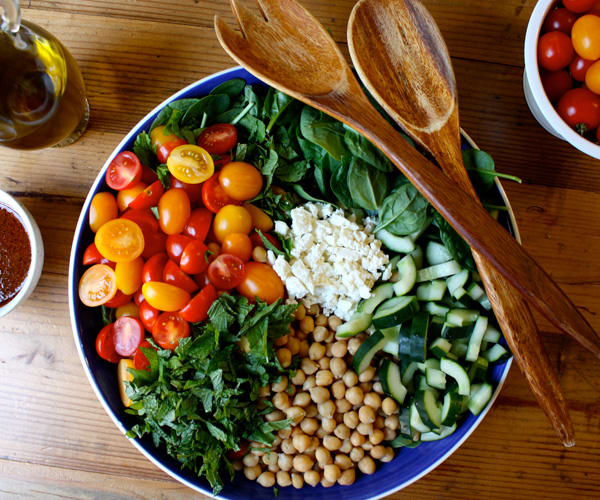 This colorful salad is a showstopper. The recipe makes 12 portions, so there's plenty for every member of your family, coworkers, or your next dinner party!
Even after it's dressed, this salad stores well for up to 3 days. Get the recipe here.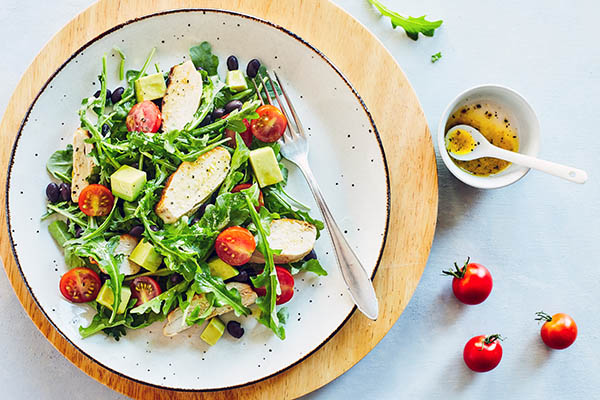 This Arugula Salad With Chicken and Black Beans is a five-ingredient meal that rivals even the fanciest restaurant salads. The best part? You can throw it together in minutes.
A bag of pre-washed arugula means you can skip the step of washing and spinning the greens. All you'll need to do is give the fresh veggies a quick chop, and add the chicken and beans. Get the recipe here.
It makes a hearty lunch, thanks to 24 grams of protein and 8 grams of fiber. The satisfying crunch of cucumber and red onion is balanced with fresh tomatoes, fragrant chopped parsley, and bright lemon to top.
Pro tip: Keep the bean and tomato mixture separate from the spinach until you're ready to serve. Get the recipe here.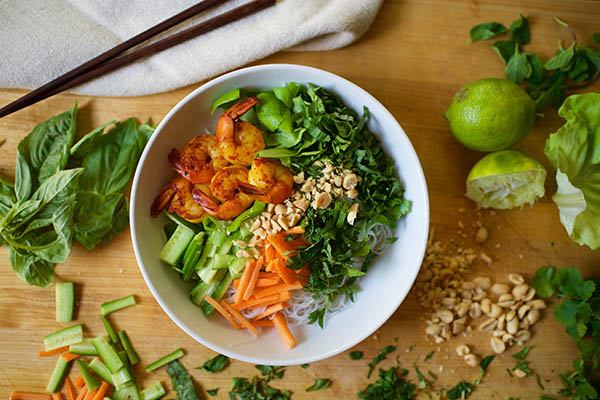 Skip takeout night and enjoy a fast homemade noodle bowl that's filled with healthy ingredients.
Cook the seasoned shrimp in just 3 to 5 minutes, then pile it onto rice vermicelli noodles with bean sprouts, cucumber, carrot, lettuce, cilantro, mint, and basil for a flavor explosion.
The finishing touch? A tangy broth and crushed peanuts. Get the recipe here.
Cauliflower is a shape-shifting vegetable that can transform into "rice," "steak," "bread," or even pizza crust — it's the crunchy superhero of healthy eating.
In another hero move, cauliflower stands in for meat in this recipe for a hearty barbecued salad that's perfect for summer grilling or an envy-inducing desk lunch. Get the recipe here.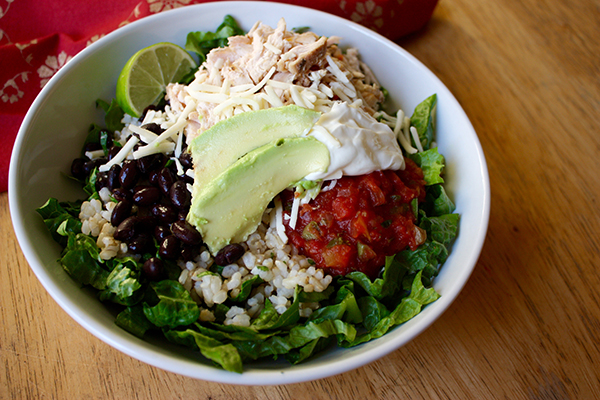 The fresh flavors and wholesome ingredients make this chicken burrito bowl an ideal lunch. This recipe calls for black beans, but you can substitute pinto beans if you prefer.
Fresh salsa, a squeeze of lime, and creamy 2% Greek yogurt is the only dressing you need for this delicious, filling salad. Get the recipe here.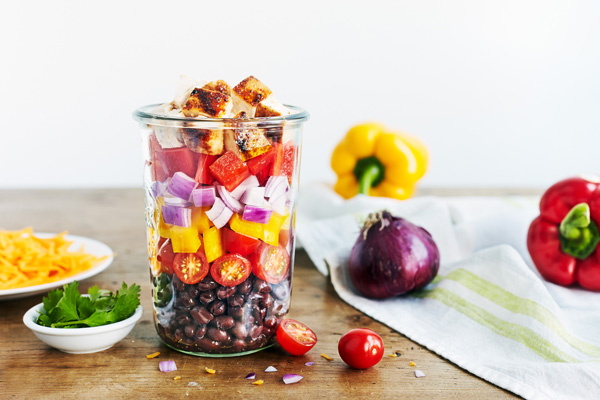 This beautiful salad is bursting with flavor, thanks to crisp and colorful bell peppers, cheddar cheese, succulent grilled chicken, and black beans that marinate in the dressing.
Pro tip: Packing salad in Mason jars is a handy trick for avoiding soggy salads — put your wet ingredients at the bottom of the jar, followed by the heavier ingredients. Get the recipe here.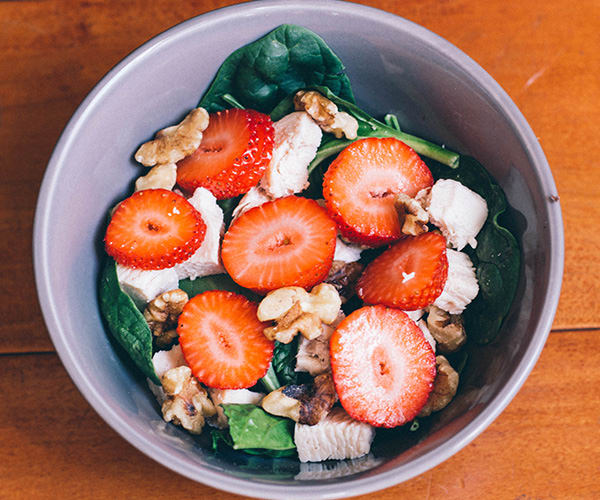 If you have precooked chicken on hand and a bag of pre-washed spinach, this simple salad takes only minutes to make.
Finish it with a drizzle of good balsamic vinegar or make this yummy Strawberry Vinaigrette. Get the recipe here.
Traditional taco salads are usually loaded with beef, cheese, sour cream, and guacamole, then piled into a giant fried tortilla shell and smothered in dressing.
We gave the classic Taco Salad a makeover by swapping in seasoned ground turkey instead of ground beef, and we added lots of crisp lettuce and juicy tomatoes, avocado, and a generous serving of crunchy tortilla strips on top. Get the recipe here.
Get started with the 2B Mindset today!