These gorgeous bowls of brightly-colored vegetables make a summer meal that's as nice to look at as it is to eat. We call it a Rainbow Lentil Bowl because so many colors are represented in its combination of cherry tomatoes, sweet peppers, green lentils, mixed greens, and red cabbage. Top it with cheddar cheese and a pico de gallo salsa for a Southwestern twist!
This bowl is a nutritional powerhouse. The colorful veggies provide an array of phytonutrients and fiber-rich, filling lentils bring the protein to a whopping 13 grams per serving. You can find pre-cooked lentils in the produce section of many supermarkets, or buy them canned, but it's much cheaper to cook your own lentils and it takes less than 30 minutes. Here's how.
This recipe yields four hearty servings and keeps well in the fridge, so it's a great recipe for a family dinner, for your next potluck, or to try in your next meal prep.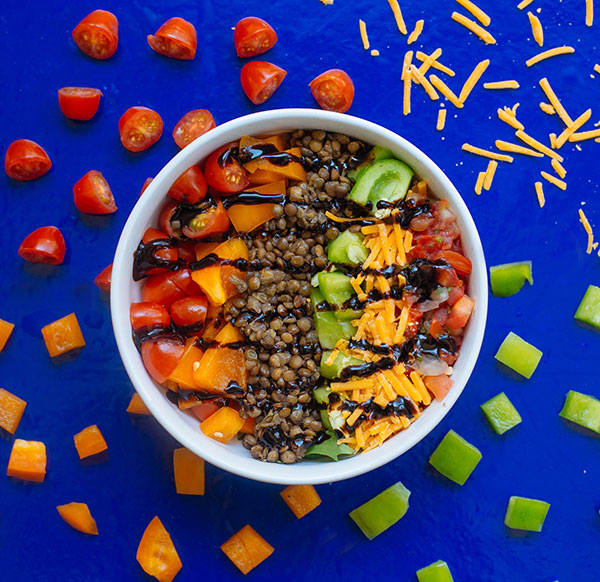 Rainbow Lentil Bowls
Prep Time 15 mins
Cook Time 0 mins
Total Time 15 mins
Servings 4 servings
Calories 234 kcal
Ingredients
4 cups mixed salad greens
1 cup pico de gallo (or fresh tomato salsa)
½ cup shredded cheddar cheese
1 cup chopped red cabbage
2 cups cooked brown lentils (or green lentils)
1 cup chopped orange bell pepper
1 cup chopped green bell pepper
1 cup halved cherry tomatoes (or grape tomatoes)
Instructions
Evenly divide salad greens and red cabbage between four serving bowls.

Evenly layer half of pico de gallo, cheese, cabbage, lentils, orange bell pepper, green bell pepper, tomatoes, and remaining half of pico de gallo on top of salad greens in "stripes."
Nutrition Facts
Rainbow Lentil Bowls
Amount Per Serving (1 bowl)
Calories 234 Calories from Fat 45
% Daily Value*
Total Fat 5g 8%
Saturated Fat 3g 15%
Cholesterol 15mg 5%
Sodium 705mg 29%
Total Carbohydrates 34g 11%
Dietary Fiber 12g 48%
Sugars 10g
Protein 13g 26%
* Percent Daily Values are based on a 2000 calorie diet.
Nutritional Information (per serving):
Calories: 234
Total Fat: 5 g
Saturated Fat: 3 g
Cholesterol: 15 mg
Sodium: 705 mg
Carbohydrates: 34 g
Fiber: 12 g
Sugars: 10 g
Protein: 13 g
P90X/X2 Portions
2 Vegetables
½ Tuber/Legume Carb
½ Fat
P90X3 Portions
2½ Carbs
1 Fat
Body Beast Portions
3 Vegetables
1 Legume
1 Fat
Portion Fix Containers
2 Green
1 Yellow
½ Blue
If you have questions about the portions, please click here to post a nutrition question in our forums so our experts can help. Please include a link to the recipe.
Photos by Amanda Meixner and Dani Paris