Find Your Fitness Groove With Shaun T Dance Routines
Ready to shake up your workout routine?
LET'S GET UP! turns every workout into a calorie-torching, confidence-building, mood-boosting celebration.
Professional dancer, choreographer, and Super Trainer Shaun T will teach you to dance like a pro — and get into amazing shape.
The best part?
While you're moving to the music, the minutes will fly by.
Before you know it, you'll have a high-energy workout done and dusted for the day.
Of course, if you're used to cardio workouts feeling like they drag on f-o-r-e-v-e-r, the positive vibes of a dance fitness sesh may make you wonder: Do dance workouts really work?
YES! Dance workouts help you feel the burn while having a blast, and you only need 30 minutes a day to reap the benefits.
Here's why you should make dance routines with Shaun T a part of your fitness plan.
What to Expect From LET'S GET UP!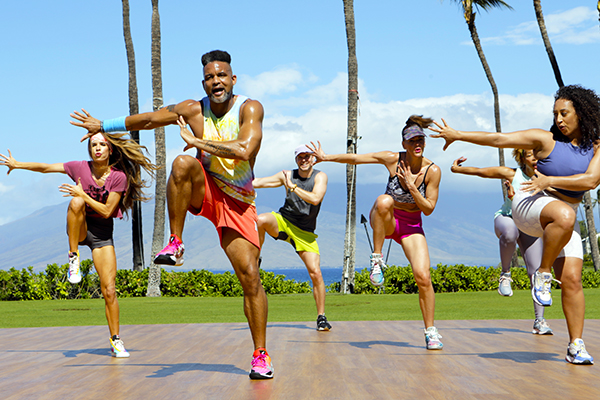 So… what's in store when you stream Shaun's latest dance workouts?
LET'S GET UP! is a breakthrough integration of dance and fitness.
Each week consists of four 30-minute dance conditioning workouts to get your heart pumping, along with two dumbbell resistance workouts to help you strengthen and sculpt.
Through it all, Shaun T keeps you motivated and moving with easy-to-follow dance sequences and a fire playlist that spans from throwback '70s grooves to Latin pop to swing.
Follow the full 30-day program, or stream a single workout whenever you need to de-stress and add a little joy to your day.
Check out LET'S GET UP! — and all of Shaun T's dance workouts — on Beachbody On Demand.
Then turn up the volume, hit the floor, and get ready to work up a serious sweat!
5 Reasons to Add Dance Workouts to Your Routine
Booty-shaking is a worthy addition to your workout schedule — here's why.
1. They're beginner-friendly
Dance workouts offer a safe and body-positive experience for all ages and fitness levels.
Shaun's instructive style will help you master the moves like a pro.
Modify as needed while you're learning, then go all-out and add your own flair once you've nailed down the choreography!
2. They're convenient
Dance workouts can be done anywhere, any time of day, with little to no equipment.
Just clear some space wherever you are, and voilà — you've got a dance floor and you're ready to press play.
3. They'll boost your mood
When you're feeling blah, music can be a powerful pick-me-up — so crank the volume, get lost in the beat, and shake off the stress of the day.
4. They're efficient
Short on time? No worries — you can get an effective workout and amazing results in just 30 minutes a day.
5. They're fun!
Some days, it's hard to find the motivation to tackle a workout.
But a mini dance party in your living room may be exactly what you need to get out of your funk and work up a sweat.
You'll be so in the zone — mastering the moves, feeling the beat, and wanting more — you'll forget you're working out.
The Benefits of Dance Workouts
Whether you're looking to lose weight, build healthier habits, or get into a happier headspace, dance workouts can deliver incredible results.
Torch calories
According to Harvard Health, a 155-pound person burns an average of 216 calories in just 30 minutes of fast-paced dancing.
So while you're feeling the beat and mastering your dance moves, you'll be getting a calorie-crushing cardio workout that leaves you dripping with sweat — and loving every minute!
Improve strength and coordination
Dancing is a full-body workout that helps to improve balance, endurance, and coordination. LET'S GET UP! also includes two dumbbell resistance workouts to help you build muscle and get stronger.
Boost your mental wellbeing
Not only can dancing transform your body, but it also benefits your brain!
Memorizing choreography, mastering new sequences, and finding your groove can all have a positive impact on your self-confidence and mental wellbeing.
Get Started With LET'S GET UP!
Ready to burn calories, get a full-body workout, and have a blast doing it?
LET'S GET UP! is available right now to stream on Beachbody On Demand.
No equipment is required for the dance workouts — all you need is floor space.
For the resistance workouts, you'll need some light to medium dumbbells.
(If you're on the go, water bottles or canned goods will do the trick!)
Hone your moves in the privacy of your own home, or take your dance workout with you on the road.
These on-demand dance parties are just another perk of your BOD membership!
Check Out Even More Dance Workouts With Shaun T
Can't get enough of Shaun T's positive energy?
Check out his other workouts on Beachbody On Demand.
This program features cardio sessions that embrace the concept of HIIT and
strength workouts, so there's a balance between cardio and resistance training.
Sculpt your way to a six-pack with easy-to-follow hip-hop dance routines that burn fat, rev up your metabolism, and work your entire core.
Keep the energy going with four high-energy dance workouts available exclusively to BODi members.
You'll get new choreography, remixed tracks, and an instant mood boost!
Step up your game — literally — with intense, total-body step workouts designed to transform your body and mind in just 20 minutes a day.