How to Make Overnight Oats in 5 Simple Steps
Learning how to make overnight oats helps you create an easy, delicious breakfast with lots of versatility.
As Holly McKee-Clark, culinary specialist for Beachbody, puts it, "Oats are a low-maintenance canvas — just tack on your favorite flavors both sweet and savory."
We'll show you how to make overnight oats in five simple steps.
And just in case, we included a few recipes below to help you get started!
What Are Overnight Oats?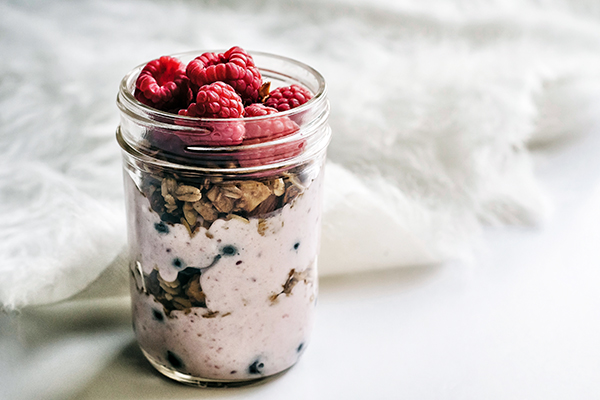 As the name implies, overnight oats are a no-cook technique for making oatmeal.
By soaking oats overnight in the fridge, they slowly absorb the liquid and soften to a pudding-like texture without the help of a microwave or stove.
Of course, you don't have to eat overnight oats cold.
If you prefer hot oats, pop them in the microwave for 30 seconds to a minute.
Step 1: Pick a Container
A large jar or bowl is perfect for batch-making a large amount of overnight oats at once.
Or you can use cute, individual Mason jars to divvy up a pre-portioned breakfast that's truly grab-and-go.
Step 2: Add Oats Plus (optional) Chia Seeds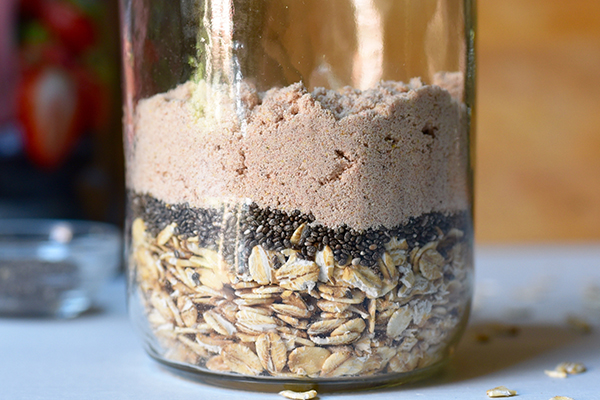 Make sure to pick rolled oats for the best texture that's creamy and just right.
Though the name implies your oats should sit overnight, you can get away with a little as a two-hour soak!
Note that while you could use instant oats or steel-cut oats, one may be too mushy and the other too tough. Both would require playing around with the soak time.
Though you don't need chia seeds to make overnight oats, McKee-Clark says, "Chia seeds were made for overnight oats. They plump up just perfectly and pack a protein punch."
Chia seeds can make your oats creamier — just remember to add more liquid if you use them.
Step 3: Add a Base Liquid
You'll want a 2:1 ratio of liquid to oats for an appealing consistency.
The consistency may look thin, but the oats will soak up the liquid overnight.
If your oats are too thick after soaking, stir in a tad more base liquid or plain water to loosen it up.
Unsweetened milk (dairy, almond, soy, rice, coconut)
Plain yogurt (or flavor of your choice)
Plain Greek yogurt (if you prefer a protein boost), plus a little water to thin it out
Note that if you added chia seeds, add more liquid. This is a forgiving recipe, so if you didn't add enough liquid, you could still do it the next day.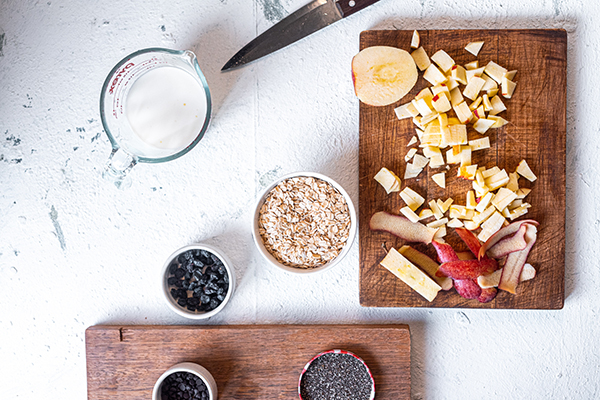 Step 4: Add Flavor Enhancers
Here's where you need to choose: will those overnight oats be savory or sweet?
Then, think about your favorite flavors. Do you like apple cinnamon, pumpkin pie, or chocolate peanut butter?
We've listed common flavor enhancers below, but it's still a matter of personal taste and what you have in your kitchen.
Savory overnight oats might be less familiar territory, but McKee-Clark is confident you can make it work.
Her favorite flavor combination:
Stir in a teaspoon (just one!) of melted butter (organic, grass-fed, if possible) and a tablespoon of Romesco when making your oats.
Heat them up in the morning (1-2 minutes in the microwave).
Top with a poached egg and a sprinkle of fresh parsley for a Mediterranean twist.
"A little shredded cheddar cheese, Greek yogurt, crumbled turkey bacon, and green onions on top could be another yummy take," she adds.
Sweet Flavor Enhancers
Savory Flavor Enhancers
 Sweeteners

Pure maple syrup
Honey
Reduced-sugar jams or jellies
Flavored protein powder (Vanilla, Strawberry, or Café Latte Shakeology)

Herbs, Spices & Flavoring

Cinnamon
Vanilla
Cocoa powder
Pumpkin pie spice

Fats

Peanut butter
Almond butter
Cashew butter
Sunflower butter

 Herbs, Spices & Flavoring

Fresh herbs (chives, basil, green onion)
Garlic powder
Ginger powder
Miso
Bouillon powder
Salt and pepper

Fats

Butter
Tahini
Cheeses like Romesco, Parmesan, cheddar
Step 5: Add Sweet (or Savory) Mix-Ins
Finally, you'll want to give your overnight oats more body and texture with a variety of mix-ins! Don't be pressured to add all of the mix-ins.
These are simply inspirations that you can turn to as you make overnight oats week after week.
Dried or firm mix-ins (think apple, nuts, or raisins) can soak overnight, while things like egg or chopped avocado should really be mixed in right before you eat. All we can say is, let common sense guide you.
Once the mix-ins are in, give your overnight oats a good stir and let the oats rest overnight!
Sweet Mix-Ins
Savory Mix-Ins
 Fruit

Apple
Banana
Blueberries
Raspberries
Strawberries
Dried raisins, cranberries or figs

Nuts & Seeds

Almonds
Pecans
Pumpkin seeds
Shredded coconut

 Vegetable

Finely grated carrots
Peas
Sauteed veggies
Sauteed mushrooms
Chopped avocado (add the day of)

Protein

Crumbled turkey bacon
Chickpeas
Egg (cook the day of)
4 Easy Overnight Oats Recipes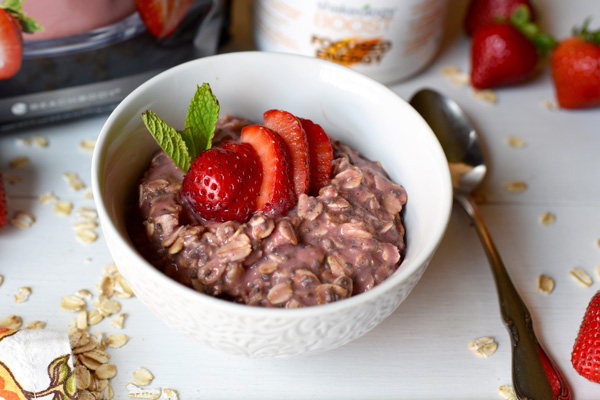 If the steps for making overnight oats still feel vague, you may need the guidance of a tried and true recipe. Thankfully, we have a few up our sleeves!
These protein-packed overnight oats recipes feature popular flavor profiles that our Beachbody community loves.
And, they're one more thing you can make with whey or plant-based vegan Shakeology:
Are overnight oats healthy?
Yep! Oats are well-known as a nutritious choice for breakfast because they're filling and full of fiber.
Now, is it bad to eat overnight oats every morning?
Not for us creatures of habit who love routines — overnight oats can save you the headache of figuring out what to do for breakfast.
Bonus: It's a surefire way to score fiber and do something good for your body bright and early.