How to Brine a Turkey for a Succulent Holiday Bird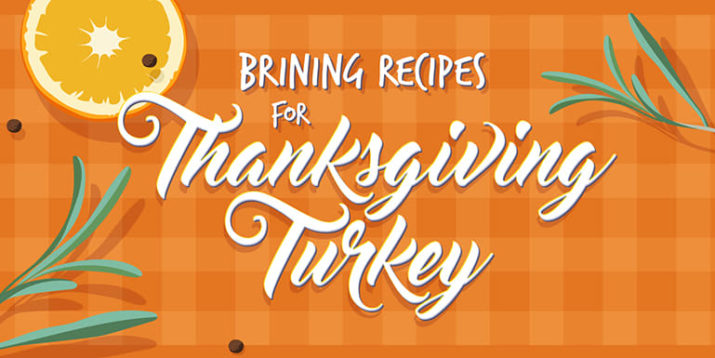 Nothing says "Thanksgiving" like a juicy, tender turkey. Unfortunately, roasting a perfect turkey can be a tough task that could leave you with a dry, tasteless bird.
So, how do you avoid a tough turkey?
Brining.
To wet brine a turkey, you soak it in a salted water solution for up to a day, then roast.
The result is a moist turkey with deeply ingrained flavor. Your brine can pack a punch flavor-wise because you're infusing the entire turkey, not just seasoning the surface.
Here's a simple guide on how to brine a turkey for the perfect Thanksgiving dinner.
How Do You Brine a Turkey?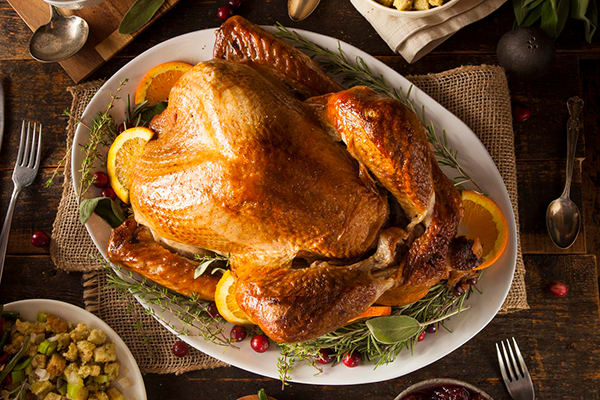 There are countless flavor options for brining, but the basic brining formula is simple: 1 cup of salt and 1/2 cup of sweetener (such as maple syrup or raw honey) per gallon of water.
(Sweetener is optional, but it will help achieve a more balanced taste.)
Generally, that formula will make enough brine for a smaller turkey in the 10 to 15 pound range; for a bird that's 15 pounds or above, you can double it. Use as much water as needed to ensure the turkey is mostly submerged.
On the stove, bring the water, salt, sweetener (optional) and any ingredients you want to flavor the brine with to a boil, then let it cool to room temperature.

Make sure the brine is completely cooled to prevent bacteria growth during the brining process.

Put a brining bag in a pot that's big enough to hold the turkey, then place the brine and the turkey in the bag, seal, and refrigerate for up to 24 hours.

You can find brining bags — basically gigantic Ziploc bags — at your grocery store.
Pro tip: Brining is for naked birds only! Don't brine a kosher turkey — it's already been salted. Check the label on your turkey — make sure it doesn't list additional water and sodium in the ingredients.
Brining Recipes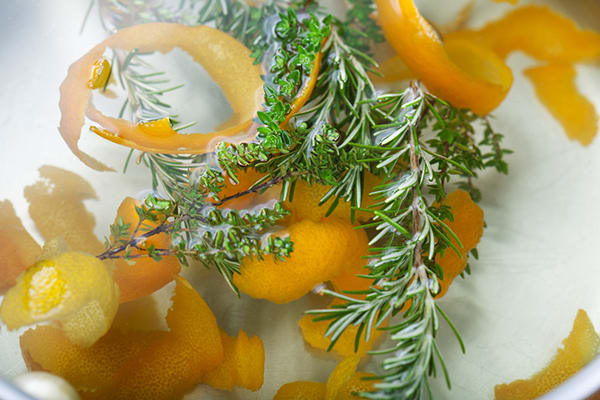 Plain Brine
If you prefer a juicy turkey without additional flavors, the basic brine is best.
Once you've brined it for up to 24 hours, rinse, pat it dry, and refrigerate until you're ready to roast.
Air-drying it in the fridge will help you get a nice crispy skin.
When it's time to cook, let the turkey sit out for about 30 minutes before putting it in a preheated oven.
Pickled Brine
For a little more flavor, pickling spice is an easy option. You can get pickling spice at your local grocery store: It's typically a mix of mustard seeds, bay leaves, allspice, and red pepper.
Use several tablespoons of pickling spice per gallon of water.
Herb Brine
For a herbaceous turkey, add a combination of fresh and dried herbs in your brine. Dried herbs will offer a deep flavor, and the fresh herbs will give the turkey more aromatic and delicate herbal tones.
Mix and match your favorite herbs, such as the following:
Fresh sage with dried oregano
Fresh rosemary with dried thyme
Fresh savory with dried parsley
Fresh marjoram with dried bay leaves.
Citrus Brine
Add lemons, limes, oranges, or tangerines to your brining solution for a bright and light hint of tartness.
If using the juice of sharp-tasting citrus like lemons or limes, brine for less time (around 8 to 12 hours), since the acid in them can begin to "cook" the turkey.
Kitchen Sink Brine
The sheer size of a turkey makes it hard to overwhelm, so don't be afraid to go big: Toss in entire garlic cloves, whole star anise or cloves, peppercorns, coriander seeds, juniper berries, and quartered onions.
Any flavors you want to infuse into your bird are fair game.
With just a little effort in advance, you'll be roasting up a succulent turkey.
You can switch up the ingredients each time without having to worry about brining basics, since those remain the same.
May your holidays be merry and your turkeys be tender!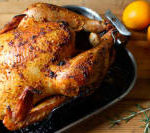 Herb-Roasted Turkey
Prep Time 15 mins
Cook Time 4 hrs 35 mins
Total Time 4 hrs 50 mins
Servings 24 Servings (4 oz. each)
Calories 219 kcal
Ingredients
1 (18 lb.) raw whole turkey
1½ tsp. sea salt (or Himalayan salt)
2 Tbsp. coarsely ground black pepper
1½ tsp. dried thyme leaves
1½ tsp. dried ground sage
1½ tsp. dried oregano leaves
1½ tsp. dried basil leaves
6 cups low-sodium organic chicken (or turkey) broth, divided use
2 cloves garlic, finely chopped
18 sprigs fresh marjoram, leaves removed and finely chopped, stems discarded
18 sprigs fresh parsley, finely chopped
2 medium onions, cut into ¼-inch slices
2 medium carrots, cut into ¼-inch slices
2 medium celery stalks, cut into ¼-inch slices
2 medium leeks, cut into ¼-inch slices
1 head garlic, halved crosswise
cooking string/twine
Instructions
Preheat oven to 450° F. Place rack in lowest position in oven.

Remove turkey neck and giblets from inside turkey; rinse turkey and pat dry with paper towels. Set aside.


Combine salt, pepper, thyme, sage, oregano, and basil in a small bowl; mix well.

Slide your hand under the skin of the turkey breast to loosen. Rub the pepper mixture inside turkey cavity, under skin, and on skin.


Pour ¼ cup broth into turkey cavity.


Combine ¾ cup broth and chopped garlic in a small bowl; pour over turkey.


Combine marjoram, parsley, onions, carrots, celery, and leeks in a large bowl; mix well.


Place in turkey cavity with garlic head.


Tie turkey legs together with cooking string. Place turkey breast side up on cooking rack set in a large, heavy roasting pan. Pour 2 cups broth into bottom of roasting pan. Tent aluminum foil over turkey and sides of the pan. Bake for 30 minutes.


Reduce heat to 325° F. Bake for an additional 3 to 3½ hours, basting with remaining 3 cups broth and pan juices every 20 minutes. Remove aluminum foil after 2½ hours. Bake until a meat thermometer inserted in the thickest part of the thigh reads 180° F, and juices run clear.


Let turkey sit for 20 minutes before carving. Discard skin and vegetables before serving.

Recipe Notes
The Nutrition Facts box below provides estimated nutritional information for this recipe.
Nutrition Facts
Herb-Roasted Turkey
Amount Per Serving (4 oz., without bone or skin)
Calories 219 Calories from Fat 54
% Daily Value*
Fat 6g9%
Saturated Fat 2g13%
Cholesterol 83mg28%
Sodium 379mg16%
Carbohydrates 3g1%
Fiber 1g4%
Sugar 1g1%
Protein 35g70%
* Percent Daily Values are based on a 2000 calorie diet.
Love this recipe? You can get more delicious recipes like this, meal preps, and more with the 2B Mindset and Portion Fix nutrition programs on BODi.
Container Equivalents
1 Red
2B Mindset Plate It!
A great protein option as part of lunch or dinner.
If you have questions about the portions, please click here to post a question in our forums so our experts can help. Please include a link to the recipe.