11 Easy Casserole Recipes
Casserole, strata, gratin, dump dinner — whatever you want to call a baked dish filled with layers of flavorful, delicious ingredients, we're all in.
Casserole recipes are so easy and convenient — perfect for busy weeknights and big family brunches alike: Just throw in some of your favorite ingredients, bake, and done.
Even better is that they're endlessly customizable, so if you find yourself out of one or two ingredients, you can swap in others and avoid a dinner disaster.
We pulled together these easy casserole recipes so you'll always have a dependably delicious and healthy option for any meal.
11 Easy Casserole Recipes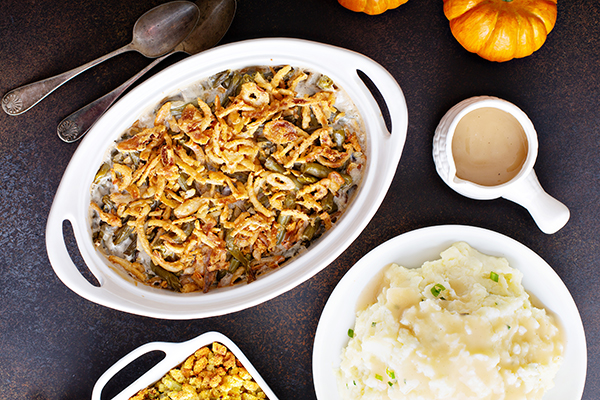 A classic green bean casserole is the vegetable version of "comfort food" — green beans, condensed cream of mushroom soup, and of course, crispy fried onions from a can.
We created a lighter version of the classic green bean casserole recipe with mushrooms, fresh herbs, sherry wine, yogurt, and crispy onions not from a can and we think it tastes even better than the original!
Get the recipe here.
Pro tip: This is the perfect side dish for a succulent brined Thanksgiving bird.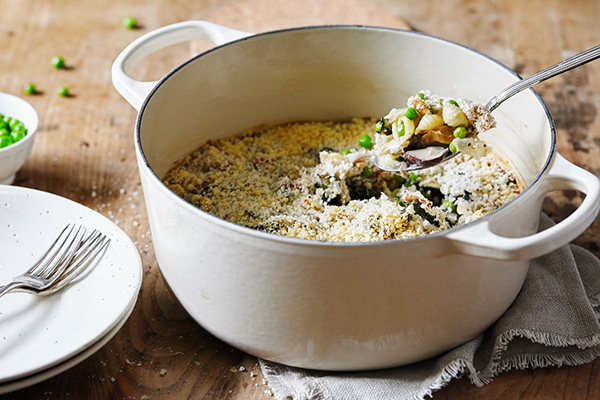 This Tuna Noodle Casserole recipe is a healthier twist on an old favorite that you can probably pull together with ingredients that are in your pantry right now.
Instead of cream and butter to create a sauce, we use a little bit of olive oil, reduced-fat milk, and a couple of spoonfuls of whole-wheat flour.
And because there are so many delicious fillings in this tuna casserole, you can actually ease up on the amount of noodles.
Get the recipe here.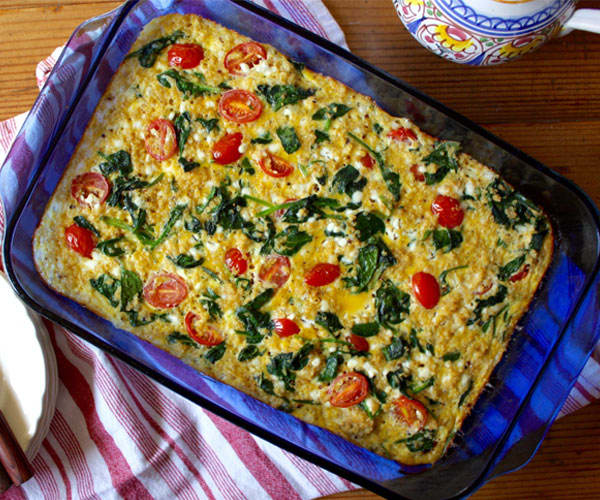 This savory breakfast casserole recipe makes for a filling, protein-packed morning meal.
You can use this recipe as a template for other delicious flavor combinations: Swap the spinach and tomatoes for any other vegetables you like.
Try kale and mushrooms, sautéed bell peppers and onions, or asparagus and artichoke hearts.
Get the recipe here.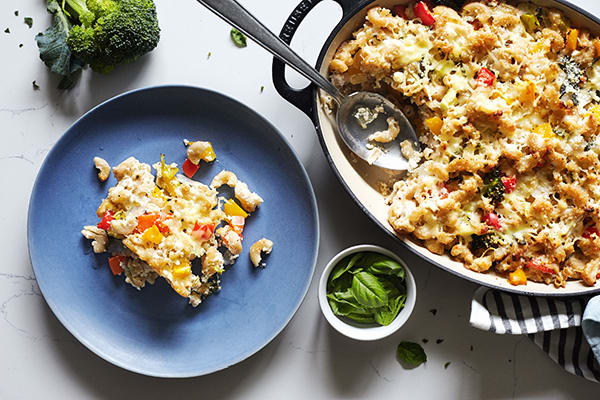 This casserole recipe gives mac-and-cheese a much-needed healthy makeover.
There's a hefty serving of vegetables nestled in this casserole — red and yellow peppers and broccoli for pops of bright color and extra nutrition.
But don't worry, there's plenty of cheese in this (we're not monsters): Ricotta, mozzarella, and Parmesan cheese all blend together in a melty, cheesy, creamy sauce.
Get the recipe here.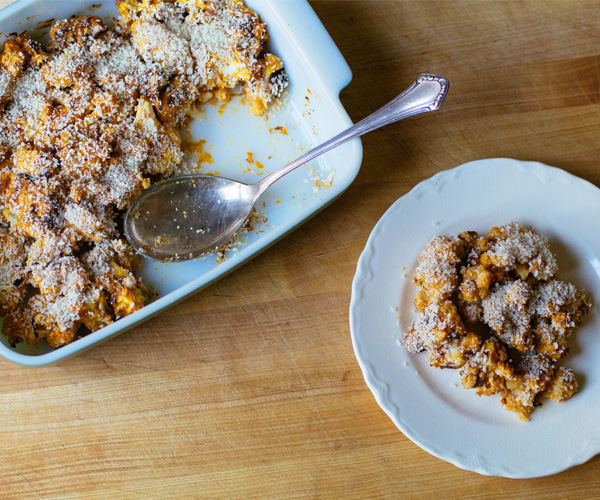 This casserole recipe combines the flavors of mac-and-cheese with potatoes au gratin, but in a much healthier all-vegetable casserole.
Roasted cauliflower takes on a nutty, sweet taste as it cooks, and a creamy cheddar cheese and pumpkin sauce provides all the comfort of a cheesy casserole without all the fat.
Get the recipe here.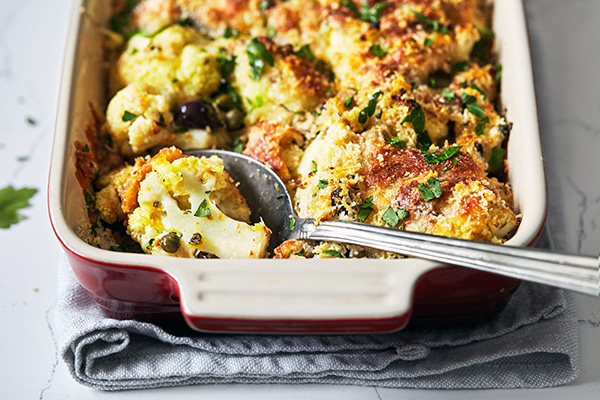 This Mediterranean-inspired casserole features roasted cauliflower, garlic, briny capers, kalamata olives, fresh sage, and zippy lemon zest.
All the ingredients go into a casserole dish and topped with mozzarella, Parmesan, and breadcrumbs before going into the oven.
Serve it with a tender baked chicken breast and dinner = done.
Get the recipe here.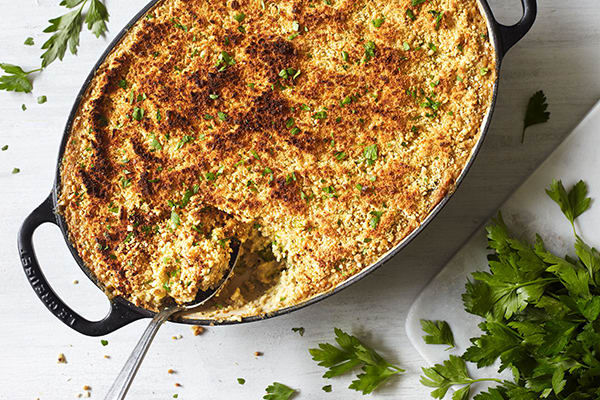 We turned traditional rice and broccoli gratin into a "cheesy" casserole that's dairy- and gluten-free.
The "cheese" in this casserole recipe comes courtesy of nutritional yeast, which is the holy grail for vegan cheese lovers.
It has a nutty and cheesy flavor which makes it the perfect dairy-free cheese substitute.
Blend it with cashews and you've got a vegan-friendly creamy "cheese." (Don't worry, you won't taste the cashews!)
Get the recipe here.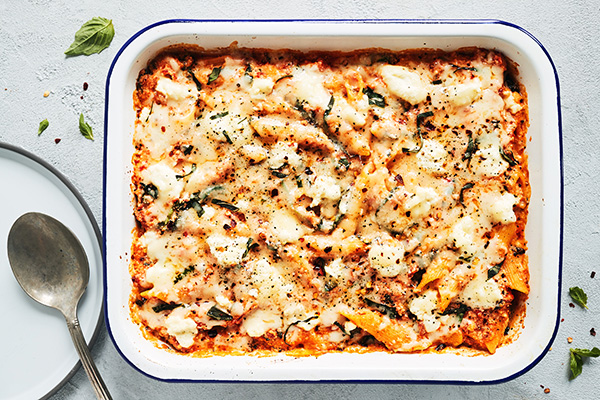 This healthy dish is loaded with vegetables and fresh herbs, then topped with Parmesan, mozzarella, and ricotta.
The flavor combination is so delicious that you can sneak in whole-wheat pasta for extra fiber and nutrients without anyone noticing the difference!
The bonus is that this casserole recipe is easily customizable: Don't like spinach? Try kale or broccoli. Love parsley? Ditch the basil and pile on the parsley.
You can swap in your favorite pasta shape as well, if you're not a ziti fan.
Get the recipe here.
This vegetable casserole features a great balance of colors and flavors: broccoli adds texture and pretty pop of green, while crumbled feta cheese adds a salty, creamy kick.
You can prep this Spinach and Broccoli Strata the night before and let it rest in the fridge.
Then, all you need to do in the morning is pop it in the oven to bake (this may increase the baking time).
Get the recipe here.
This rich, creamy mac-and-cheese tastes just as good as the classic recipe, but won't derail your healthy eating plan.
Even better: This healthy casserole recipe makes 10 servings, so it can feed a hungry family or make several meal prep meals.
The secret is using extra-flavorful cheeses — sharp cheddar and Gruyere — so a little bit goes a long way.
Adding in silky butternut squash puree creates an intensely flavorful cheese sauce.
We also added peppers and onions for more vegetable goodness.
Get the recipe here.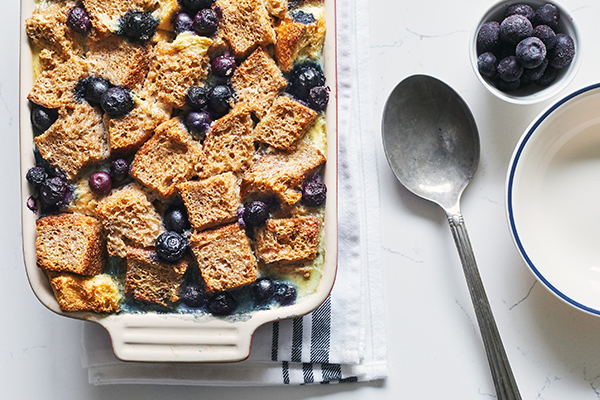 OK, OK, so this recipe is definitely stretching the definition of "casserole," but you make it in a casserole dish, so it counts in our book.
Plus, it's always nice to end a meal (or recipe roundup!) with something sweet, so here's a bread pudding/sweet casserole recipe to add to your repertoire.
Our Blueberry Bread Pudding recipe calls for whole-grain bread, almond milk, maple syrup, and fresh blueberries (or frozen if you can't find juicy fresh blueberries).
The result: a sweetly satisfying dish.
Get the recipe here.