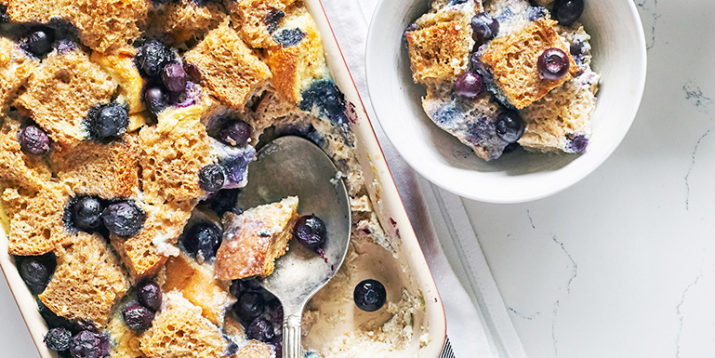 Bread pudding started as a clever way to use up stale bread.
Unfortunately, most recipes call for heaps of white bread, sugar, and cream – which doesn't feel so clever or healthy.
Our Blueberry Bread Pudding recipe uses whole-grain bread, almond milk, maple syrup, and fresh blueberries (or frozen if you can't find juicy fresh blueberries).
The end result: A soft, custardy dish that's every bit as satisfying as classic bread pudding.
One tip to keep in mind when cooking or baking with frozen blueberries: It's best to remove them from the freezer just before you add them to your batter.
Doing so will give you the prettiest result because as the berries start to defrost, their color tends to bleed.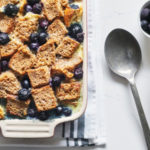 Blueberry Bread Pudding
This Blueberry Bread Pudding uses whole grain bread, almond milk, and maple syrup for a twist on a favorite classic!
Prep Time 15 mins
Cook Time 1 hr 20 mins
Total Time 2 hrs 5 mins
Servings 8 servings
Calories 235 kcal
Ingredients
8 large eggs, lightly beaten
2½ cups unsweetened almond milk
¼ cup pure maple syrup
1 tsp. pure vanilla extract
1 tsp. ground nutmeg
¼ tsp. sea salt (or Himalayan salt)
8 slices low-sodium sprouted whole-grain bread, cut into 1-inch cubes
4 cups fresh (or frozen) blueberries
Nonstick cooking spray
Hot water
Instructions
Combine eggs, almond milk, maple syrup, extract, nutmeg, and salt in a medium bowl; whisk to blend. Set aside.

Place bread and blueberries in a 13 x 19-inch baking dish that is lightly covered in spray.

Top with egg mixture; mix well to blend. Refrigerate, covered, for 30 minutes.

Place baking dish in roasting pan. Add water to roasting pan to come an inch up the side of baking dish. (Baking dish will be sitting in water.) Tent aluminum foil over roasting pan so that foil does not touch bread pudding. Cut two slashes in foil to allow steam to escape. Bake for 35 minutes.

Remove foil. Bake an additional 35 to 45 minutes, or until bread pudding is puffy and custard is set.
Recipe Notes
No Dairy, High Protein, Lacto-Ovo Vegetarian
The Nutrition Facts box below provides estimated nutritional information for this recipe.
Nutrition Facts
Blueberry Bread Pudding
Amount Per Serving (1 serving)
Calories 235 Calories from Fat 63
% Daily Value*
Fat 7g11%
Saturated Fat 2g13%
Cholesterol 186mg62%
Sodium 201mg9%
Carbohydrates 33g11%
Fiber 5g21%
Sugar 14g16%
Protein 11g22%
* Percent Daily Values are based on a 2000 calorie diet.
Container Equivalents
½ Purple
½ Red
1½ Yellow
2B Mindset Plate It!
Add more protein to make a great breakfast option.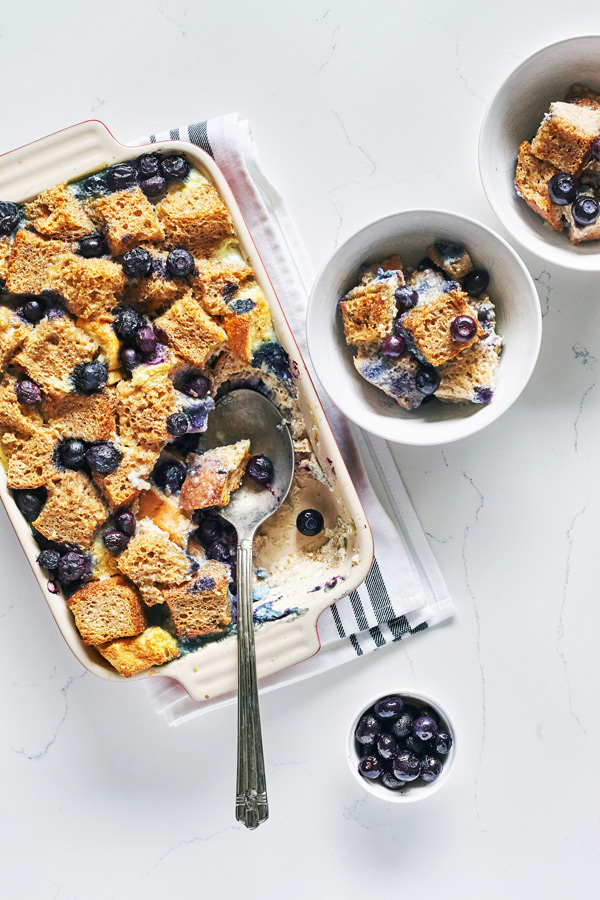 Photographs by Anguel Dimov and Brianne B of Natural Girl Modern World