Like Italian ice and gelato, granita is an ice-based Italian dessert that's enjoyed in the coastal regions of Sicily on long hot summer days.
The consistency of the dish varies depending on your locale, with the chunkiest versions served on the west coast in Palermo.
Whether you prefer your granita silky, smooth like sorbet or you favor the more coarse variety, this is a refreshing dish you can enjoy all summer long.
Our Watermelon Granita is naturally sweet and bursting with flavor — fresh lime, fragrant mint, and raw honey make for a bright, cool frozen treat.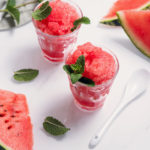 Watermelon Granita
Prep Time 10 mins
Cook Time 0 mins
Total Time 4 hrs 10 mins
Ingredients
4 cups cubed watermelon
2 tsp raw honey
4 tsp fresh lime juice
2 tsp chopped mint (optional)
4 fresh mint leaves (for garnish; optional)
Instructions
Place watermelon, honey, lime juice, and mint (if desired) in blender; cover. Blend until smooth.

Place blended mixture in a shallow bowl; cover. Freeze for 2 to 4 hours, mixing with a fork every 30 minutes to break ice crystals.


Garnish each serving with a mint leaf if desired.

Nutritional Information (per serving):
Calories: 57
Total Fat: 0 g
Saturated Fat: 0 g
Cholesterol: 0 mg
Sodium: 2 mg
Carbohydrates: 15 g
Fiber: 1 g
Sugar: 12 g
Protein: 1 g
Container Equivalents
1 Purple