Watermelon and Tomato Gazpacho
The sweltering summer sun beats down on a faded cabana shade somewhere in Southern Spain. The cafe is offering a refreshing chilled gazpacho. It's the perfect dish to counter the heat and sooth the pallet.
Who wouldn't want to recreate such a scene. Gazpacho, a traditionally Spanish, tomato based soup incorporates a variety of vegetables and is usually served slightly chilled.  We've cut the amount of EVOO that is normally used in the recipe and added the delicate flavor of watermelon, which gives the dish the light airy texture of the Spanish version minus the extra calories.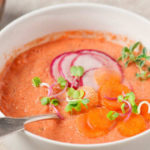 Watermelon and Tomato Gazpacho
Prep Time 15 mins
Cook Time 0 mins
Total Time 15 mins
Servings 4 Servings (about ¾ cup each)
Ingredients
1 medium tomato chopped
4 cups cubed watermelon
½ medium cucumber chopped
1 medium shallot chopped
1 Tbsp red wine vinegar
1 Tbsp extra-virgin olive oil
2 Tbsp chopped fresh basil
2 Tbsp chopped Italian parsley (reserve a small amount for garnish)
½ tsp sea salt
Thinly sliced carrots (for garnish; optional)
Thinly sliced radishes (for garnish; optional)
Instructions
Place tomato, watermelon, cucumber, and shallot in blender; cover. Pulse until chunky.

Add vinegar, oil, basil, parsley, and salt; pulse until chunky.


Remove ⅓ of tomato mixture; place in medium serving bowl.


Blend remaining tomato mixture until smooth. Add to serving bowl; mix well.


Divide into 4 serving bowls. Garnish with carrots, radishes, and parlsey if desired.

Nutritional Information (per serving):
Calories: 90
Total Fat: 4
Saturated Fat: 1 g
Cholesterol: 0 mg
Sodium: 293 mg
Carbohydrates: 14 g
Fiber: 1 g
Sugar: 11 g
Protein: 2 g
P90X/P90X2 Portions
½ Fruit
1 Vegetable
P90X3 Portions
1 Carb
Body Beast Portions
1 Fruit
1 Vegetable
Portion Fix Containers
½ Green
1 Purple
½ tsp.
Not familiar with Portion Fix? Find out how Portion Fix can make losing weight simple.
If you have questions about the portions, please click here to post a question in our forums so our experts can help. Please include a link to the recipe.