Nothing satisfies on a chilly day (or any day, really) like this homemade vegetable soup recipe.
Seasoned with fragrant aromatics and chock-full of fresh veggies, as its name suggests, this soup is hearty enough to serve as a main, but also makes a delightful starter or side. It pairs perfectly roast beef or braised chicken.
Like any great vegetable soup, this recipe allows for a little jazzy improvisation. Whether you use this recipe or the excellent version made by Autumn and Bobby Calabrese for their healthy cooking show FIXATE, as a springboard you can feel free grab a medley of fresh veggies from your fridge.
Celery, asparagus, green beans, and ever-hearty greens like kale make excellent additions.
Pro tip: This veggie-packed recipe makes enough for several meals and freezes well.
Watch Ultimate Portion Fix creator Autumn Calabrese and her brother Bobby make a similar version of this recipe for Hearty Vegetable Soup on their healthy cooking show, FIXATE!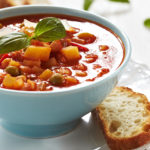 Hearty Vegetable Soup
Nothing satisfies on a chilly day like this hearty Homemade Vegetable Soup seasoned with fragrant aromatics and filled with fresh veggies.
Prep Time 15 mins
Cook Time 28 mins
Total Time 43 mins
Servings 8 Servings (about 1½ cups each)
Calories 172 kcal
Ingredients
1 Tbsp. olive oil
1 medium onion chopped
2 medium carrots sliced
2 cloves garlic, chopped
1 cup white corn kernels
1 (14.5 oz) can diced tomatoes, no salt added
3 cups low-sodium organic vegetable broth
1 tsp. dried ground thyme
2 bay leaves
1 cup broccoli florets (or cauliflower florets)
2 medium red or white potatoes, cut into ¾ - inch cubes
1 medium yellow squash, cut into ¾ - inch cubes
1 cup medium zucchini, cut into ¾ - inch cubes
Instructions
Heat oil in large stockpot over medium-high heat.

Add onion and carrots; cook, stirring frequently, for 4 to 5 minutes, or until onion is translucent.

Add garlic; cook, stirring frequently, for 1 minute.


Add corn, tomatoes, broth, thyme, and bay leaves. Bring to a boil. Reduce heat to medium-low; cook, stirring occasionally, for 10 minutes.


Add broccoli and potatoes; cook, stirring occasionally, for 5 to 6 minutes.


Add squash and zucchini; cook, stirring occasionally, for 5 to 6 minutes.
Nutrition Facts
Hearty Vegetable Soup
Amount Per Serving (12 oz)
Calories 172 Calories from Fat 27
% Daily Value*
Fat 3g5%
Sodium 182mg8%
Carbohydrates 33g11%
Fiber 3g13%
Sugar 5g6%
Protein 5g10%
* Percent Daily Values are based on a 2000 calorie diet.
P90X/P90X2 Portions
3 ½ vegetables
P90X3 Portions
1 Carbs
Container Equivalents
1 Green
1 ½ Yellow
½ tsp.
2B Mindset Plate It!
Add a protein to make a great lunch.
If you have questions about the portions, please click here to post a question in our forums so our experts can help. Please include a link to the recipe.