5 Tips To Get The Most Out of SHIFT SHOP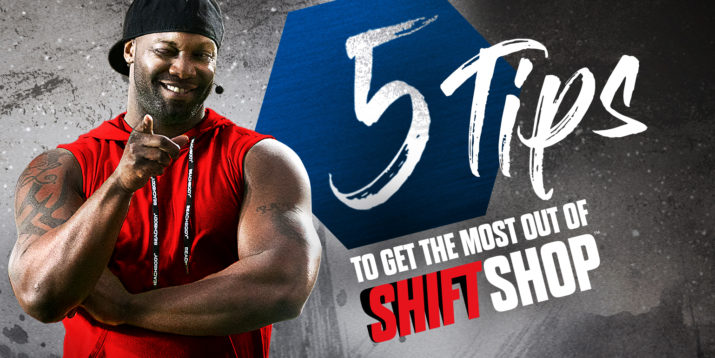 If you really want results from your fitness regimen, going through the motions simply won't cut it. Real change comes from focus, commitment, and hard work. Offering both cardio and weightlifting workouts, as well as a nutrition plan, Beachbody's SHIFT SHOP provides everything you need to see real results. SHIFT SHOP — available on Beachbody On Demand — was created by Super Trainer Chris Downing who developed this program to push you to your max.
Here are Chris Downing's top five tips on how to get the most out of SHIFT SHOP:
Tip #1: Write a Letter to Yourself
Chris Downing: Before you start the program, write a letter to yourself that includes the goals you want to achieve by the end of the program. In this letter, address every aspect of your life that you want to change. This letter is your foundation because it becomes your accountability.
I know first hand that this works. Before Beachbody signed me, I wrote a letter to myself describing where I wanted to be in every area of my life. I didn't like what my life looked like at the time and I was determined to make changes. When I wrote the letter, I engaged with the words, I connected to the words emotionally, I gave these words a heartbeat. And, now, I read that letter and it brings tears to my eyes because I now live this dream life. I read this letter with deep humble appreciation. These words are now my reality and I continue to attract things in my life that reflect that letter.
So, think about what you really want for yourself in these next 21 days and write it down. Then, take that letter with you to the workouts. When you get tired and want to give up, look at that letter and think about those goals. It's so important to have the goals written down before you start. Don't just do a program, have a purpose.
Tip #2: Focus on Form
You really need to focus on getting the form right. I can't emphasize this enough. It's not about how fast you can do the move or how heavy the weights are; when you start SHIFT SHOP, the form is the most important part. Yeah, I would definitely say the biggest tip is to really concentrate on your form.
Tip #3: Stick to the Nutrition Plan
Good nutrition is crucial to meet your goals. Read the SHIFT SHOP nutrition booklet, figure out which calorie level you'll be doing and stick to it. This is the best way to lose weight and fuel your body for the workouts. You'll also get stronger mentally since it's a low carb plan. Each day when you start to get those cravings for carbs and starches but you don't give in, you'll feel empowered and a boost of confidence — you're committed to your goals and to being the best you can be. And you're showing this commitment to yourself not just with the workouts but also with your food choices. You're creating new healthy habits that you can continue beyond the 21-day program.
Tip #4: Celebrate the Journey
Celebrate the good, the bad, the struggles, the victories — all of it. Celebrate every moment of SHIFT SHOP — even the struggles. When you feel the burn, celebrate it because what you want is just on the other side of that burn, so lean into that burn and don't give up. It's your moment to prove to yourself that you're not going to give up on yourself and your dreams. And, when you conquer that workout you will feel such pride that you didn't give up when you got tired. So take it all in and celebrate it.
Tip #5: Expect a Miracle
I really strongly believe in this. Expect to give birth to your best self — to manifest your best self to the world after you complete this program. I mean, expect it. If you really believe something and you stick to it, it will happen. It has to.
But, you gotta be desperate; you gotta want your goal so bad that you're willing to really put the work in to get it, because if you don't, you're going to get a whole bunch of other things that you don't want. For example, say you go out to dinner with your family and the waiter brings out food that is not what you ordered. You would say, "Sir, we didn't order that," and he would take it away and bring you the food you actually ordered. You wouldn't just accept that food that you didn't want. So why do you just accept things in life that you don't want? Why can't you take that same reasoning and apply it toward your goals and dreams? You're going to accept something in your life one way or the other — it might as well be what you really want.