Summer Tomato Salad With Creamy Raspberry Vinaigrette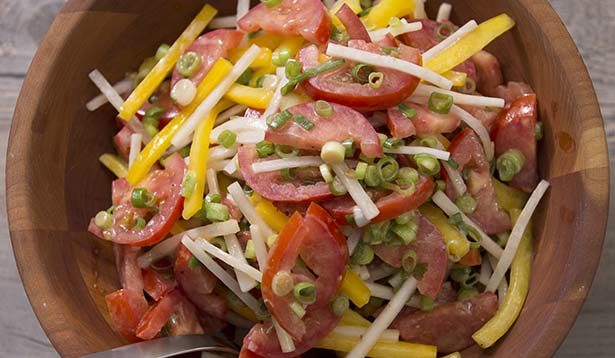 Summer is coming to a close, but before it's done, don't miss diving into one of summer's most luscious bounties: the tomato. Most of the rest of the year, the tomato is pale, flavorless, mushy – or worse, like a rock. No one wants to bite into a pale, tasteless rock.
But the tail end of summer are the tomato's glory days. They're vibrant in color and bursting with flavor. Go on, pluck a tomato off the vine, dust it off on your jeans, and bite into it like a plum, juices running down your chin. It's like biting into summer.
For this FIXATE Summer Tomato Salad, 21 Day Fix and Country Heat creator Autumn Calabrese and her brother, Bobby Calabrese — a chef with over twenty years of experience training in some of New York and Italy's finest restaurants — combine crunchy daikon radish, green onions, bell pepper, and juicy Roma tomatoes (reminiscent of the Italian heritage) into the perfect end-of-summer salad. If you can't find daikon at your grocery or local market, you can swap in regular or watermelon radishes.
The Calabreses top the salad with a Creamy Raspberry Vinaigrette that uses Greek yogurt to give a rich creaminess, but a simple balsamic works as well. Just stay away from those with added sugar.
To get the full recipe, including ingredient amounts and step-by-step instructions, watch the FIXATE episode on BODi!