7 Simple Ways to Have a Fun and Festive Thanksgiving at Home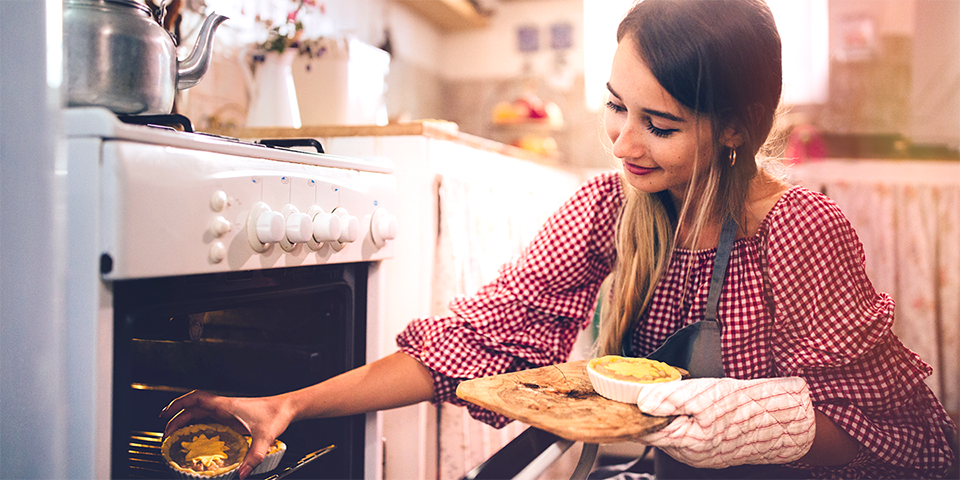 Doing Thanksgiving virtually is a little different than what we might be used to for the holiday, but it's not impossible.
After practicing gratitude as a way to cope, we're ready to put that into action over a seriously delicious meal.
Staying home for a virtual Thanksgiving means you can start your day with yoga instead of on a cramped train or in crowded airport, and make all of your favorite recipes while skipping the dishes you don't like.
Studies have even found cooking and baking can boost your mood.
Since we're all about modifying and doing whatever it takes to get the best results from our workouts, we wanted to apply that same can-do 'tude to Turkey Day.
Here's our guide to having a fun and festive Thanksgiving at home.
1. Get in Some Friends and Family Time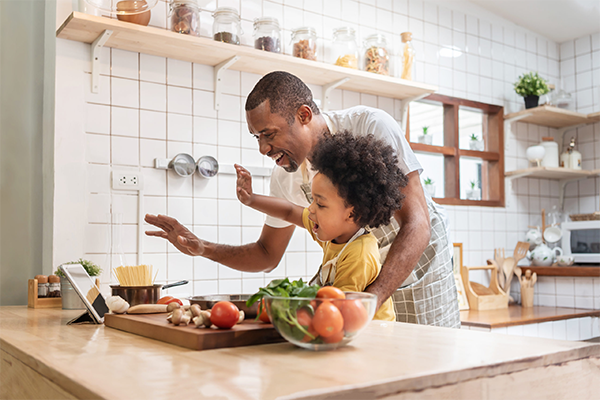 Prepping a Thanksgiving feast can take a few days. All that time in the kitchen is a good way to reconnect with friends and family — give them a call or Zoom for all their juicy secrets on making the perfect pumpkin pie or roasting a turkey.
"It's a great way for generations to share," says Wesley McWhorter, DrPH, MS, RDN, LD, CSCS, a national spokesperson for the Academy of Nutrition and Dietetics. "You can help your parents or grandparents get better at using Zoom, and they can teach you their recipes."
2. Tidy Up (or at Least Hide the Clutter)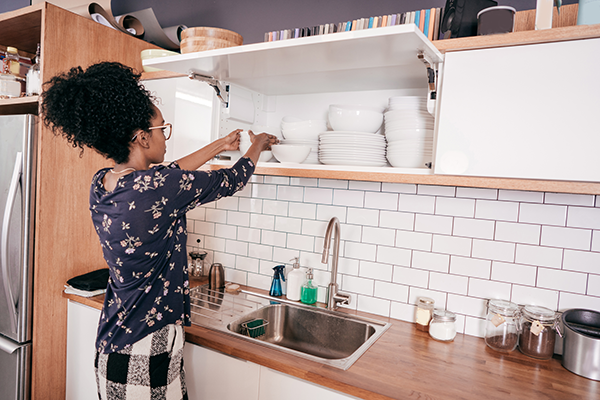 Sure it's virtual, but you're still having guests. Put on something that makes you feel good, and clear your laptop off the dining room table.
"Work on your lighting so that people can see you and make sure your kitchen is clean," says McWhorter. "A big mess looks sloppy and you still want a nice presentation."
He also recommends wearing wireless earphones so people can still hear you if you walk away. "It also cuts down on kitchen noise like chopping so you can focus on talking to each other." (But do remember to mute yourself when you turn on the blender or mixer.)
3. Work With What You've Got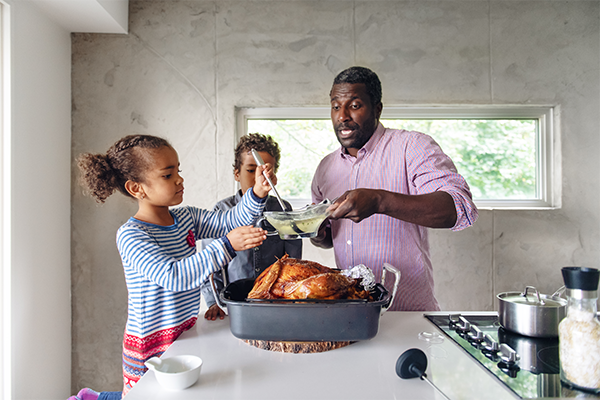 "A lot of us have small kitchens, but you can use your microwave and range to make side dishes," says McWhorter.
If you're going to multitask with a turkey in the oven, he makes a sweet potato hash on the stovetop as a healthy alternative to candied yams.
"I chop sweet potatoes with the skin on and sauté them with some pecans, a touch of butter, and some maple syrup," he says.
4. To Make a Whole Turkey — or Not?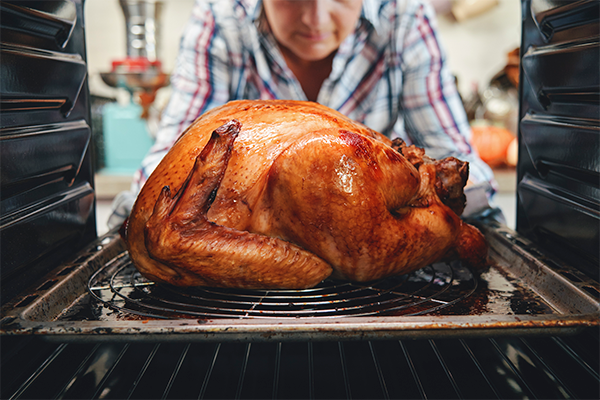 If you're up to the challenge, roasting a whole turkey means tasty lean protein and leftovers you can get creative with for days.
Alternatively, roasting turkey breast for one or two servings is much easier.
"You can also get a roast turkey from a supermarket or a restaurant, which is a good way to support local businesses," says McWhorter.
It also means more time to focus on making side dishes you like.
5. Control the Ingredients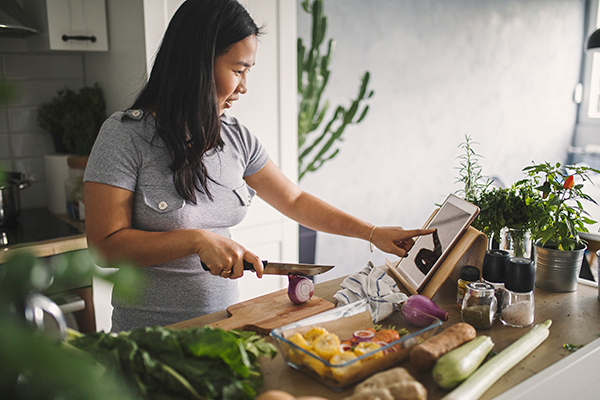 "One of the best things about having your own home-cooked meal is you can decide what's going into each dish," says McWhorter. "You can avoid processed foods, add in more veggies, use whole grains, and reduce the amounts of unhealthy fats and added sugar."
Don't overlook frozen veggies, either. They're picked and frozen during their peak, so they're a delicious and cheaper alternative to fresh produce.
Just look for ones without added salt and/or sugar.
Traditional Thanksgiving feasts start out pretty healthy, until you drown vegetables in cans of processed soup or gravies.
You can modify the classics like healthier green bean casseroles without losing the flavor.
6. Veggies, Veggies, and More Veggies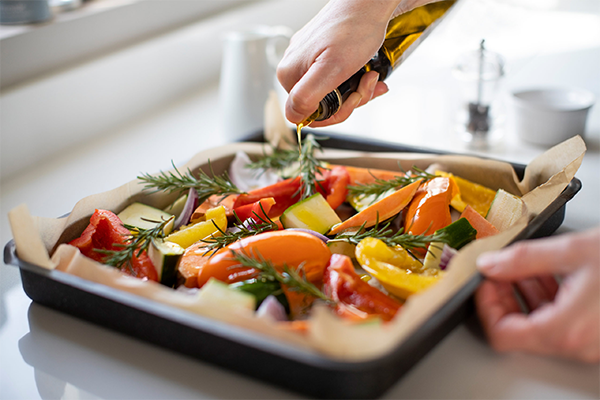 Whether you're hosting a virtual Friendsgiving with plant-based recipes or cooking traditional dishes with your family, focus on the veggies.
Thanksgiving started with a feast to celebrate a successful harvest and working together. From pumpkins to sweet potatoes, it's all about reveling in those seasonal veggies.
"Roasted vegetables are so easy to make and they add texture and flavor to your plate," says McWhorter. "Fingerling potatoes or brussel sprouts roasted with thyme, rosemary, garlic, some olive oil, and then tossed with a drizzle of truffle oil when you take them out of the oven really elevates any meal."
Need inspiration? We've also got a great maple-glazed brussels sprouts recipe.
7. Indulge Mindfully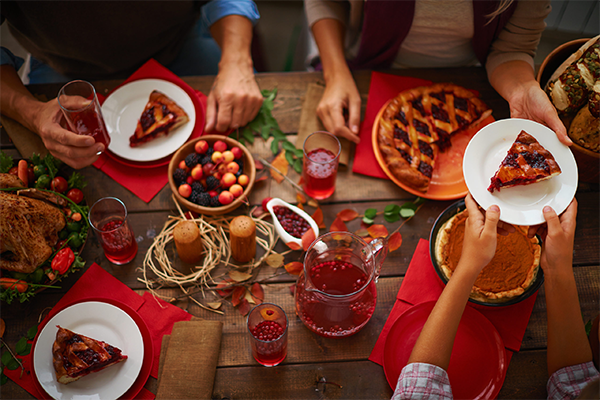 However, all that said, sometimes you want to make your favorite holiday recipes exactly how they've always been done — butter, sugar, all that.
"It's OK if you want to use some butter for flavoring," says McWhorter. "Thanksgiving is one day of the year and it's important to feel like you're celebrating.
Eating mindfully and enjoyment are good things."
For those rich, indulgent dishes and desserts, he recommends having a realistic portion. And consider cooking only enough for one or two.
To celebrate mindfully, have one serving of your indulgent treat. Remember, it'll always be there next year, so you don't have to overindulge and feel sick from it.