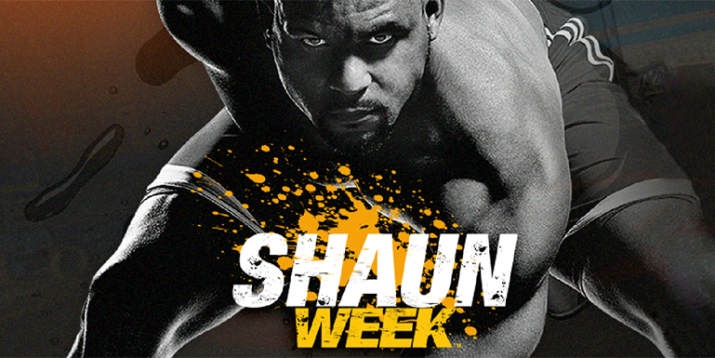 Shaun T is back on Beachbody On Demand!
If you're a fan of his functional fitness programs like INSANITY and FOCUS T25, then you've most likely been waiting for more of Shaun T's legendary workouts.
Well, the wait is over — SHAUN WEEK: INSANE FOCUS is now available!
No fancy editing or graphics, no fanfare — what you see is what you get: Shaun uncensored. If you want one week to challenge yourself and get back on track, this is it.
Not a Beachbody on Demand* member yet? Sign up here for the best value in fitness.
*Beachbody is now BODi — learn more about BODi and how we've evolved into a Health Esteem platform.
What Is SHAUN WEEK?
SHAUN WEEK: INSANE FOCUS is a seven-day, intensive, full-body boot camp developed by Shaun T to motivate you to dig deeper than you ever thought possible.
Expect to be challenged, wiped out, and totally reinvigorated with cardio, intense strength conditioning, abs/core, and lots and lots of sweat. Shaun will tear you down, but build you back up better than before.
What: Seven days of furious, fat-atomizing workouts that are 30-40 minutes in length.
When: Right now!
Who: Anyone looking to get fit. The workout's modifier makes it adaptable to all fitness levels.
Where: Exclusively on BODi.
Who Is Shaun T?
Over the course of his career, Shaun T has made it his mission to help millions combat obesity and get fit. Shaun first made a name for himself as a track‑and‑field star at Rowan University, where he received a BS in sports science with a minor in theater and dance.
Since then he's put both degrees to epic use—appearing on HBO's Six Feet Under, NBC's The Tonight Show, CNN, The Ellen DeGeneres Show, ABC's Good Morning America, and The Doctors—and working with Nike, the Los Angeles Lakers, and more.
In 2009, Shaun T and Beachbody blew up the fitness world with the launch of INSANITY, a 60‑day total‑body conditioning workout that's insanely hard — but yields incredible results.
He's the creator of Beachbody megahits CIZE, Transform :20, FOCUS T25, INSANITY, and many others.
Shaun T has helped millions of people get in the best shape of their lives with his fitness programs and powerfully motivating style.
Related: 19 Things You Don't Know About Shaun T
Shaun's love of dance is contagious. Whether you follow one of his hit dance programs or daily posts on social media, you can't help but want to join in.
Shaun has danced in both theater and television and alongside artists such as Mariah Carey and Nick Carter.