Barre vs. Pilates vs. Yoga: How Do They Compare?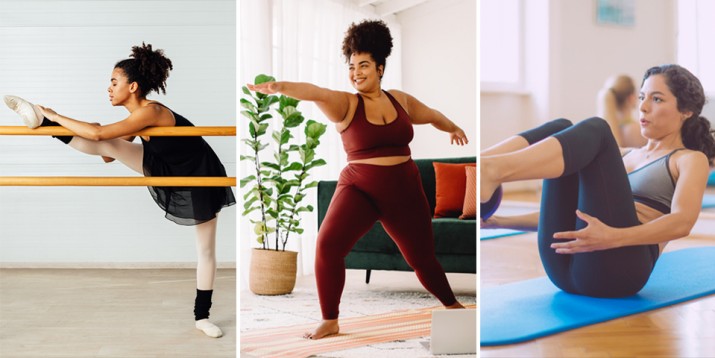 Yoga, barre, and Pilates are popular workouts that, at first glance, seem to have plenty in common. (You're barefoot! You're stretching! You can wear those cute, grippy socks!)
There's plenty of overlap between these three workouts, but they definitely have different philosophies, principles, and movements, too.
So, how do you decide which workout is right for you, especially when you see hybrid classes labeled Pilates barre or barre yoga or yoga-lates?
Let's take a closer look at yoga, Pilates, and barre, and what each entails to help you choose a program suitable for your goals.
What Is Yoga?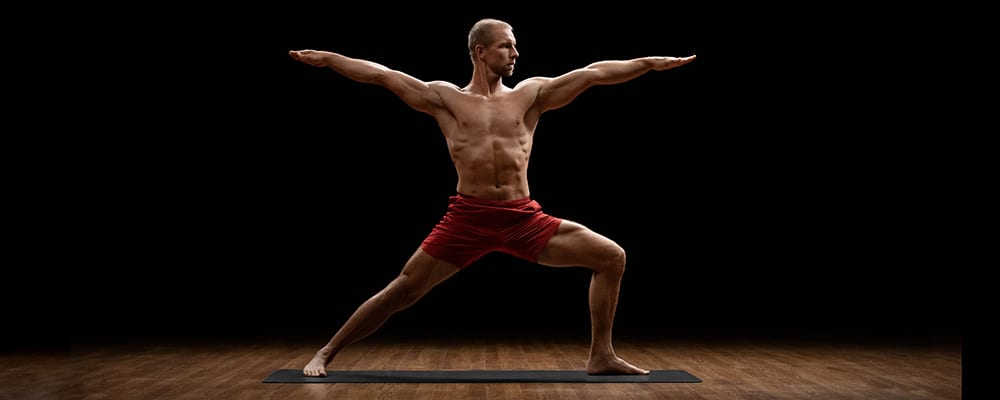 Yoga (definition: union) is a mind-body practice involving the execution of poses, or asanas, with roots dating back millennia.
There are many different types of yoga, from brisk, athletic forms, like Ashtanga and power, to slow, gentle types, like yin and restorative.
But whether you're in child's pose or triangle pose, you'll always pay foremost attention to your breath.
"Yoga is about balance, in your body and in your life," says Micki Duran, instructor of Yoga52.
Practicing yoga helps create a union between mind and body, breath and movement.
Main benefits of yoga
The benefits of yoga are far more numerous than can be listed here, but below are its biggest advantages.
1. Healthy joints and bones. By taking joints through their full range of motion, yoga promotes healthier joints and connective tissues, increasing mobility and flexibility.
And despite being low-impact, yoga is weight-bearing, so it helps forge better bone density.
2. Improved strength and body composition. Yoga's capacity to build strength is among its most readily recognizable benefits.
Research also shows yoga helps build muscle mass, and may even work for weight loss.
3. Better mood and overall mental health. "Some of yoga's most profound benefits are for the mind and mental well-being," says Ann Swanson, M.S., E-RYT 500.
Yoga has been shown to relieve stress, depression, and anxiety, and a regular practice can lead to "significant" improvements in sleep quality.
4. Help with pain. Yoga has been shown to be effective in helping neck pain, headaches, and low-back pain.
"This is huge, since back pain is one of the most disabling ailments and a leading cause of missed work," says Swanson.
5. Healthier aging and balance. Your mind and body will thank you later for practicing yoga.
It can help reduce cognitive decline as you age, and yoga helps balance by strengthening the feet and ankles and boosting proprioception.
Who is yoga for?
Yoga is for everyone, says Duran. It's for all ages and all levels — and that includes men, she adds. You don't have to label yourself a yogi or practice for an hour every day to "do yoga."
In 30 to 45 minutes a week, Yoga52 can help you de-stress, build strength and flexibility, and improve balance while helping shape your body like only yoga can.
"It's yoga for your body, at a level that's right for you, to help you reach your goals by helping you schedule a routine to fit your life," explains Duran.
What Is Barre?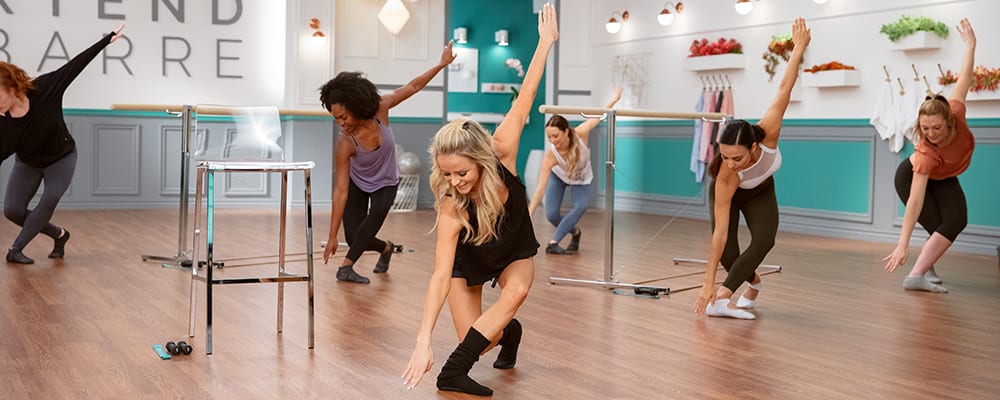 Barre is a combination primarily of ballet, Pilates, and yoga created in the late 1950s by a German dance pro who was recovering from injury.
That's why "barre is great for muscle toning, but is super-friendly to the joints — with little impact to the body," says Shanda Domango, an NASM-certified personal trainer and barre instructor based in New Orleans.
Barre classes can be deceptive, with signature pulsing movements that may look more elegant than challenging. But make no mistake: You'll sweat and feel it tomorrow!
"No other workout combines grace and athleticism like Xtend Barre," says Andrea Rogers, creator of the program.
Main benefits of barre
Barre is Domango's go-to choice for clients "when they still want a tough workout, but need to take it easier on their body." Here's why.
1. Increased core strength. Barre's emphasis on balance and control requires your core to stay "on" even if you're working on other parts of the body.
"Barre works and incorporates the core throughout the entire workout," says Domango. "You will definitely see an improvement in core strength."
2. A multitasking, total-body workout. Like yoga, barre works the whole body. "Barre incorporates lots of standing work," says Ingrid Seid, a Bay Area NASM-certified personal trainer who teaches Pilates and barre.
"We also amplify results with a strong cardio component," says Rogers of Xtend Barre. It also "increases your flexibility and improves your posture and body alignment," Rogers adds.
3. No dance experience required. You don't have to be a ballerina to do barre.
"Although barre is often stereotyped as a fitness class for dancers, its format and style caters [to], and is open to, all fitness levels," says Domango.
Rogers is a big fan of that. "I love that this program allows people of all ages and fitness levels to feel like a dancer without having any dance experience," she says.
4. Muscle definition. Don't let those fluttering, pulse-like motions fool you. These micro-movements "call upon slow-twitch muscle fibers that aren't used as much during traditional high-intensity or interval-training workouts," says Domango.
Your legs will feel tired, so "embrace the shake" as barre devotees say.
5. Mind-body connection. Like yoga, barre also helps you get in tune with your body.
"You're cued for good posture, grace, and body-lengthening techniques," says Seid. "You get a good mind-to-muscle connection that helps you feel connected to your body."
Who is barre for?
"Barre is for anyone," says Domango. While its dance component might draw in more women, she recommends it for men — they'll feel the shake, too!
Seid cites the proprioceptive (body awareness) benefits of barre and attention to technique. "It's not just mindless movement," she says, which is why it tends to appeal to yoga and Pilates fans, too.
"Xtend Barre is for people who are striving to reach a goal," says Rogers. "That goal may be performance, body confidence, weight loss, general fitness, or injury recovery or prevention."
The same goes for Barre Blend on BODi. Not only will you see physical results, but you'll also gain a strong understanding of how to move with good technique and form, which results in increased body awareness and confidence.
What Is Pilates?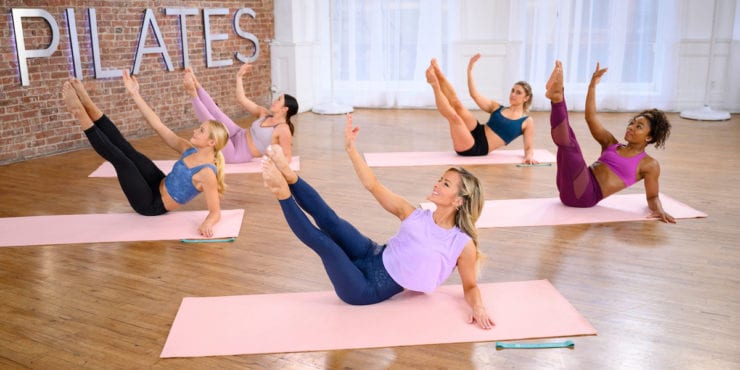 Pilates was developed by Joseph Pilates in the early 20th century. Weak and sickly as a child, Pilates used workouts he designed himself to heal and grow strong.
The German-born physical trainer eventually developed both mat- and equipment-based (e.g., the Pilates reformer) programs that are still used today, like in XB Pilates.
The main differences? Barre is based on micro-movements choreographed to music, while Pilates is based on regimented repetition of larger ranges of motion typically unaccompanied by a soundtrack.
As for the differences between yoga and Pilates?
Andrea Rogers, creator of XB Pilates and Xtend Barre breaks it down: "Yoga has a history of practicing meditation with vinyasa movement. Pilates is a modern-day movement modality focused on achieving physical goals and increasing core strength."
Traditionally, yoga is more philosophical, with a deeper focus on the inner self. While Pilates is more introspective than pursuits like CrossFit or spinning, it's more fitness-oriented than yoga, with its use of equipment, counted repetitions, and unique breathing patterns.
Main benefits of Pilates
Like yoga and barre, Pilates offers plenty for the mind and body — and the core. Here's a closer look at some of the major benefits of Pilates.
1. Deep core development. The first thing you'll learn in Pilates is how important your core is — and what that really means.
"Pilates targets your transverse abdominis, the deepest layer of abs, responsible for activating your core and stabilizing your pelvis and lower back while lengthening and strengthening the whole body," says Tatelbaum.
2. Total-body strength and tone. Pilates, like barre, promotes a lean, muscular physique.
"The two main benefits of Pilates are to lengthen and strengthen — this includes flattening your stomach, defining your muscles, and increasing flexibility," says Tatelbaum.
3. Beginners welcome. Joseph Pilates wasn't always fit and strong himself, and the workouts reflect that with uncommon inclusivity.
"Pilates is a journey in the body and mind." says Rogers. "The challenges can be conquered with daily practice and detailed cueing appropriate for your body type."
4. Athletes welcome, too. But that doesn't mean it's easy — Pilates can challenge athletes, bodybuilders, and advanced yogis, too. "Not all exercises are graceful," says Tatelbaum.
"They're vigorous and quite challenging." Pilates is logical, with one exercise leading to the next. So, the possibilities are endless — as long as you maintain that deep core connection, advises Tatelbaum.
5. Better posture. Since Pilates focuses on your core, and that's what helps hold you upright, it's no surprise that the practice can help you stand up straighter — which makes you look even fitter.
"When the attention is drawn to tightening the core and strengthening your shoulders, naturally your spine lengthens. You will be noticed," says Rogers.
Who is Pilates for?
Like yoga and barre, Pilates isn't an "exclusive" workout — it's appropriate for almost everyone.
"After 20-plus years of doing Pilates, I'm still discovering new things and making new choices," says Tatelbaum. "It's an intelligent, provocative, and fun workout for men and women of all ages, shapes, and sizes."
The practice's appeal doesn't end there, however, says Rogers.
"I think the popularity of barre and Pilates comes down to much more than just the physical results these workouts offer," she says. "People today are searching for more than just a workout — they want a connected and empowering experience."
How to Start Your Practice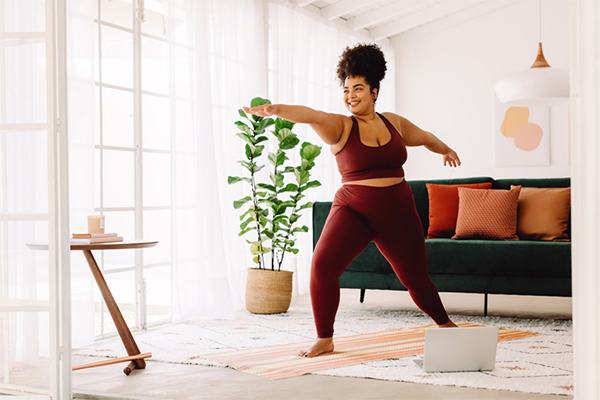 Have you decided which practice — barre vs. Pilates vs. yoga — is right for you? Read on and see which program is right for you:
Xtend Barre, created by Rogers, a professional dancer, is a 30-minute combination of traditional mat Pilates methods, ballet barre, and high-energy cardio designed to sculpt bodies into lean, strong dancer-like physiques.
While Xtend Barre incorporates isometric exercises, Andrea kicks the intensity up a notch by incorporating dynamic, full range-of-motion movements.
Barre Blend, designed by our very own barre expert, professional dancer, and 3 Week Yoga Retreat co-creator Elise Joan, is a low-impact, total-body workout program that fuses ballet barre, Pilates, and cardio interval training.
To keep you inspired throughout the program, Elise has created Daily Motivation Cards that help you celebrate your achievements and cultivate a positive mindset.
Yoga52 classes can help you de-stress, build strength and flexibility, and improve balance while helping shape your body like only yoga can. Commit to doing at least one full yoga class a week for a year — 52 weeks.
You can — and are encouraged to — do more than one, but the minimum to keep your commitment to reducing stress, increasing flexibility, reducing pain, and getting strong is one 30- to 45-minute yoga class per week.
Beginner Pilates with Lisa Hubbard, an internationally recognized Pilates instructor, is a three-week mat Pilates program specially designed for newbies to the practice.
You'll start with simple movements, mastering Lisa's signature floor moves, and then progressing week by week as you increase strength, flexibility, and mobility while lifting and toning your body in all the right places.
XB Pilates, also with Andrea Rogers, is a fusion of mat Pilates and reformer-inspired movements to help you burn fat, tighten your core, lift your booty, and sculpt your entire body in under 30 minutes a day.