Raising the Barre: Get to Know Andrea Rogers, Creator of Xtend Barre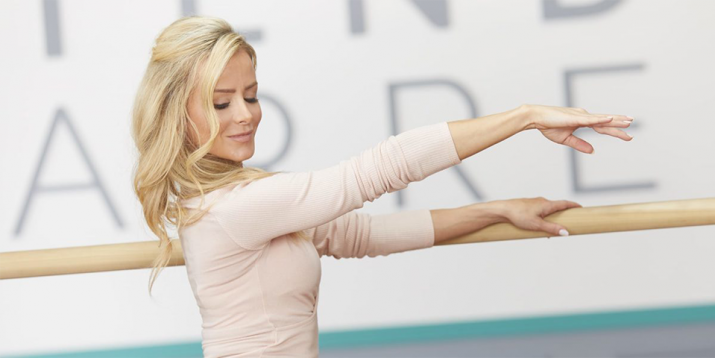 If you ever question whether or not exercise gives you endorphins, just take one look at Andrea Rogers and you'll quickly become a believer.
She's a powerhouse of positivity and the creator of the global workout sensation, Xtend Barre and XB Pilates, both available to stream on BODi!
We caught up with Rogers to learn more about the mastermind behind the popular barre-inspired workout.
BODi: You've grown Xtend Barre into a successful global brand. But, let's go back a bit for a moment. How did you get started in fitness?
Rogers: Movement was always a part of my life, beginning from childhood. I began dancing at age three, teaching at age 12, choreographing around age 15, and professionally dancing around age 17.
I graduated from college with a degree in Communications and a minor in Liberal Arts Dance, but I struggled to find my way in the "corporate world." Longing for a creative element and to get back to my passion and love for movement, I segued into a Pilates career.
Was Pilates new to you?
No, as a dancer, I always did Pilates, as well as mat and equipment classes to stay strong and healthy. I also studied classical comprehensive Pilates programs.
That's what led to developing my strong love for the scientific approach to movement. Pilates created a natural career option outside of the professional dance world.
How did teaching Pilates lead to the launch of Xtend Barre?
Three years into teaching Pilates, I was missing dance and choreography. I was teaching at a Southern Florida Pilates studio and I approached the owner with an idea to add barre classes, which at the time, were really only popular in New York City.
She quickly gave me the OK, and I launched a class with really no intention other than selfishly wanting a fun program that was also a really great workout.
People really connected to it, and within a few weeks, we had waitlisted classes. Xtend Barre grew organically from there.
When it comes to your own fitness, do you mainly do barre and Pilates?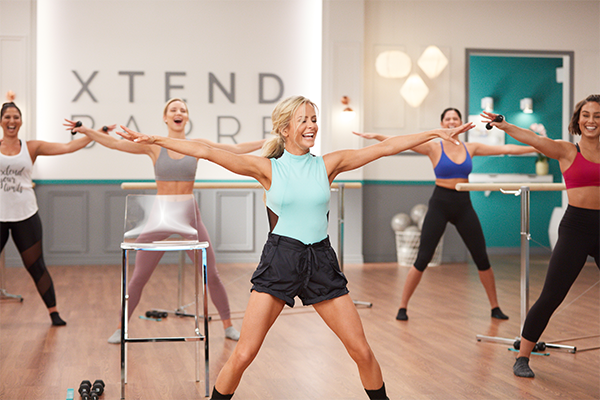 While Xtend Barre classes and Pilates are what I do as a routine, I also travel frequently. On the road, I love to go into new studios and try whatever is out there.
I like to try all different disciplines, from Pilates to yoga to HIIT classes to boxing — whatever it is, you name it, I want to try it.
When you're not traveling, what do you like to do for fun?
Ugh, I need to get better at fitting more fun into my life! It's hard because I travel a lot for work, and when I'm home, I'm a single mom to two girls.
My fun time is often focused on them, with some of our favorite things to do being impromptu dance parties in our living room and listening to music.
Does your routine include how you eat?
Absolutely. I typically start my day with eggs and avocado. Mid-morning and mid-afternoon, I always have protein shakes — they're always chocolate shakes, as that's something I crave.
For lunch, I have a salad mixed with some type of protein, whether it's a fish or a chicken, or even steak.
For dinner, I usually choose a meal made up of veggies and protein. I try to limit my carbs to mostly healthy options.
Sounds like you eat pretty clean. Do you have any cheat foods?
I loved candy as a child, but once I understood the negative effects sugar had on my body in combination with the goals of my dance career, I cut out sugar in my teens.
Everything changed in my body for the better at that point.
Still, I do have a sweet tooth and love chocolate. So when the sugar craving kicks in, I mix chocolate almond milk or chocolate pea milk into my protein shake, and maybe a banana to help satisfy the taste for sweet stuff.
With so much on your plate, how do you balance a healthy lifestyle with a busy schedule?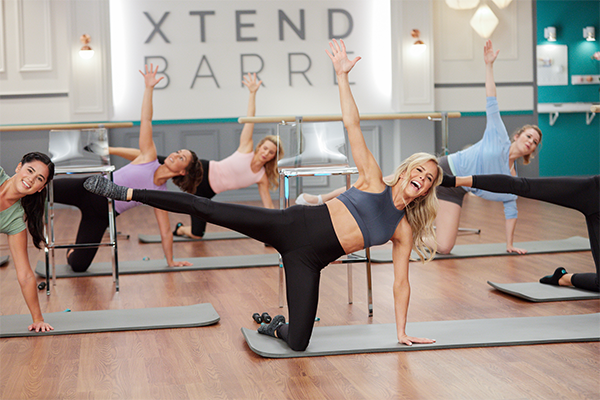 Honestly, I sometimes think that word "balance" is bullsh*t. It's really not that easy.
Just like everyone, I have days where I feel like I am invincible and other days where I need a little more support.
Life is filled with moments of successes and failure, but I never let any failure overtake my determination. It only fuels me to do better, learn more, and become stronger.
In order to find the balance on days that are slightly more chaotic I focus on setting a goal — it could be as simple as one goal in that one hour or a list of goals for the day.
For me, it's about having a clear vision for what I want to accomplish and then working my derriere off to make sure I can check that box and get it done.
How do you stay motivated?
When it comes to my business, it's not hard because I just love what I do. I don't have to try to find motivation because I'm just excited when I wake up in the morning; I'm excited to attack the day.
It helps that I've always had a really positive disposition in life.
Also, I have two little girls who inspire me daily to never stop reaching for more. I believe the enjoyment of life begins with your mindset.
I strive to begin each day with gratitude and then I set my intention or goal for the day. There are so many stresses in life that it's easy to lose focus on all of the little wins that create the path to your dreams.
Do you have the same natural motivation with your own fitness?
Movement and music have always played such a pivotal role in my life and can shift my mood dramatically.
If I am not feeling motivated to workout, it's as simple as putting on some great music and the movement naturally comes. You have to find those little things that make you want to move — for me that's always been music.
I just know I need to move my body, and it doesn't even have to be long; just 30 minutes is enough to make me feel better than when I started the workout.
From your business to your girls, you have a lot on your plate. How do you handle stress?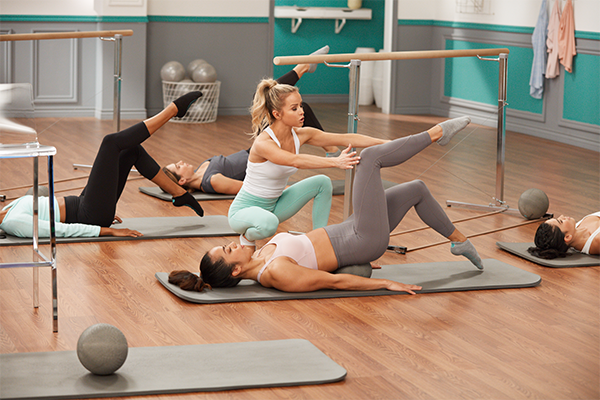 I'm really big on setting affirmations. Just as food is a powerful tool for nutrition, mental exercise is a powerful tool for well-being.
Twice a day — once when waking up and once when going to bed — I set positive mindsets and realign my goals using both a vision board app and an affirmations app.
They help to remind me to stay on course and reset my goals when things are going astray.
One final question: What is one thing others would be surprised to learn about you?
That's easy: I'm a rockstar at putting together IKEA furniture!
Want to try Xtend Barre, the 30-minute cardio mix of Pilates and ballet barre proven to sculpt a lean, strong physique? Click here to get started with BODi.