Peanut Butter Shakeology Cups
Peanut butter and chocolate combine in these Peanut Butter Shakeology Cups for a new take on this classic candy. Don't have Shakeology? Get it here!


Peanut Butter Shakeology Cups

Rate this recipe


Average: 0/5

Prep Time: 5 minutes

Cook Time: 1 minute

Total Time: 6 minutes

Author: Beachbody

Yield: 12 servings, 1 piece each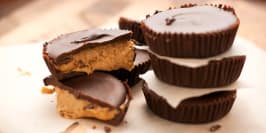 Peanut butter and chocolate combine in these Peanut Butter Shakeology Cups for a new take on this classic candy.

Ingredients
¼ cup dark chocolate morsels
2 scoops Chocolate Vegan Shakeology
1 Tbsp. psyllium husk powder
½ cup pumpkin puree
6 tsp. all-natural smooth peanut butter, divided use
Instructions
Prepare twelve mini muffin cups by lining with muffin papers.
Place morsels in microwave-safe container. Microwave on 50% power for 30 seconds; stir; microwave for an additional 30 to 45 seconds or until just melted. Do not overcook. Set aside.
Place Shakeology, psyllium husk, and pumpkin in a food processor. Pulse until it forms a dough.
Divide dough into 12 small balls; place each ball in a muffin cup. Press dough down into a flat disk with a depression in the middle. Place ½ tsp. peanut butter in each depression.
Drizzle melted morsels evenly over each peanut butter cup; spread to create a thin chocolate layer on top.
Freeze for 30 minutes, or until chocolate hardens.
https://www.beachbodyondemand.com/blog/peanut-butter-shakeology-cups

 

Nutritional Information (per serving):
Calories: 74
Fat: 3 g
Saturated Fat: 1 g
Cholesterol: 0 mg
Sodium: 55 mg
Carbohydrate: 8 g
Fiber: 3 g
Sugar: 5 g
Protein: 4 g

P90X/P90X2 Portions
1 Single Snack

P90X3 Portions
1 Carb

Body Beast Portions
2 Balanced Liquids

Containers
½ Yellow
½ tsp

If you have questions about the portions, please click here to post a question in our forums so our experts can help. Please include a link to the recipe you're asking about.