Nutritional Benefits of Pineapple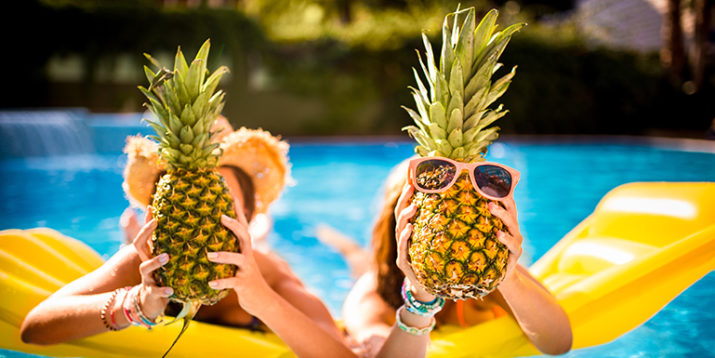 Is there any fruit that's more "summer" than than pineapple? Ok, ok, strawberries do give them pretty good competition. But, no matter what your favorite summer fruit is, it's hard to to deny that whether you're eating pineapples straight, grilling them up, or throwing them into a salad (or a smoothie!), the golden, tropical fruits scream summer. They're good for you, too. Raw pineapple chunks provide manganese, vitamin C, fiber, magnesium, and copper.
Pineapples are delicious, sweet, pinecone-shaped plants grown most often in tropical countries like Thailand, Brazil, the Philippines, and Mexico. In the U.S., they only grown in one state: Hawaii. And, despite their name, pineapples are not related to apples at all. They actually look more like agave or yucca.
When are pineapples in season?
You'll find pineapples year-round in most grocery stores, but their peak season runs from late spring to early fall. Unless you live in Hawaii or one of the countries mentioned above, it's unlikely that you'll find any at your local farmers market.
How do I choose a good pineapple?

A pineapple's crown — the green leaves — should be bright green in color and the pineapple should be heavy for its size. A fully ripened pineapple offers a sweet fragrance and will be fairly firm to the touch. Avoid pineapples with bruises, soft spots, and dry leaves.
How do I store pineapples?
Pineapples can be kept at room temperature for up to five days, but they should be kept out of direct sunlight and away from heat. Store cut pineapple in a tightly-covered container in the refrigerator, and it should stay fresh for about a week.
How do you cut a pineapple?

You could buy pre-cut pineapple in cans or fresh at the store, but cutting your own pineapple isn't hard. In fact, we bet you could do have the whole pineapple prepped in less than 2 minutes.
Getting past the spiky exterior is the first step, and that can be tricky. First, chop off the crown and the base of the pineapple. Then, go around the edges and slice off the exterior. Cut the pineapple into quarters and then slice down the middle of each quartered section to remove the core. From there, slice the pineapple lengthwise and then turn and slice into chunks. If you're doing the 21 Day Fix or any other program that uses the Portion Control Containers, pineapple can be found on purple Potion Fix Container list.
What are some healthy pineapple recipes?

While Pineapple is a seriously sweet snack that's easy to enjoy on its own, you can also add it to a homemade salsa for a sweeter flavor, or use it as a topping for fish, poultry, or lean cuts of beef. Here are some recipes to try:
Pineapple Nutrition Facts
Serving Size: 1 cup, chunks or 1 purple Portion Control Container

Calories: 83
Total Fat: 0 g
Saturated Fat: 0 g
Monounsaturated Fat: 0 g
Polyunsaturated Fat: 0 g
Cholesterol: 0 mg
Sodium: 2 mg
Total Carbohydrates: 22 g
Dietary Fiber: 2 g
Sugars: 16 g
Protein: 1 g
Vitamin C: 131% DV
Manganese: 76% DV
Folate: 7% DV
Magnesium: 5% DV
Copper: 9% DV