Mindset Menu Cooking Show
In just a couple of years, the 2B Mindset nutrition program has helped hundreds of thousands of people lose weight happily — and actually keep the pounds off!
And now, Ilana Muhlstein, M.S, R.D.N., and creator of 2B Mindset, plans to continue the positive momentum with her brand-new cooking channel, Mindset Menu.
Mindset Menu is available to all BODi members and will showcase new delicious recipes every week to help you stay on top of your nutrition goals.
Ilana will walk you through a variety of her go-to meals, delicious side dishes, tasty treats, and drinks.
"I'm an emotional eater and ate lots of food for comfort. What I wanted was a way to eat a lot of food, be satisfied, and still lose weight. Nothing existed, so I figured it out myself," she says of creating 2B Mindset.
After success with her proven nutrition program, Ilana decided to create Mindset Menu to help her 2B Mindset fans keep up their healthy lifestyle.
But the channel isn't just for 2B Mindset diehards.
It's for anyone who loves a good recipe, appreciates healthy (but still satisfying) food, or anybody who simply wants to cook without the added pressure of a "diet."
Tune in to Mindset Menu on BODi for a fresh rotation of weekly recipes and can't-miss tips from Ilana.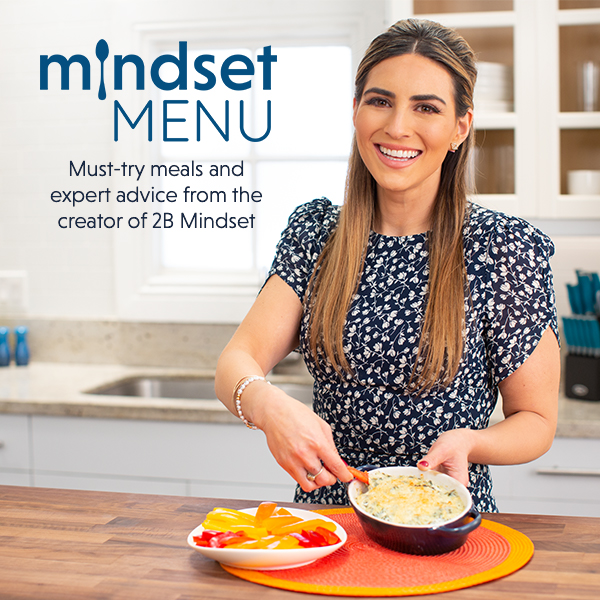 What Is Mindset Menu?
Mindset Menu is a brand-new cooking channel by the creator of 2B Mindset, Ilana Muhlstein. Every week, Ilana shares flavorful, fun, and recipes — from snacks and salads to full-on meals and holiday hosting ideas.
She'll go over recipes that cover a range of lifestyles, like vegan and gluten-free options, and offer tips she's used along the way to stay on track and overcome emotional and mindless eating.
Who Is Mindset Menu For?
Mindset Menu is designed to work with the 2B Mindset nutrition program, but it's really for anyone who has an interest in cooking deliciously satisfying meals (that happen to be good for you, too!).
Whether you're looking for 2B Mindset-approved options or just want to mix up your weekly rotation of recipes, Mindset Menu is for you.
Who Created Mindset Menu?
Registered dietitian and nutrition expert Ilana Muhlstein — creator of the 2B Mindset nutrition program and author of "You Can Drop It!" — created Mindset Menu to help all BODi members cook flavorful meals for lasting results.
When Can I Stream Mindset Menu?
You can sign up for a BODi membership here and start streaming!