How to Meal Prep When You Travel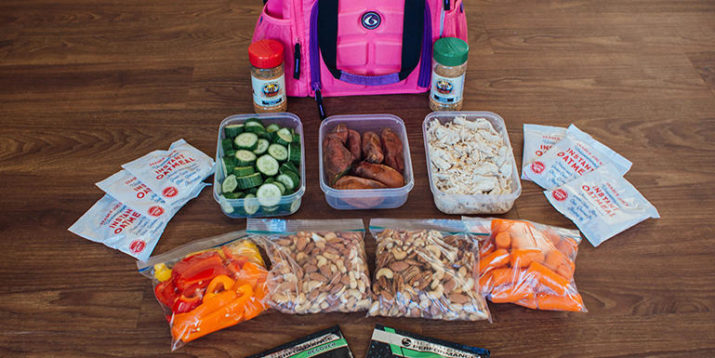 The last time I flew the friendly skies, the in-flight snacks were about as far from healthy as they could be. Shortly after take-off, the flight attendant handed me a box containing a puff pastry stuffed with cheese and tomato sauce, and a bright pink, raspberry-flavored cake. A few hours later, he returned with paper cups filled with chocolate ice cream. I kid you not… ice cream has replaced peanuts on some airplanes. When I was younger, I might have thought this was the coolest airline ever. But as a person who now tries to steer clear of sugar and processed foods, I was woefully out of my comfort zone — and I was hungry.
How had I neglected to follow the advice I so often give to others, and left home without bringing anything healthy to eat with me? I resolved then and there to never again get stuck in an airport or on a plane without a sandwich, or at least a few protein-rich snacks in my bag.
Road trips pose a similar problem. It can be just as challenging to find a healthy meal near a highway stop. Heck, even the supposedly healthy options at fast food restaurants can have as many calories as the burgers and fries.
When people travel, they put a lot of thought into what to pack in their suitcases but hardly any about what they'll eat. The next time you travel or hit the road, don't forget to pack some healthy snacks. Those especially dedicated to meal prep might even prepare a few balanced meals, and carry them in an insulated bag. TSA allows most foods to pass through security (read their rules here). Liquids, like peanut butter or salad dressing, need to be in containers and weigh less than three ounces. For road trips, foods that can be eaten with your hands and won't make a mess in the car are best. Get more ideas for great road trip snacks here.
Check out these great ideas for travel meal prep to fuel your next adventure.
Plan ahead for the whole family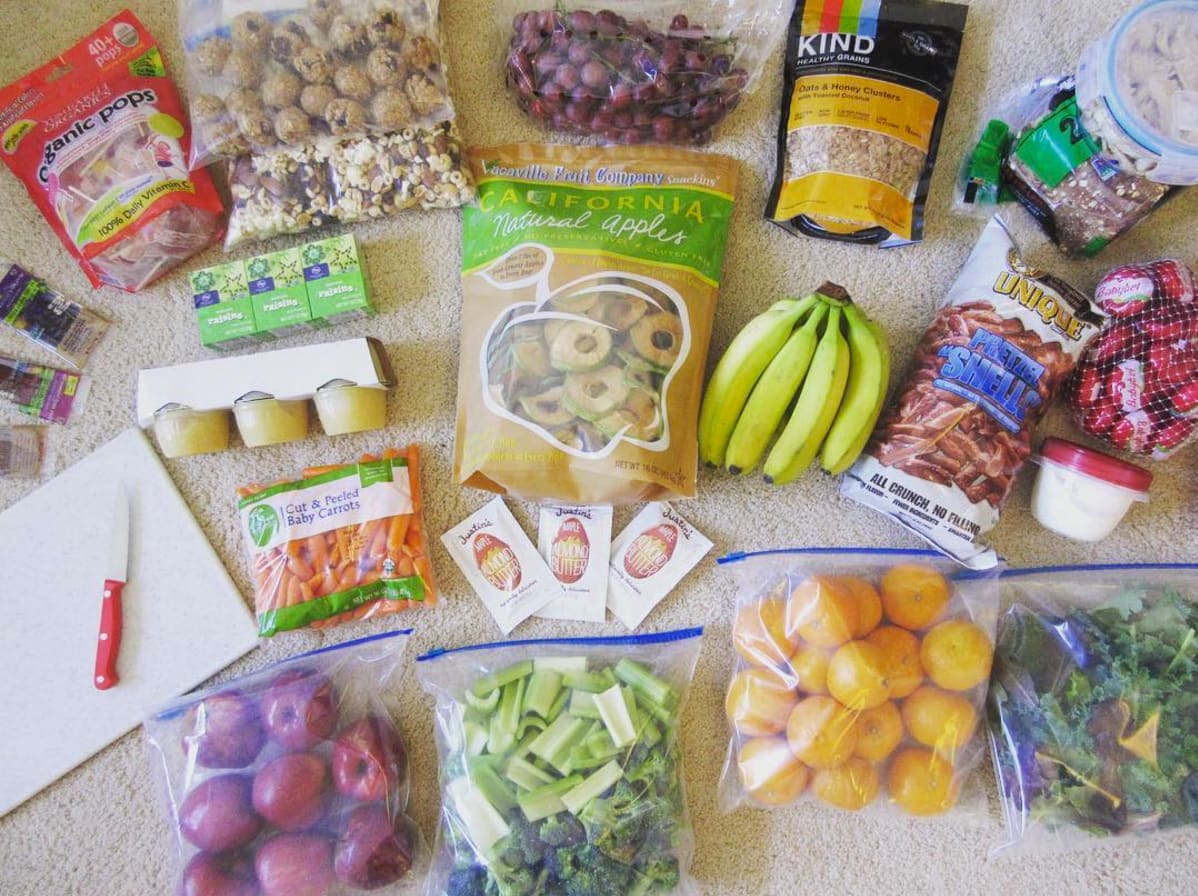 Now THIS is how to pack for a family road trip! @wholefoodnanny fed her family three meals and plenty of snacks during a 25-hour drive across the country, and bragged that they never had to stop for fast food. Purchasing healthy, prepared snacks and whole fruit gave her extra time to make homemade Energy Balls and Ranch Dressing. This kind of prep takes a bit of planning, but the effort pays off!
Choose foods to mix and match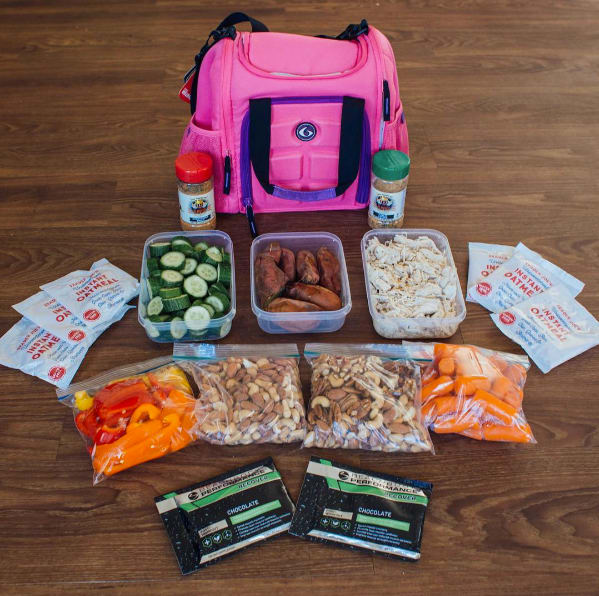 Meals on the road are notorious diet-wreckers, bur not for @meowmeix. Her simple meal prep covered all of the bases to help keep her on track with her nutrition plan. She packed breakfast, snacks, lean protein, and cut vegetables that she could munch as snacks or mix together for a meal. She brought unsweetened instant oatmeal, sliced cucumbers, baked sweet potatoes, shredded chicken, bell peppers, baby carrots, a whole lot of mixed nuts (we hope she was sharing!), and travel packets of Beachbody Performance Recover to refuel after her workouts.
Keep perishable foods cool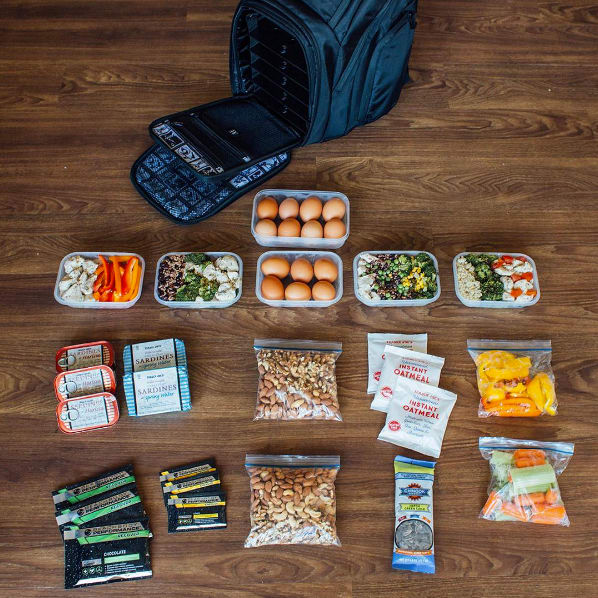 @chris.roccio_fit said, "Traveling doesn't have to mess with your meal-prep game. You just gotta have the right tools for the job." For Chris, one of those tools is his extra-large insulated lunch bag. He packed it with an impressive array of meals, snacks, and Beachbody Performance supplements for his trip to Beachbody Coach Summit. He included a few balanced meals of chicken, veggies, and carbs, plus lots of extra protein in the form of hard-boiled eggs and tins of wild-caught sardines.
Stick to finger foods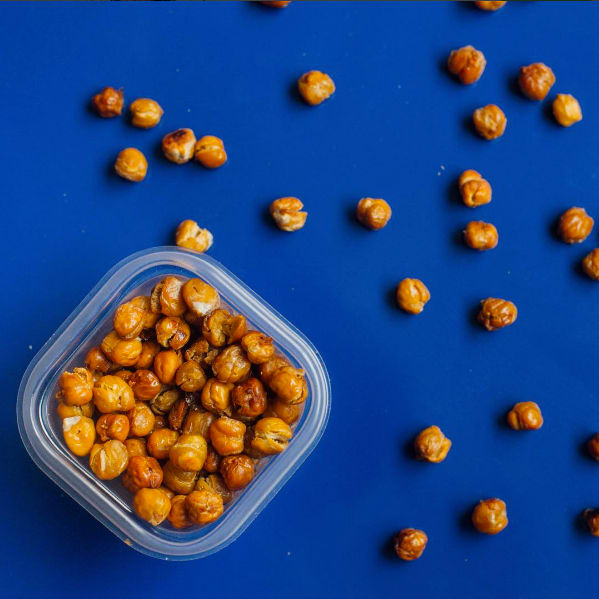 Bring snacks that you can eat with your hands that won't make a mess in your car or drip onto you lap. Cue these baked chickpeas from @meowmeix. Click the link to see how she makes them, or try our recipe for Spicy Baked Chickpeas.
It's OK to keep things simple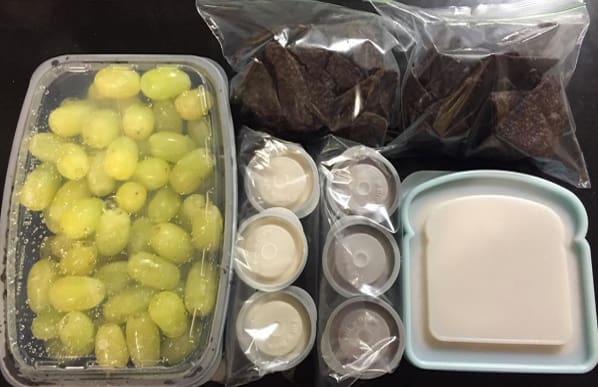 You don't need to be a meal-prep pro to avoid the mystery meal served on the plane. Keep things simple like @estellearcher did. She's ready to fly with grapes, salsa and hummus, blue corn chips, and a sandwich. We like her perfectly-sized container to keep her sammy from getting squished.
If all else fails, take protein!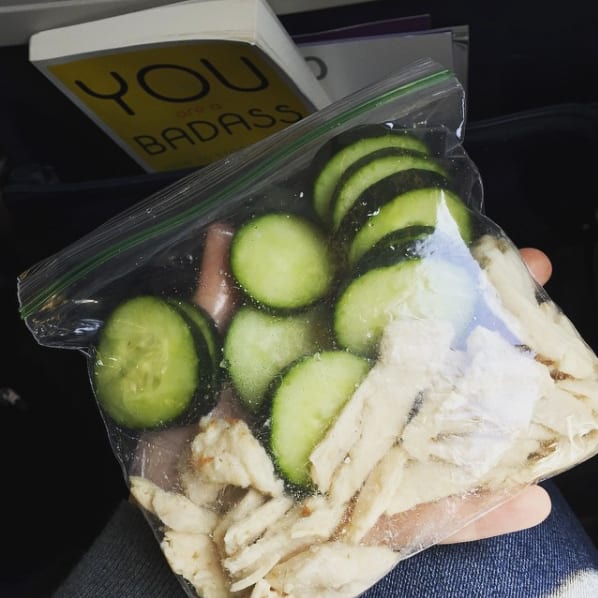 An in-flight snack can be as easy as this chicken and cucumber combo from @allisonliveswell. She's got protein and fiber (and a good book) to keep her satisfied until she lands.
Snack packs to the rescue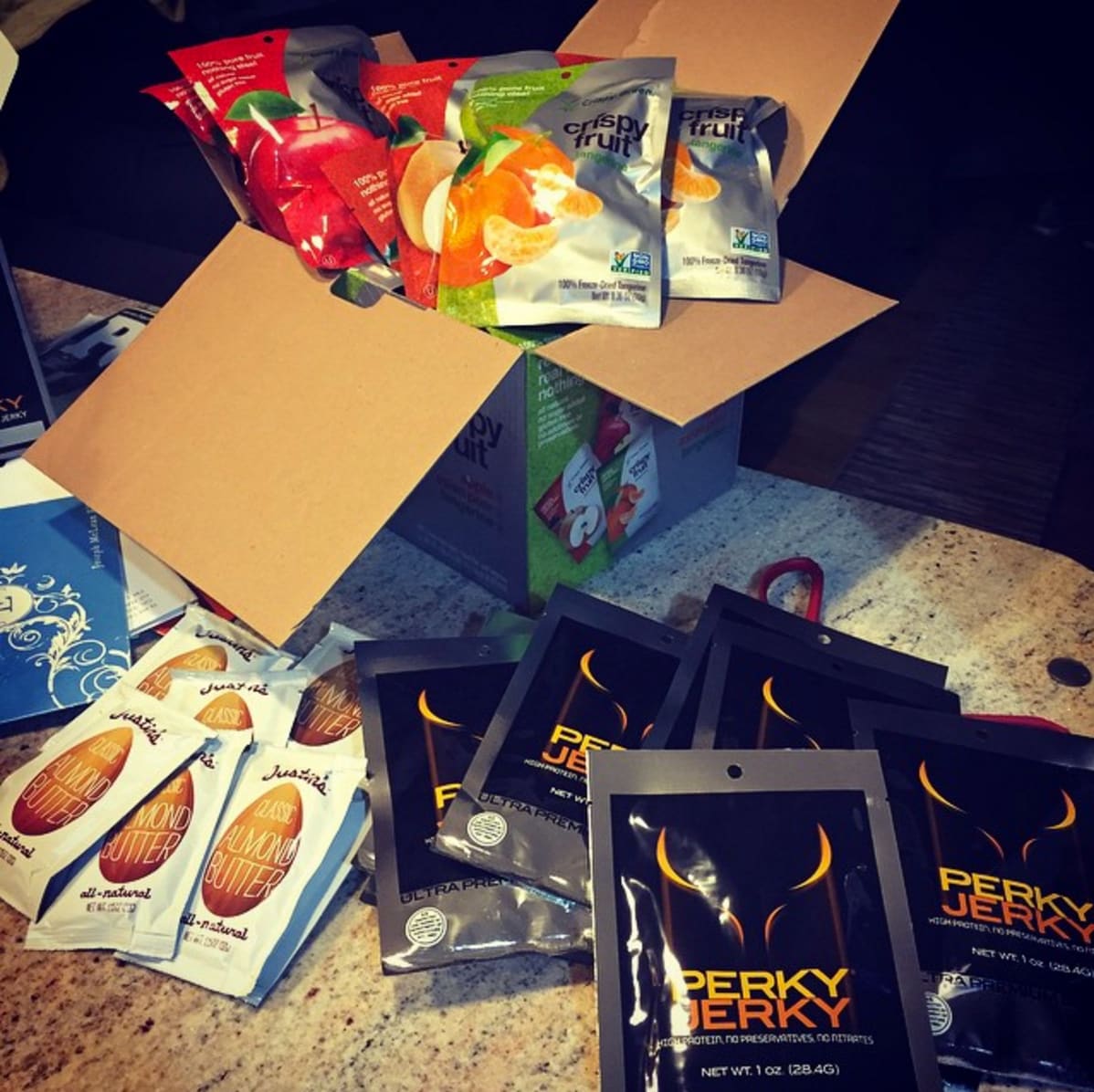 Travel can be stressful. Packing travel snacks doesn't have to be. When you've got a dozen last-minute priorities to take care of before you catch an Uber to the airport, slicing vegetables and hard-boiling eggs aren't on the list. Skip the time in the kitchen and stash a selection of pre-packaged healthy snacks like jerky, freeze-dried fruit, and packets of almond butter into your carry-on like @jessicabootsy.
Don't forget to hydrate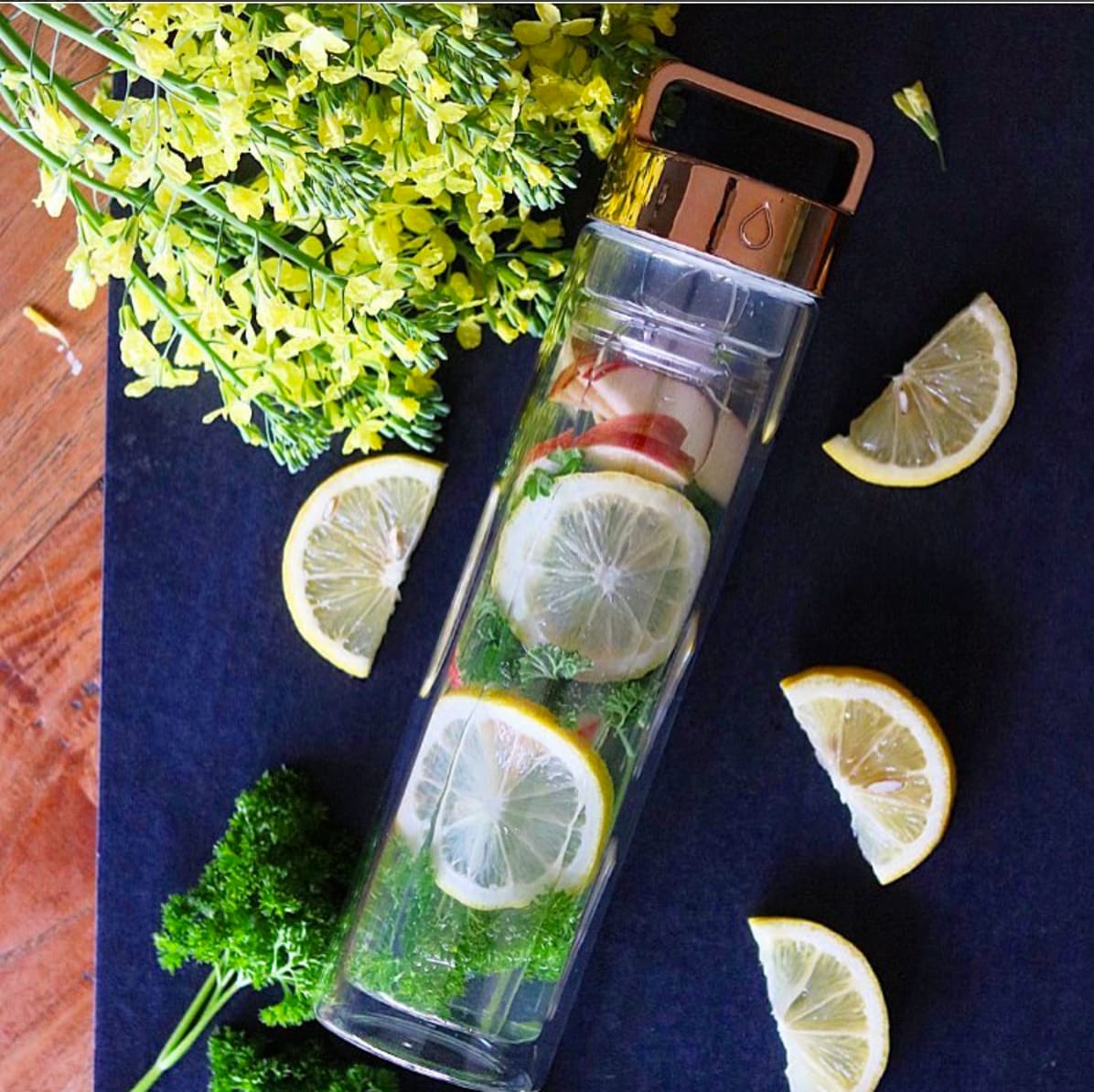 Airplanes have lower humidity levels than the Sahara Desert, and you wouldn't travel there without water, would you? Avoid the sticker shock of the bottled water for sale past the TSA checkpoint by bringing an empty canteen and filling it at a drinking fountain at the departure gate. Extra points if you follow @the_smallseed's lead and add fresh herbs or slices of fruit to flavor your beverage container.
Just add water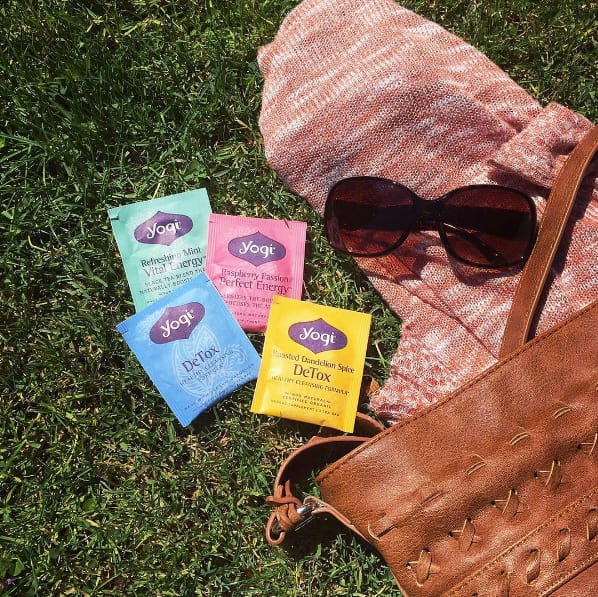 If tea is your, uh, cup of tea, make sure to stash a few sachets for your trip. Many hotels have coffee machines in the room that can also heat water for your cuppa. (Photo by @yogitea)