How to Meal Prep for The Master's Hammer and Chisel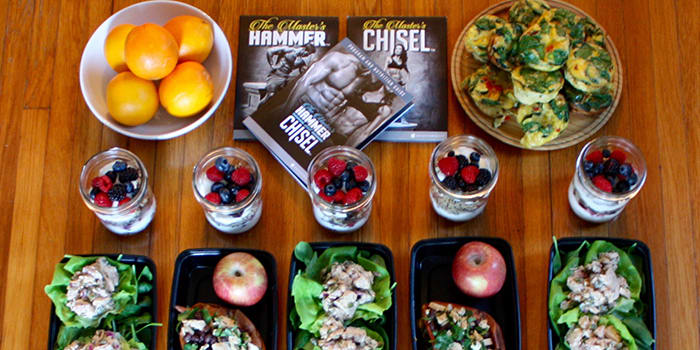 Are you ready to make your body into a masterpiece? On January 4th, thousands of people will start The Master's Hammer and Chisel together, and will support each other through the 60-day challenge through The Master's Challenge Facebook group. And, as part of that group, they'll get exclusive tips from The Master's Hammer and Chisel celebrity trainers Sagi Kalev and Autumn Calabrese! Don't miss out! Click here to join the group.
While it's crucial to give it your all during the workouts, it's equally important to eat right if you want to lose fat and tone up or build muscle. Creating a weekly meal plan and prepping all your food for the week at once is a smart way to make sure you eat right every day. And it will save you a lot of time.
To help you out, I created The Master's Hammer and Chisel meal prep menu based on recipes and meal suggestions featured in the Program and Nutrition Guide. It is one of the tastiest meal preps I've ever made, and it took less than two hours to put it all together.
The guide makes it easy to figure out exactly what to eat (and how much to eat) to reach your goals. By answering a few simple questions, I was able to determine the proper calorie level to start with (it can change as you lose weight or gain muscle). My answers put me in the 1500–1799 calorie level, or Plan B.
Recommended foods are divided into color-coded containers and the plan tells me how many of those containers to eat each day. Plan B allows me 4 green containers (veggies), 3 purple containers (fruits), 4 red containers (proteins), 3 yellow containers (carbs), 1 blue container (healthy fats), 1 orange container (nuts and seeds), and 4 teaspoons (oils and nut butters) each day.
Use The Master's Hammer and Chisel meal prep menu below as a starting point for creating a week of healthy, nutritious meals. Don't like something you see here? Swap it out for another food from the same color container. If you're on a higher plan, double or triple the serving sizes of these meals, or eat more meals throughout the day. On a lower plan, reduce the serving size! It's that simple.
Here are my meals for the week. Find recipes from the guide on the indicated page numbers and scroll to the bottom for a grocery list!
Meal 1 (Breakfast): Frittata Egg Cups (recipe on page 36) with an orange – 1 green, 1 red, 1 purple
Meal 2 (Snack): Quinoa Berry Parfait (recipe on page 44) – 1 purple, 1 red, 1 yellow
Meal 3 (Lunch M/W/F): Chili Spiced Chicken Salad (recipe on page 42) – 1 green, 1 red, 1 orange
Meal 3 (Lunch T/Th): Baked Stuffed Sweet Potato (recipe on page 40) and an apple – 1 red, 2 yellow, 1 tsp. 1 purple
Meal 4 (Snack M/W/F): 3 tsp. peanut butter and an apple – 1 purple, 3 tsp.
Meal 4 (Snack T/Th): carrots with hummus and olives – 1 green, 1 blue, 1 orange
Meal 5 (Dinner M/W/F): Grilled flank steak with ancho chili powder and oregano, zucchini sautéed with ground cumin and 1 tsp. olive oil, salad of black beans, quinoa, cilantro, tomatoes, cotija cheese, lime juice, and 1 tsp. olive oil – 1 red, 2 green, 2 yellow, 1 blue, 1 tsp.
Meal 5 (Dinner: T/Th): Baked chicken breast, brussels sprouts roasted with 1 tsp. olive oil, bell peppers and onions sautéed in 1 tsp. olive oil – 1 red, 2 green, 2 tsp.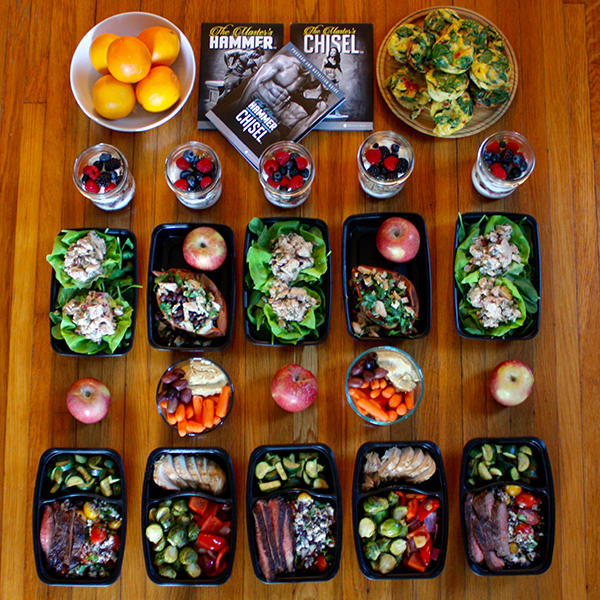 I love a good frittata, but for meal prep, I find it more convenient to make egg cups. I followed the frittata recipe on page 36 of the Master's Hammer and Chisel nutrition guide, which calls for leeks, zucchini, red bell pepper, spinach, and eggs. The recipe also called for a small amount of coconut or almond milk, but since I wouldn't use the rest of the carton in any other recipes, I left it out. Instead of cooking the egg and veggie mixture in a skillet, I divided the egg and veggie mixture into 12 muffin cups coated with nonstick spray. I placed my muffin tin on a cookie sheet in case anything bubbled over (and it did!), and baked them in a 350°F oven for 20 minutes, until set. If you don't have the Master's Hammer and Chisel guide, try these Super Green Egg Cups which have the same container count.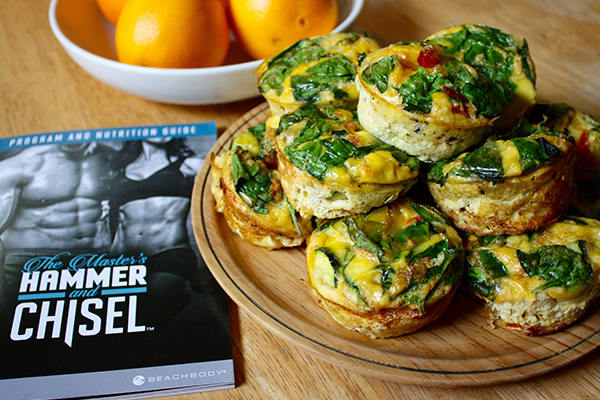 Making these Berry Quinoa Parfaits (page 44 of the Master's Hammer and Chisel nutrition guide) was a breeze! They are perfect snacks to pack in Mason Jars, and they're great for meal prep because the only ingredient that needs to be cooked is the quinoa. Once the quinoa was completely cool, I just layered quinoa, yogurt, and fruit. The recipe called for strawberries, but to save the work of hulling and slicing strawberries, I sped up my meal prep by substituting an extra container of raspberries. This is a really hearty snack that kept me feeling full throughout the morning. I'll definitely be adding it to future meal preps.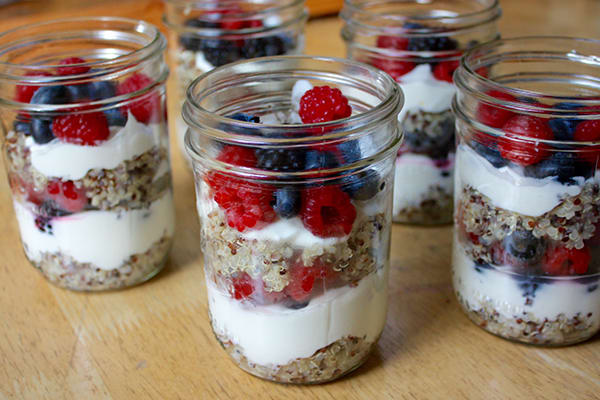 For lunches, I chose simple recipes that sounded delicious and didn't require much cooking, the Baked Stuffed Sweet Potatoes (page 40) and Chili Spiced Chicken Salad (page 41). To save time, I cheated a bit and bought pre-cooked chicken breasts. The Chili Spiced Chicken Salad was one of my favorite meals of the week. It takes basic chicken salad to whole new level, combining chicken, red onion, and pepitas with a chili powder and Greek yogurt sauce. I drizzled the lettuce with a touch of good balsamic vinegar just before eating.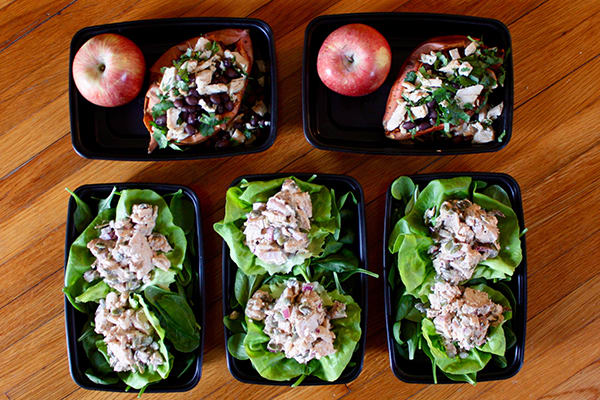 After my workouts, I look forward to hearty dinners with lots of colorful veggies. I chose the grilled flank steak with ancho chili powder and oregano from the grain-free sample menu in the guide. Pro Tip: Open a window when cooking this steak! I cooked mine in a cast-iron skillet over high heat, which meant chili powder fumes spread through the whole house and sent my whole family into a coughing fit!
I served the steak with zucchini and a salad of quinoa, black beans, cilantro, cherry tomatoes, and cotija cheese with fresh lime juice. Tuesday's and Thursday's dinners were simpler, but just as tasty. Chicken breasts with roasted brussels sprouts and bell peppers sautéed with the other half of the red onion from the chicken salad recipe.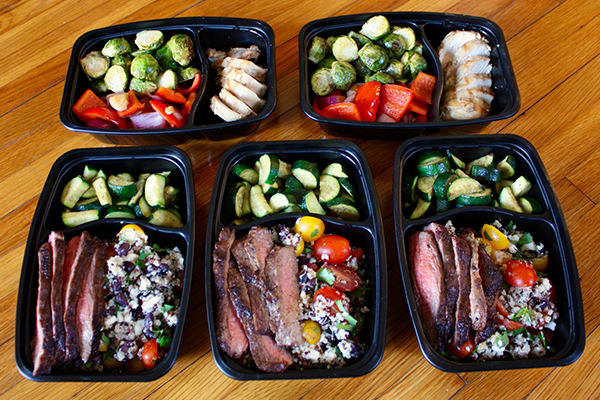 Grocery List for The Master's Hammer and Chisel Meal Prep
Produce
5 zucchini
3 red bell peppers
1 red onion
2 small sweet potatoes
1 bag brussels sprouts
1 bag baby carrots
1 box baby spinach
1 head Boston lettuce
1 box cherry tomatoes
1 leek
1 bunch cilantro
5 small oranges
5 apples
1 container blueberries
1 container blackberries
2 containers raspberries
2 limes
Proteins
2 lbs. skinless, boneless chicken breast
¾ lb. flank steak
12 eggs
Dairy and Dairy Alternatives
32 oz. lowfat Greek yogurt
1 package cotija cheese
1 small container coconut milk or almond milk (optional)
Dry and Prepared Goods
1 ½ cup dry quinoa
2 cans black beans
small container hummus
nut butter
½ cup raw pepitas (pumpkin seeds)
30 olives
Pantry
Himalayan sea salt
black pepper
ancho chili powder
oregano
ground cumin
ground coriander
raw honey
olive oil

Photos by Kirsten Morningstar
Save