Chicken Power Bowl, Tofu Stir-Fry, and More Meal Prep Ideas for the 21 Day Fix 1500-1800 Calorie Level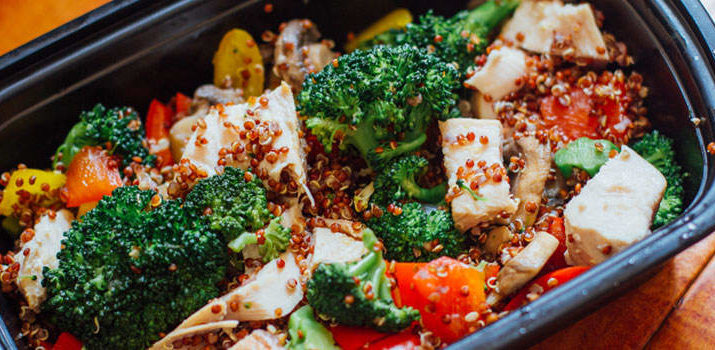 Almost every weekend, Social Media Specialist (and fitness fanatic) Amanda Meixner preps her healthy meals and shares her photos on her Instagram account. Her simple photos remind us that meal prep doesn't have to be hard. This week she is following the 21 Day Fix Eating Plan in the 1,500-1,799 calorie bracket.
Amanda's healthy meal prep tips were featured in a this article from Shape Magazine. We think that's pretty cool! Want to see more of Amanda's fit and healthy lifestyle? Check out her blog, Running Wild.
Want to see your meal prep on The Beachbody Blog? Email your healthy meal prep photos to Editors@Beachbody.com and you could be next! Be sure to tell us what it is and include your Instagram or Twitter handle for linked photo credit!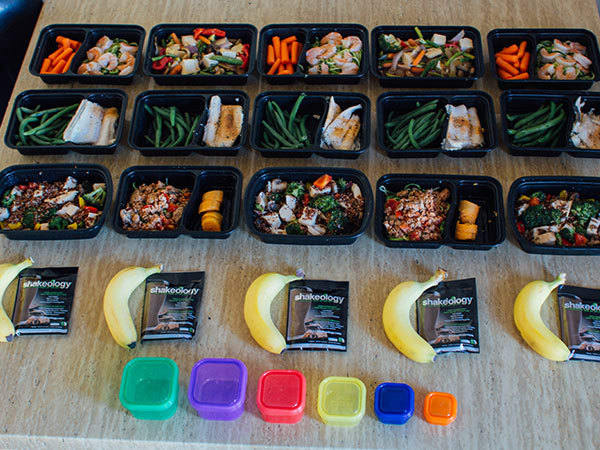 Meal 1 (Breakfast): Shakeology with a banana, flaxseeds (not shown) and 2 tsp. almond butter (1 red, 2 purple, 1 orange, 2 tsp.)
Meal 2 (Snack, not shown): Oatmeal with cinnamon and an apple (2 yellow, 1 purple)
Meal 3 (Lunch M/W/F): Chicken Power Bowl with baked chicken, quinoa, broccoli, red onion, white mushrooms, and bell peppers with 1 tsp. olive oil and spices (1 red, 1 green, 1 yellow, 1 tsp.)
Meal 3 (Lunch Tue/Thur): Ground turkey cooked with tomatoes, mushrooms, white onion, and 1 tsp. olive oil served over zucchini noodles with a sweet potato (1 red, 1 green, 1 yellow, 1 tsp.)
Meal 4 (Post-Workout): Baked trout seasoned with lemon and garlic Flavorgod seasoning and a side of green beans (1 red, 1 green)
Meal 5 (Dinner M/W/F): Zucchini noodles sautéed in 1 tsp. olive oil with shrimp and 1/4 avocado (not shown) and a side of baby carrots (1 red, 2 greens, 1 blue, 1 tsp.)
Meal 5 (Dinner Tue/Thur): Tofu sautéed in 1 tsp. olive oil with bell peppers, snap peas, watercress, green beans, and red onions with 1/4 avocado (not shown) (1 red, 2 greens, 1 blue, 1 tsp.)
Here is a closer look at Amanda's Meals on Monday, Wednesday, and Friday: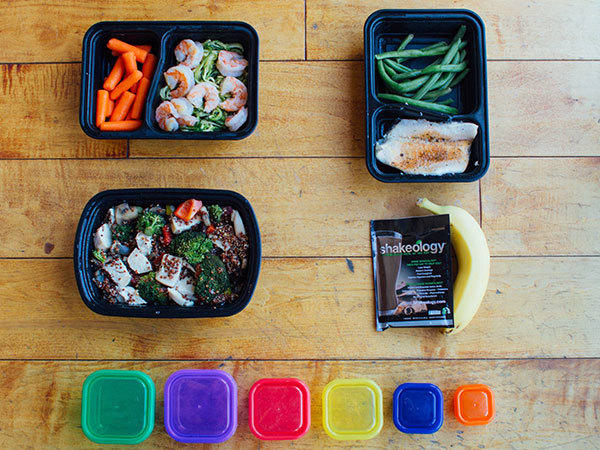 And these are her colorful meals meals on Tuesday and Thursday, including a vegetarian stir-fry with tofu: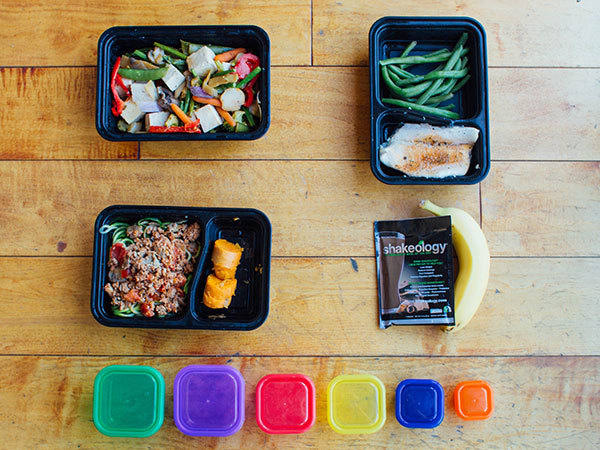 Grocery List:
1 packet of tofu
2 bags white mushroom
1 red onion
1 white onion
2 bags green beans
3 red bell peppers
2 yellow bell peppers
1 bag pre-cut Asian veggies (or other veggies you'd want to cook with tofu, make sure there are no additives!)
1 bag broccoli
1-2 containers of cherry tomatoes
4-5 zuchinni
2 avocados
1 bag baby carrots
5 bananas
5 apples
2 small sweet potatoes
1 bag red quinoa
¾ lb chicken
¾ lb turkey
1 lb trout
1 lb small shrimp
5 packets Shakeology
almond butter
flaxseeds
oatmeal
cinnamon
olive oil
lemon and garlic Flavorgod seasoning